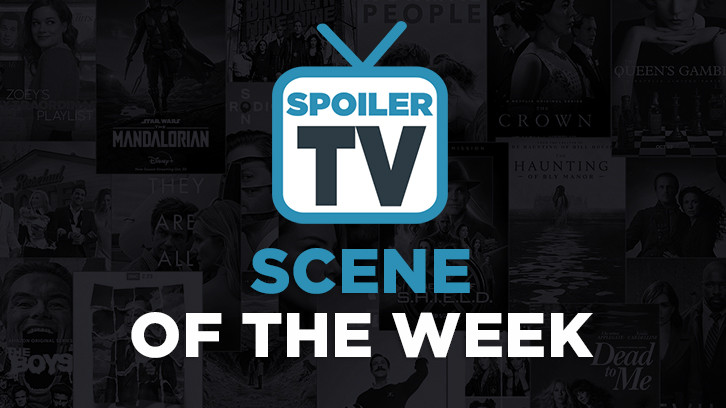 A weekly feature in which we're trying to find the most compelling, best acted, written, directed and just generally great, memorable scenes that we've seen in past seven days on TV.

AGENTS OF SHIELD, "The Force of Gravity", May 11, 2018, Actors: Clark Gregg, Ming-Na Wen and more, The Scene: Coulson and May kiss
Justyna: One of the things I love the most about this show is that it doesn't let any romantic relationship to overshadow any of the main plots. Everything is perfectly balanced and the characters get their chance to grow both individually and together. That's also exactly why this scene worked so well. After years of developing the bond between Coulson and May their feelings finally become clear. It's absolutely fitting that their first kiss would happen in the middle of the fight and as a way to distract May from not following Coulson's orders. The shield which protects them from the attack is also what brings them together and the symbolism of this shot alone is wonderfully done. And then there's everyone's reactions to the kiss. The expressions on Daisy's and Deke's faces were brilliant. And finally, Coulson echoing May's words, from the moment when she confessed she loves him, was simply spot-on. "I thought that might shut you up." The music, the time slowing down around them and the ongoing fight in the background surely make this one of the most memorable kisses in MCU history. Kudos!
Jamie: OMG finally, it only took them 5 seasons.

BROOKLYN NINE-NINE, "Show Me Going", May 6, 2018, Actors: Stephanie Beatriz, Melissa Fumero, Chelsea Peretti, The Scene: The ending
Laura M: Such wonderful female-solidarity as Rosa, Amy and Gina share a group hug that's just as adorable as you might expect. These characters have grown tremendously, so too has the bond between the actresses, and it was really beautiful to watch them beam over the reunion of their dear friend after a hectic day. Big kudos!
Diana: The ending of the episode when Amy, Rosa and Gina hug. This really touched me. This is what I call beautiful friendship.

CHICAGO PD, "Homecoming", May 9, 2018, Actors: Jason Beghe and more
The Scene: Voight tells the team that Olinsky has died
Jessica: There was no talking involved; we just saw the team deal with their grief over losing a friend and partner.

GREY'S ANATOMY, "Cold as Ice", May 10, 2018, Actors: Sarah Drew, Jesse Williams
The Scene: Jackson breaks down over April
Saloni: Jackson breaks down over April and starts praying, she opens her eyes. While this was a little bit of a cliché moment, I didn't care. It was heartbreaking to see Jackson like that and have the fear that they'll really kill off April, which I'm glad they did not. Jesse Williams was amazing.

iZOMBIE, "Yipee Ki Brain, Motherscratcher!", My 7, 2018, Actors: Malcolm Goodwin, Rahul Kohli, The Scene: Clive tells Ravi about the recent police chase
Sean: Ravi mentions the zombie show they're binge-watching has gone downhill and has to resort to characters describing key moments because of a reduced budget. Immediately afterwards it cuts to Clive describing an exciting police chase that happened off-screen. I love meta jokes like that and I'm so glad iZombie was renewed for another season.

KILLING EVE, "I Have a Thing About Bathrooms", May 6, 2018, Actors: Sandra Oh, Jodie Comer, The Scene: Villanelle and Eve eat dinner at Eve's house
Saloni: From the moment Villanelle terrified Eve and the entire bathroom scene to them eating and talking to how she stole Eve's phone when her husband enters. It was all just thrilling and unexpected, which is why it worked so well.
DJRiter: It was incredible and Jodie Comer and Sandra Oh where phenomenal in this scene together.

LEGION, "Chapter 14", May 8, 2018, Actors: Dan Stevens and more
The Scene: The mouse sings
Milo: I could have chosen multiple moments from this episode of Legion but I ended up going with the mouse singing Bryan Ferry's Slave to Love as one of the Davids discovers his powers. It's a great moment that pretty much defines the weirdness on this show and what it is capable of.

LETHAL WEAPON, "One Day More", May 8, 2018, Actors: Clayne Crawford and more
The Scene: Riggs gets shot (picked by Luana)

LUCIFER, "Quintessential Deckerstar", May 7, 2018, Actors: Tricia Helfer, D. B. Woodside, Tom Ellis and more, The Scenes: Charlotte's death & Lucifer tells Chloe he's the devil
Justyna: Charlotte's story took me by surprise. From the episode "Welcome Back, Charlotte Richards" her journey to become a better person was one of the plots I was interested in the most. It seems like both a fitting and heartbreaking end of this story, for her to sacrifice her life to save another. It's somehow even more impactful with that person being Amenadiel. Their friendship developed quickly after she finally learned the truth about her lost time and their last moment together was beautifully portrayed by both actors. As he holds her in his arms, Amenadiel helps Charlotte die in peace, knowing she was his guardian angel in the end. After her last breath, Amenadiel breaks down into tears and this heartbreak allows him to get his wings back, and finally take her to his home. It was a great shot, the two of them flying away, as the music continues with Chloe, Lucifer and Dan arriving to find Charlotte's body. Their reactions are painful to watch. Seeing Dan holding her in his arms, with the waffle bracelet on her hand, was simply heartbreaking. Such an emotional and wonderfully done scene. Feels even more important in terms of the recent news about the show. Still hopeful we get to see the next chapter of this story but for now I'm waiting for the finale. Kudos to cast & crew for their work on the episode!
Jennise: Charlotte takes a bullet to save Amenadiel. I was not sure how having the real Charlotte back after Lucifer sent his mother to another dimension was going to work out. What we got was a woman who remembered being in Hell, knew she deserved it and was desperate not to go back. I grew to be really invested in her character. She and Amenadiel had a really nice conversation about the motives behind their question to get to heaven. She hears something, then jumps in front of Amenadiel; taking two bullets meant for him. Amenadiel gets his wings back and escorts Charlotte to Heaven. For me the scene was completely unexpected (I spent the episode largely ignoring Maze and Pierce) and a fitting exit for a character I'd grown attached to over the season.
Diana: Finally Lucifer confesses to Chloe he's done terrible things because he's the Devil. I don't know what the detective thinks, if she believes him or not, but that kiss they share was real. She doesn't care what he's done in the past. It was about time!

NEW GIRL, "Mario", May 8, 2018, Actors: Lamorne Morris and more
The Scene: Winston sees colors for the first time (picked by Marko)

RISE, "Totally Hosed", May 8, 2018, Actors: Damon J. Gillespie, Auliʻi Cravalho
The Scene: Robbie visits Lilette
Jessica: Robbie visits Lilette after learning that his mom is very sick. He tells Lilette that even though she doesn't want to need him, he needs her, and they hug. This was such an emotional scene, and it was refreshing to see a guy on television be so vulnerable.

RIVERDALE, "Chapter Thirty-Four: Judgment Night", May 9, 2018, Actors: Madelaine Petsch and more, The Scene: Cheryl chases off the black hood
Jamie: Cheryl chases off the black hood with a bow and arrow. This moment was so surprising, random and badass. I nearly leapt out of my seat.

SHADOWHUNTERS, "A Heart of Darkness", May 8, 2018, Actors: Dominic Sherwood, Emeraude Toubia, Matthew Daddario, The Scene: Jace begs his siblings to kill him
Ami: When Jace begs for Izzy to kill him, and she refuses, instead promising him that they (her and Alec) will protect him from Lilith, and she reminds both of her brothers that "three go in, three come out". It gave me so many chills and seeing all of them on the verge of tears made me very emotional.

SIREN, "Being Human", May 10, 2018, Actors: Eline Powell, Alex Roe
The Scene: Ryn confronts Ben over his attitude towards her (picked by Samantha)

SUPERGIRL, "Trinity", May 7, 2018, Actors: Chyler Leigh, Jeremy Jordan, The Scene: Winn gives Alex her supersuit
DJRiter: One of the best things the producers did was move Winn to the DEO so we could see this wonderful brother/sister relationship develop between Winn and Alex. There is genuine affection between the characters just as I suspect there is genuine affection between Chyler Leigh and Jeremy Jordan. This scene was long in coming and did not disappoint. Winn, taking care of his "big sister and most bad-ass DEO agent ever" made Alex a supersuit to carry her into battle with the Worldkillers. Both Chyler and Jeremy were perfect in this moment. Jeremy nailed Winn's pride and enthusiasm in his work and being able to do something for Alex, and Chyler's expressions where perfect, she grinned like a child getting the toy they asked for at Christmas. There were almost tears in her eyes when he gave her the new gun. Please writers more scenes with Alex and Winn next season!

THE 100, "Sleeping Giants", May 8, 2018, Actors: Eliza Taylor, Bob Morley and more, The Scene: The reunion at the end
Justyna: I really enjoyed watching the entire journey back to Earth this week and there are many great scenes I could highlight from the episode (like Raven asking Bellamy to leave without her or Madi meeting the group), but it's impossible not to go with the very last moment of the hour. Bellamy and Madi showing up to help Clarke and then the brief reunion for Bellamy and Clarke, even from afar, was something I did not expect to see this early in the season. These two have gone through the impossible together and after years of being apart, especially with Bellamy thinking that Clarke died to save him and their friends, this moment has to be emotional and significant for the two of them. It feels like a beginning of a new chapter, as they've both grown and developed over the years and now really meet each other again. I'm very interested to see their new dynamics, especially with the addition of Madi. In the past, things have always worked the best when the head and heart stood together so I'm excited to see who they've both become, individually and now together. Kudos to the cast & crew for their great work.
Diana: You can either ship Bellarke or not, but you can't deny the fact that when Bellamy was asked why he was willing to bargain 283 lives for one, his answer was pure and full of love for Clarke. Yes, he really cares about her and he would do anything for her.
Luana: Bellamy bargains for Clarke's life. "She does"

THE AMERICANS, "Harvest", May 9, 2018, Actors: Matthew Rhys, Keri Russell, Noah Emmerich and more, The Scenes: Philip and Elizabeth hide their killed friend's identity & Stan sneaks into the Jennings home
Laura B: For a long time I felt like there was no going back for Elizabeth and that a possible sad ending for the character would be justified, but with Philip, I always felt like he was redeemable, a character who really didn't want to be a part of espionage world and just wanted a normal life, but after this, I'm no longer sure if he can really go back either. He had a moment to confide in Stan too, and he chose not to take it. Because we're so close to the end of the series, it feels like the characters' fates are sealed, let alone now there is a second pill for someone to take...
Saloni: Stan sneaks into the Jennings home to look around. This scene was reminiscent of the pilot and Stan's initial apprehension about the Jennings. Things have come full circle. He definitely suspects something now, especially after that conversation with Henry. This scene was so intense, well-shot, with an excellent background score to support it.
DarkUFO: Philip and Elizabeth cut off the head and hands of their killed friend to hide the identity.

THE BIG BANG THEORY, "The Bow Tie Asymmetry", May 10, 2018, Actors: Jim Parsons, Mayim Bialik, Kaley Cuoco and more, The Scenes: Penny stands up to Amy's mom & Amy and Sheldon get married & Sheldon dashes into Amy's changing area
Claire: What a terrific season finale! The scene where Penny has to stand up to Amy's mom, telling her to sit down and shut up. Declaring how much Sheldon loves Amy and that he would never do anything to hurt her was so sweet. Kathy Bates as the overbearing Mrs. Fowler and Kaley Cuoco as Penny. Kaley said afterwards how intimidating it was to have to yell at the great Kathy Bates!
Jamie: Amy and Sheldon get married. I was nearly in tears during this scene. They've both come so far.
Jennise: Sheldon dashes into Amy's changing area. Two things about this scene jumped out to me. First, I just melt every time Sheldon reacts to Amy in her gown and second, where other shows would have used this scene for a season finale's cliffhanger, this scene celebrated their compatibility. Sheldon didn't rush in to express doubts about the wedding. No, he wanted to collaborate with her on a new theory. I was grinning from ear to ear.

THE GOLDBERGS, "Spaceballs", May 9, 2018, Actors: Hayley Orrantia, Wendi McLendon-Covey, George Segal, The Scene: Erica tells Beverly and Pops she's dropping out of college (picked by Samantha)

THE GOOD FIGHT, "Day 471", May 6, 2018, Actors: Delroy Lindo, Sarah Steele and more, The Scene: Adrian gets shot in the lobby
Laura B: It's no surprise to me that this "lawyer killing" plot being a pseudo offshoot from what happened to Daine's former partner, Will Gardner on TGW, is primarily used as means to further develop Diane on this series, and therefore, it would hit close to home once again. But the scene itself is rather opposite. No courtroom drama with lots of gun shots, just a quick and nearly silent shot coming from an elevator before Adrian is about to get in. There was something so realistic about the way the average person wouldn't respond correctly into today's climate with everyone joking all the time, and not believing Adrian, such as this new desk assistant. But it provided a wonderful scene for Marissa to take charge instead and try and come to rescue! I'm glad though that so far Adrian has survived and that the mystery of who shot Adrian is an ongoing plot. Mike Colter has an arc over these last few episodes of the season, so it seems that Lemond Bishop could still play a role, although my money is more on Albott and the Whitehead issue.

THE MIDDLE, "The Royal Flush", May 8, 2018, Actors: Patricia Heaton, Charlie McDermott and more
The Scene: The Hecks give Frankie their Mother Day's gift (picked by Marko)

THE TERROR, "Terror Camp Clear", May 7, 2018, Actors: Adam Nagaitis and more
The Scene: The monster attacks
DarkUFO: The monster attacks just as they are about to hang Hickey.

TIMELESS, "The Day Reagan Was Shot", May 6, 2018, Actors: Sakina Jaffrey, Matt Lanter
The Scene: Agent Christopher thanks Wyatt for saving her life
Claire: The scene where Agent Christopher welcomes Wyatt back to the bunker and thanks him for saving her life 37 years ago. She declares that she's been waiting a long time to thank him. This show and cast are amazing. They feel like family.

WESTWORLD, "Virtù e Fortuna", May 6, 2018, Actors: Evan Rachel Wood, Louis Herthum and more, The Scenes: Dolores/Wyatt sees Abernathy again & The humans attack on the Fort
Laura B: Wyatt gets upset when she sees a debilitated and confused Abernathy. Evan Rachel Wood continues to amaze as she seems to be able to switch modes and/or personalities in a heartbeat. After watching her continue on her crusade these past couple of episodes, which she no doubt also did a wammy in this episode, she still caved into this moment of sentimentality, a moment where it almost seemed like she forgot who she now was, slipped back, except that she clearly didn't given her conversation with Bernard. On the other hand, the thought crossed my mind that Dolores/Wyatt may play role in Abernathy data and that this sentiment was merely narrative cover and Dolores does not have full control.
DarkUFO: The humans attack the robots at the Fort.

YOU ME HER, "The Insidious Lure of Pumpkin Spice", May 8, 2018, Actors: Jarod Joseph, Melanie Papalia, The Scene: Andy apologizes to Nina (picked by Luana)

YOUNG SHELDON, "Vanilla Ice Cream, Gentleman Callers, and a Dinette Set", May 10, 2018, Actors: Iain Armitage, Annie Potts, Wallace Shawn, The Scene: The ending scene
Claire: The ending scene where Sheldon, Meemaw and Dr. Sturgis are signing a contract covering the budding romance and Sheldon butting out of it. Jim Parson's voice-over mentions the importance of contracts in his life; with his friends, his wife and his children...aw, such a sweet peek into the future!