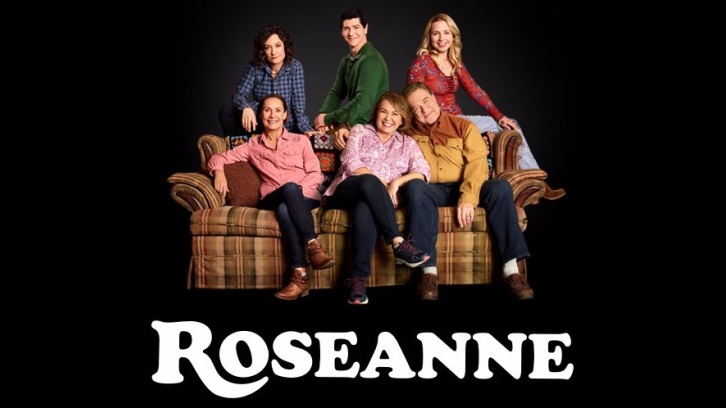 Episode 10.07 - Netflix & Pill
On ABC Network
- Tuesday, May 15, 2018 at 8:00 pm Eastern / 7:00 pm Central

The official synopsis of this episode is:
After celebrating their 45th anniversary, Roseanne reveals to Dan a bigger problem with her bad knee. Meanwhile, Crystal announces her retirement as a waitress at the casino, and Becky and Darlene compete for the job which has full-time benefits.

This is what makes Roseanne so good, the combination of funny + reality = Roseanne.

So I should mention up front, even though I write for SpoilerTV, I'm not a huge fan of giving away spoilers for episodes that haven't aired yet. So, that being said, here is my preview and what I can't say in words, hopefully the pictures tell you all you need to know.

My preview of Netflix & Pill...

This episode opens with a very funny moment involving Roseanne, Dan, and their three grown children. I laughed watching this whole opening scene. The interaction of the original cast members is still alive and well, and it's like no time has passed. The passing of the check and the singing were too funny not to laugh at. If only my family was this funny sitting at the dinner table at a restaurant.


The Honey Baked Ham! I think this is one of the few times I've ever seen Dan so excited about something. It starts in the opening, continues with a phone call, and even makes it to the hotel. And every single time I laughed.
The pills. This is where real life meets the Roseanne show. It is surprising how real it felt, and who was the one with the issues. It wasn't funny, but necessary and only on Roseanne would be like, Oh, I so understand now. It also plays into the theme of Roseanne, how you can work hard, and still it isn't always enough to give you the life you want or earned. There is also comedic relief thanks to Laurie Metcalf's Jackie. Especially Jackie at the Mexican Resturant. That scene is too freakin funny!
The comic relief meets real world is the storyline of Darlene (Sara Gilbert) and Becky (Lecy Goranson). The dynamics between them has remained the same. They bicker, put one another down, and love each other. It's always fun to watch. This happens in this episode also. Starting with the opening scene all the way through the last scene. Thank goodness I don't have sisters like them. But it is a hoot to watch. Especially when Darlene show's Becky something, too funny.
Blast from the past in this episode is Roseanne's friend Crystal. I enjoy it so much that the original cast members from all those years ago came back to play the same roles. She is also the catalyst for Darlene and Becky's drama.
I enjoyed this episode a lot, I hope you do too.
I hope these pictures tell you a lot more than I can say.
Let me know what you think of this episode. And don't forget to watch. I know I'll be watching Tuesday night.