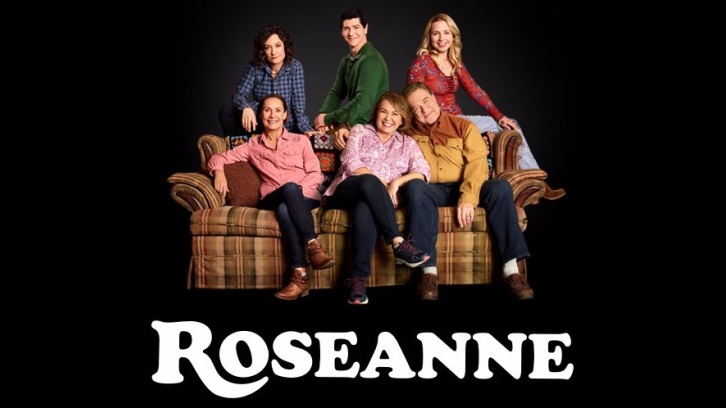 Episode 10.08 - Knee Deep
On ABC Network
- Tuesday, May 22, 2018 at 8:00 pm Eastern / 7:00 pm Central

The official synopsis of this episode is:
Roseanne's knee gets worse so Dan is forced to a make an important work decision; but when a major storm hits Lanford, their fortunes change for the better. Later, Darlene realizes she has to go back to her first passion … writing.

The opening scene of Roseanne, is too funny yet real at the same time. It's a play on I've fallen and I can't get up. And I loved it.
So I should mention up front, even though I write for SpoilerTV, I'm not a huge fan of giving away spoilers for episodes that haven't aired yet. So, that being said, here is my preview and what I can't say in words, hopefully the pictures tell you all you need to know.


"Mom are you okay?...No I'm stuck on the toilet!"
My preview of Knee Deep...
So the real life problems of loyalty, doing what needs to be done regardless of the consequences or sacrifice, finding your way in life, and then making something out of disaster where all present.
But don't worry, there was more then enough funny moments that take the sting away.
The funny interaction between Roseanne and Jackie, combined with the funny interactions between Becky and Darlene. How can you not laugh? Like when Becky gives Darlene advice when dealing with the customers. Or when Roseanne asks Jackie for her help, was very funny.
Roseanne and Jacki go through memory lane. The doll!
The basement becomes a character in this episode.
DJ is in this episode!
Boo, a major storm hits Lanford, yay a major storm hits Landford!

"They were losers just like you."
I enjoyed this season finale episode a lot, I hope you do too.
For pictures and a sneak peak, please checkout
this link
Let me know what you think of this episode. And don't forget to watch. I know I'll be watching Tuesday night.