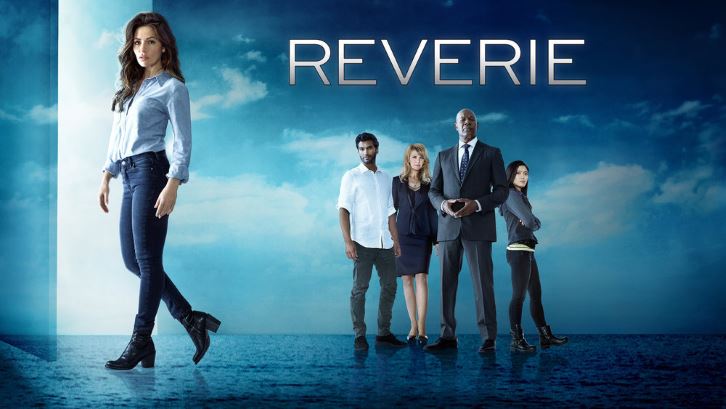 Reverie is a hotchpotch: it's one part Person of Interest, one part Black Mirror's "Be Right Back", one part Westworld. All the while it does that thing a lot of pilots do, whereby you get a good feeling of the what the show is without setting the bar too high. The intrigue is there come the credits, but this hour doesn't make Reverie scream 'appointment television' just yet.

The biggest problem the show has moving forward is not becoming stale and repetitive within a matter of weeks. "Apertus" is a fun ride; there's plenty to enjoy about watching Sarah Shahi invade someone's dream world to save their life, but that could quickly become very samey. The pilot spends a lot of time preparing Mara to enter Tony's simulation, so much so that it takes her until halfway through the episode to go. Yes, that setup is an absolute necessity for a pilot. But how does the series deal with that balance on a weekly basis — especially when her convincing him to return uses up probably the perfect amount of time? That's going to be a challenge.

Still, we can only judge from what we've seen so far, and while it appears as though Reverie is gearing up to be a procedural, it certainly looks to be an interesting one.


There are a couple of reasons — other than Shahi — why this series is one part Person of Interest. The first is the existence of Dylan, an AI installed at Onira Tech that can access any piece of electronic data in the world, from social media feeds to security cameras — or something similar that allows the system to see that Allison Young isn't at home. Dylan's unbridled access to the world is unlikely to be discussed, particularly given that it's eventually revealed that he's based on Alexis Barrett's presumably dead brother. That's a compelling reveal; if Alexis has created this entire program in the wake of her loss, its existence becomes far more interesting — especially if she hasn't chosen to have her own reverie with him in.

The second reason for the similarity is that this is a wildly high concept drama. It would be very easy for the show to fall into a 'coma of the week' pattern and do little to truly explore the sci-fi elements that have been introduced. Person of Interest managed to avoid that pitfall and Reverie would benefit from doing the same.

"Apertus" wastes absolutely no time in getting to the meat of the story. It's just five minutes in before Charlie (Dennis Haysbert, as calmly assertive as ever) lays out everything we need to know moving forward. From there, the episode builds nicely, unravelling some of Mara's past while balancing the procedural element.


Her backstory gives the series plenty to work with. Losing her sister and niece broke her and only this job appears to help repair her, with Mara eventually cleaning her apartment of the empty bottles and tidying the mess she has left. But the same thing that has helped her could also prove to be her undoing. At some stage, she will surely want to have a reverie of her own. Already we have seen her transported to her favourite memory — the Labyrinth of Light, a place full of paper lanterns — and, by the end, she hallucinates seeing her niece. She was brought to this job because she's the perfect negotiator to save all of these coma patients, but what happens if she ends up on the other side of the equation? Even if she does manage to escape the reverie, does it cause her to go into a downward spiral?

It's certainly worth considering, given her real life vision and the fact that she saw the stuffed toy her niece was holding when she died in Tony's reverie. No one is better suited to this job, nor is any job better suited for her, but that doesn't make it a perfect fit.

There is certainly potential in this series. The pilot has a wonderfully slick look to it, while the opening shot of the balloons as well as the Labyrinth are visually beautiful. With four more patients in comas by the end of the hour, there's plenty of scope for the series to produce a lot of story. Its focus must be on ensuring there's more to each episode than just Mara saving people. If that can happen, then Reverie could turn into something very strong.

What did everyone think of "Apertus"? What are your hopes and expectations for the season? Vote in the poll below and leave a comment with your thoughts!