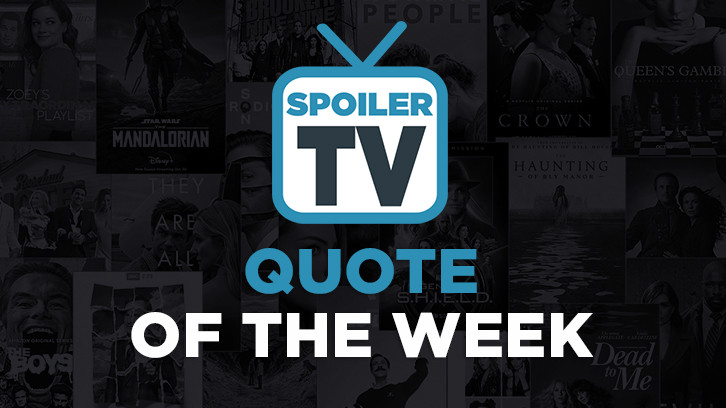 A weekly feature highlighting the best quotes on TV as picked by the Spoiler TV team. We'd love to hear your picks too so please sound off in the comments below.


The Americans -
1. Stan: "You know, I used to ask myself, why is this guy and his wife coming home at three, four in the morning? How hard can they possibly work? What's driving them? And even now I see you and I wonder, what is going on with him? I see your stress level and I just ... I say this to you as a friend, OK? Are you involved with something?" Philip: "Stan..." Stan: "'Cause if something's going on, you can trust me." Philip: "I've been wanting to tell you. The business is falling apart and I think it might be going under." (DarkUFO)
1. Amy: "I thought Will was marrying us." Sheldon: "Wolowitz got us an upgrade." Amy: "Another sci-fi guy with a beard seems lateral, but okay." (Prpleight)
Hawaii Five-0 -
1. Joe: "In moments like this, I like to say...try not to miss." Steve: "Thank you for that pearl of wisdom, Joe." ~Joe had other memorable quotes, but this one made me laugh.
2. Steve: "Listen. There was a time when Joe White could have given up on me, and he didn't. And if he's in that compound, there's no way I'm about to start giving up on him." Junior: "Okay well, you need someone to watch your back." Steve: "No. Absolutely not." Junior: "Sir, we're not cops today. We're SEALs. That means you ain't my boss, so I'm coming with you." ~Junior and Steve had some great moments in this episode.
3. Joe: "Let me ask you something. That girl Catherine, what's the deal there? That ever gonna happen?" Steve: "What do you mean?" Joe: "I mean I've seen the way she looks at ya. It's very clear the feeling's mutual. What are you waiting for, Steve?" Steve: "She's a lieutenant. We work together. We're friends. I don't want to screw that up." Joe: "She's smart. She's pretty. She can assemble a rifle in under 30 seconds in the dark. Not asking her out is a screw-up." ~What can I say? I don't typically ship but I really love the Catherine character and any mention of her makes my night. (Dahne)
Killing Eve -
1. Villanelle: "I just want to have dinner with you!" (Donna Cromeans)
2.
Eve: "I know you're a psychopath." Villanelle: "You should never tell a psychopath they are a psychopath. It upsets them." Eve: "...Are you upset?"
3. Eve: "I have your prison file." Villanelle: "What does it say?" Eve: "Why castration? What did he do to you? Tell me." Villanelle: "Okay. But can we get one thing clear, before we go on with this." Eve: "Yes." Villanelle: "Is that a sweater... attached to a shirt?"
4. Frank: "Please. Please... We can do a deal. I have a lot of money." Villanelle: "So do I." Frank: "I have children." Villanelle: "I don't want your children." Frank: "No, I have children... to take care of." Villanelle: " Oh! This will give them something to bond over."
5. Villanelle: " You scared?" Frank: "Yes." Villanelle: "Because you don't know what happens when you die? You have any ideas? Your eyes will just... empty. Your soul goes in. People think that your soul or personality, whatever, leaves your body when you die, I swear it just goes further in. It falls so far in, just... just becomes so small that it can't control your body anymore, it's just in there dying, forever."
Krypton -
1. Adam Strange: "I was meant to save Superman!" (Milo M-J)
Law and Order SVU -
1. Olivia: "You really want to get this guy."
Fin: "He's the worst kind of predator, he betrayed his own. His sister really loves him and he's throwing her away." (Shirleena)
1. David: "There's this thing, this multiple worlds theory from like quantum mechanics, right? And every thing we do, there's like a million possible outcomes, choices. And each outcome actually happens, like a tree growing branches. ... In another timeline, I'm like a billionaire or homeless or married in the suburbs with like 2.3 kids." (Milo M-J)
NCIS -
1. McGee: "I've never been so proud to call you my friend than I am no. I just don't think I can say goodbye to you." Abby: "It's not goodbye for good. It's just goodbye for now."
2. McGee: "I'm not going anywhere until I know Abby is going to be okay." Palmer: "It could be days, maybe even weeks." McGee: "Then I'll wait. She is going to get better, right?" Palmer: "Oh come now. This is the indomitable Abby Sciuto we're talking about. I don't care what the odds are, you can never count her out. Look, I'm scared too but she's going to pull through."
3. Abby: "Confess and you get to live." King: "You're insane." Abby: "Sometimes you have to get your hands dirty to get the job done." (Dahne)