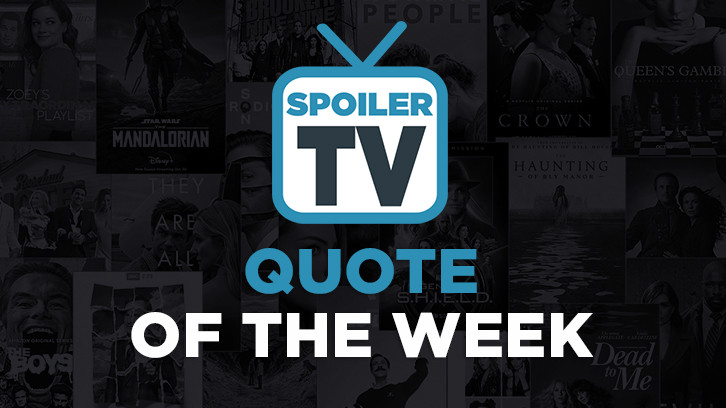 A weekly feature highlighting the best quotes on TV as picked by the Spoiler TV team. We'd love to hear your picks too so please sound off in the comments below.
The Americans -
1. Claudia: "I thought I knew you."
Elizabeth: "You lied to me. If you knew me, you'd know never to lie to me."
2. Claudia: "And you? What's left for you now? Your house? Your American kids? Philip?" (DarkUFO)
The Flash -
1. Nora Allen: "This house is bitchin'!"
2. Barry Allen: "It's you and me Iris." (Naomi Anna)
Killing Eve -
1. Carolyn: "Nadia has been murdered in prison. The good news is the buffet is open." (Eve)
Krypton -
1. Zod: "Kneel Before Zod!" (Milo M-J)
1. (The family is overjoyed that the president has declared a state of emergency, thereby helping the family's financial quandary) Darlene: "The president spelled Illinois wrong in his tweet, does it still count?" (Claire Serowinski)
Supergirl -
1. Reign: "Yes, give Lena more time, she doesn't have much left, because when I'm free I'm going to rip out her spine and when that is done I'm going to crack this planet open in half, you'll hear every scream." (Donna Cromeans)
1. Crozier's last message, spoken by the Inuit man: "Tell those who come after us not to stay. The ships are gone. There is no way through. No passage. Tell them we are gone. Dead, and gone." (DarkUFO)
Westworld -
1. Sizemore: "Shit! Ninjas! Oh, fucking hell!"
2. Teddy: "Where we go, we go eyes open. Together."
3. Sizemore: "He took one look at you and self-impaled. How did you do that?"
Maeve: "I don't know."
Sizemore: "That was no voice command."
Maeve: "I think I'm finding a new voice." (DarkUFO)
4.

Maeve: "I told you, I found a new voice. Now we use it."
5.
Sizemore: "And if you're asking if you can trust Akane, the real question is if you can trust yourself." (Milo M-J)