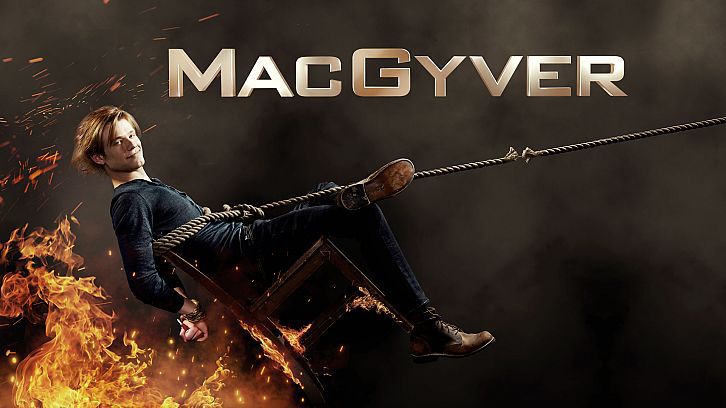 Warning - this review has a lot of spoilers. So, please watch the episode first, unless you don't mind me spoiling things. Oh, the pictures included in this review are from this episode, but are not always displayed in the correct order.

Episode 2.23 - Season Finale

MacGyver + MacGyver - MacGyver gets a shocking surprise when he tries to tell Matty that he's quitting the Phoenix Foundation, on the second season finale of MACGYVER, Friday, May 4 (8:00-9:00 PM, ET/PT) on the CBS Television Network. Tate Donovan guest stars as Oversight, a man with a history with Matty.


The cold opening for this episode was funny mixed with awkward mixed with I can't believe my dad is talking to me and my boyfriend and we are half naked. Probably one of the few funny scenes in this whole episode. It's Riley, with her guy friend and her dad. Oops..."He's not my boyfriend..."
Okay, I misspoke. The words that show up on the screen, telling you where we are, now those are always funny. Including this episode. "Some House. Somewhere." Can they be any more vague? I always love them.
MacGyver drives up to a mansion in his jeep. Can we just say, how can these "Government Employees" afford such awesome houses? No government employee I know of makes money like that. Are they independently wealthy and chose to slum it working for Uncle Sam maybe? On NCIS: Los Angles, Hetty has nice digs too. Sorry for my rant. It just bugs me. It's like when the soldiers are deployed in Iraq or Afghanistan, and then they get drunk off beer and hard liquor Um, General Order# 1 people. No alcohol, and no fractalization - "Seal Team" on CBS. Sorry, I've been meaning to say foul ever since "Hurt Locker" when the EOD Tech (dealing with explosives) was DRINKING in IRAQ.
Anywho, I digress. Back to the review of the season finale of Season 2.
I too like the voice overs a lot. I'm glad they were included in this episode. Plus, that opening scene with Mac walking into the mansion, the voice over was funny and so sarcastic. I loved it! And of course, he was dead on.
I found the 2-hour rewind a great way to tell us the audience what is going on. Plus, I do love Matty Webber.
So I have to say that I did love the confrontation between MacGyver and Matty Webber. Actually, I think it was awesome. Who knew MacGyver had such angst and could stand up for himself?! You could see it in Lucas Till's performance, that Mac had finally hit his boiling point of bullshit, lies and running around in circles searching for answers about his dad. I think this was one of the best MacGyver episodes so far. The give and take, and visceral feelings going and back and forth between the actors made it feel like it was a real fight. I loved it.
"I cannot work with someone I do not trust. So I quit."

And, so Matty sends MacGyver to Oversight. And now we are back in real time of this episode. And, the shock of it all. Who is Oversight (played by Tate Donovan)? None other than...James MacGyver, Mac's father who he's been searching for this entire season. WTH? I agree. You mean this whole time Angus "Mac" MacGyver has been working for the Phoenix Foundation and all its previous incarnations, he has actually been working for his Father!!!! Perhaps a tad shocking. Try like, wow!
And of course, people are trying to kill James MacGyver! Who you ask, well it seems his old partner sold him out and now wants James to finish something that was stolen from Phoenix. So now father and son are on the run together.
I again loved the protective annoyance coming from the gang of three, Jack, Riley, and Bozer as they invade Matty's office and demand to know if it's true that Mac quit.
And now...a car chase with Mac at the wheel of his jeep trying to get away from the bad guys. The scene between Mac and his dad was awesome. Mac asking and answering his own questions, his dad deciphering a coded message with a Chinese menu using a pen and the dashboard. With the exception of Jack, I don't remember a lot of people using Mac's real name. Well, now, except his dad. "Eyes on the road Angus." How could that not piss off Mac, who jammed on the breaks. Mac wants answers, his dad is saying now is not the time. So Mac decides to improvise and reverse direction going straight at the bad guy's car. Playing chicken, and the bad guy blinked and crashed. Mac's dad likes to use his intellect and make people think that what he is saying (normally if they do something, something bad will happen to them) is true. It's an interesting way to use one's smarts.
You can slowly see the differences between father and son. One, older, more cynical, and the other more optimistic and using his smarts to get out of situations rather than manipulation.
"Eyes on the road Angus."

The excuse of I was always watching over you in the background is kinda pathetic. I loved how Jack was about to shake James' hand when Mac introduced him first as Oversight, but as soon as Mac said and my dad Jack pulled his hand back real quick.
So, yes I know it's bad. But I could care less if Bozer's girlfriend joins the team. Her character does nothing for me. It's like bringing Cage into the group. It just doesn't work!!!
And now we are in Mexico! I love Jack. The whole "Ok, cocaine cowboy, my good friend and his very negligent father are gonna ask you some questions..." The fight scene started with Mac flying through the window, tackling the bad guy and holding his own till Jack puts a gun to the guy's back.
Mac's father butt heads the bad guy while he's questing him. And when he's done, James hits the guy so hard he passes out. "You sure he's not my dad?" Jack asks MacGyver. This is where my Three peas in a pod comes from. James MacGyver seems to be a cross between Mac's intellect and Jack's take no prisoners attitude. He's older and jaded, and it's so weird to see who MacGyver could turn into. But, I'm hoping that because of Jack, Bozer, Riley and even Matty, hopefully MacGyver won't turn to the darker side like his dad has.
"Ok, cocaine cowboy, my good friend and his very negligent father are gonna ask you some questions..."

Turns out the guy they are hunting, Jonah Walsh, used to be James MacGyver's "Jack", except he turned to the dark side and is a bad guy now. The dynamics between the older and younger generation is interesting. But, let's face it. Jack would never betray MacGyver for anything. But you can see why James hardened, with such an intimate betrayal. And yet he purposely put Mac and Jack together. Second times the charm I guess.
Galloping horses ensue. Yes, I did say horses. Jack, Mac, and James ride out on horses to the bad guy's lair. I love it, Jack tells Mac's dad, talk to your son. Then he tells Mac, talk to your dad. And somewhere in the middle of the conversation, Mac tells Jack that he'd catch him in a day if he ever went bad. Then Jack tells Mac, man up and go talk to your dad.
Scientists and Soldiers together in the field. It was interesting.
Jack is in pain, riding a horse, but, hey, people born in Texas don't take saddle breaks.
The interrogation and review of James by Matty was a job interview to see Matty in action. She became James' handler. James excuses for leaving Mac, pathetic I'd say. Sounds like he chose adventure over his son.
But wait, all those clues they've been finding and searching for, James knows nothing about. I wonder who left them? Can you guess? A certain someone who instills fear just by walking into a room. Anyone we know? Matty Webber!
Okay, so the rest of this episode I found a tad long. But then you will probably enjoy Mac and his Dad going up the side of the building to the roof, discovering a room full of blood stains, a video showing some experiments of a drug that Jonah Walsh stole that James was creating till he realized how dangerous and unstable it was. Turns out they walked into a trap. Of course, Walsh threatened Mac. Matty and Jack come to the rescue with some help from Mac giving the signal. And, at the end, Mac and James are rescued but Walsh got away.
The scene where Mac and his dad finally have it out was great! Like I said, Lucas Till's performance in this episode was awesome!
And he and Meredith Eaton as Matty Webber had another wonderful scene. This was emotional and so true to the bond that has been growing over the season. I think it's one of the reasons why the secrets hit Mac so hard. And when he thanks her for helping him find answers in her own way, it was great. But the best part of this scene and perhaps the episode was the emotional hug between MacGyver and Matty.
Especially since after this, MacGyver tells his dad in front of his friends that he can't work for someone he can't trust, and so he quits! What? Say it isn't so! And he just walks away without looking back. Ugh!
So thank goodness MacGyver has been renewed for another season!!!!
Looks like Walsh and some drug pin might be some of the bad guys for next season. But, we still so need Merdoc!
I loved that Jack made a reference to Star Wars!
I'd be remiss if I forgot to mention Jill played by Kate Bond! I love her and hope she gets a bigger role next season.
And of course, wait, is Riley thinking of leaving the team?
So many cliffhangers for season 3! Hurry up September and come so I can start watching Season 3 of MacGyver.
"You sure he's not my dad?" Jack asks MacGyver

Hope you liked this review. What did you think of the season finale of MacGyver? Leave a comment.