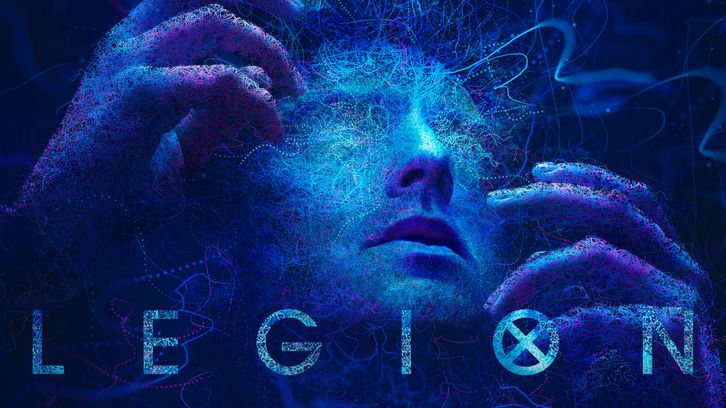 Legion 2.07 "Chapter 15" - Review:
Directed by Charlie McDowell, Written by Noah Hawley & Nathaniel Halpern

"A Delusion Starts like any other idea... but ends in disaster."

And so Legion continues once again, in one of its most unsettling episodes of the season, which is saying something, considering how unsettling Legion can be at times. It may not be the most plot-heavy episode of the season again (despite a couple of notable reveals), which is moving at a rather slow pace all things considering, but then that is nothing new for this show and the episodes that we do get are usually nothing short of brilliance anyway, so it doesn't matter as far as I'm concerned, how slow they are. Just as long as they're good.

Chapter 15 was another Syd-centric episode that focused on how David's relationship with Future Syd affected present day Syd. David is worried that present day Syd might be jealous of the future relationship that they share, but Present!Syd is quick to remind him that it's stupid because they are essentially the same person. However, she's quick to lay down a few ground rules once she learns that they haven't been intimate with one another. After all, like David says, "It's not like there's a handbook" for this sort of thing.

Farouk and David get some face-to-face time this episode as Farouk questions how much he really loved Amy, intent on getting under his skin once again in a dining room. Farouk knows David's past, he knows what he's thought about and can use that to exploit him, turning his anger at Amy when he was locked in the asylum against him. David tries to reason that they were just thoughts and nothing more, but Farouk isn't all convinced, leaving David and breaking any partnership that they had together in favour of starting the race for the Shadow King's body. Farouk acknowledges at least, that he will miss David once he's gone. But David isn't free from Farouk's mind-games yet, as he finds himself face to face with Amy, who has just heard everything that he's said about her. As David does his best to apologies Amy's maniacal laughter grows louder, as she's immune to any response that he tries to send his way.

If Syd is sending herself from the future to talk to David then Farouk is obviously going to have to acknowledge it at some point given how powerful he is and this week we got a one-on-one conversation with both Future Syd and The Shadow King as more of the reasoning behind the destruction behind the planet was revealed. If Farouk wasn't the one who was responsible, who was? He's almost delighted to learn that it's David, and Syd is going behind his back to recruit Farouk and prevent it from happening. But she's adopting a no-nonsense approach to Farouk all the same, quick to remind him that when he speculates that he's now the hero, she's quick to remind him that they're all villains. It's a fantastic sequence featuring both characters playing off against each other very well, making use of lighting and colours to really make the scene feel more immersive and atmospheric. Both Rachel Keller and Navid Negahban knocked it out of the park in this particular scene, and it was a great episode for the pair of them.

Farouk was not the only one who shared a one-on-one conversation with Future Syd this week as David also got to meet her in the chamber, warning her that he's done allying with Farouk, and is tells Future Syd that she's not the Syd that he knows. But despite this, he's not able to resist kissing Future Syd despite the ground rules established earlier in the episode. I can't help but wonder that given that this is Legion after all, whether there's more to Future Syd than meets the eye - is she everything that she appears to be? Or she just another one of Farouk's mind-games thrust in David's way?

It's also important to mention that Present Syd and Lenny shared a conversation this week, with Syd convinced that Lenny is in the employ of the Shadow King and whatever she's trying to do won't work. Lenny is quick to go from one extreme to the other, not in the best state of mind at the moment, still adjusting to her new body, and tells Syd about how Farouk raped her when she was stored in his mind basement.

But there are far more pressing things to worry about this episode as Ptonomy's delusion finally spreads, having been put in place a few episodes ago when it crawled into his ear, using his body as a host to leech off. Ptonomy leaves ready made delusion eggs near Syd, Clark and Kerry, determined to turn them against Admiral Fukuyama. All this is happening while David isn't asleep, and as a result, he's spared from the delusion, otherwise things could have gotten a lot worse. Ptonomy, Clark, Syd and Kerry all find themselves launching an attempt coup, as we get to see an awesome fight sequence where Kerry holds nothing back against a Vermillion-infested hallway. Clark gets close enough ot the Admiral to pull a gun on Fukuyama, who finally removes his basket to reveal... an ordinary middle-aged man in a neck-brace, that doesn't look threatening at all, before a human-sized delusion monster crawls out of his head, to startle Clark to the point where he comes incredibly close to killing him.

But then David comes to the rescue, and although he's able to free Clark and Syd, the bug inside Ptonomy is having none of it and escapes his spine before David can get to it. When asked what the bugs were by the Vermillion, David reasons that they're "insanity," and despite the attempt to talk to the larger bug that escaped from Ptonomy, leaving him in urgent need of medical care, there isn't any reasoning with insanity, so he promptly traps the bug in a jar before squishing it, annoyed at the inconvenient timing that has forced him to lose focus in his goal to chase after The Shadow King.

Chapter 15 was literally insane this week as it continued to give off that unsettling vibe that the show is known for, not holding back from creating a fantastic atmosphere as the show felt like a classic example of just how weird Legion can get at times.

What did you think of Chapter 15? Let me know in the comments section below and be sure to stay tuned for next week's episode, Chapter 16 airing next Tuesday on FX.