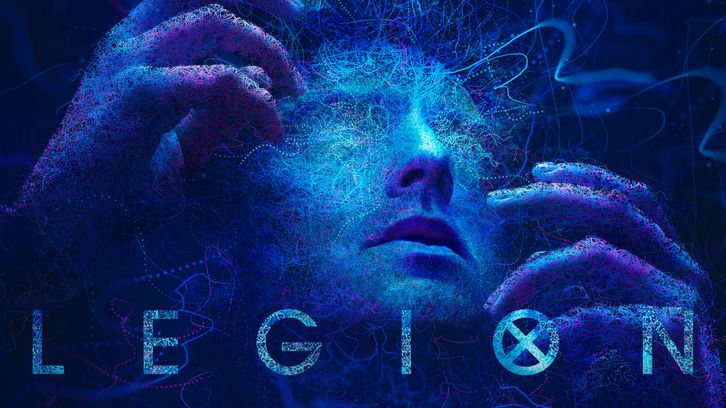 Legion 2.04 "Chapter 12" - Review:
Directed by Ellen Kuras, Written by Noah Hawley & Nathaniel Halpern


Legion
has been no stranger to mind bending episodes and we were faced with another one here in the form of
Chapter 12
, as David journeyed into Sydney Barrett's mind to wake her up, as she was proving a little harder to be saved than the rest of his allies. What we ended up with was effectively an origin story for Syd as told to David, who attempts of understand what she wants him to find out about her so they can escape. It was almost like a Bottle episode or even a Groundhog Day-inspired hour, with the amount of flashbacks to the same events that we had over the course of
Chapter 12
, but
Legion
has never been a show to restrict itself to a conventional format like that.
The opening sequence - the longest cold open of possibly any Marvel show to date - of Syd's early years which were fantastic, set to a good Bon Iver track -
22 (OVER S∞∞N)
. I found this scene so effective that it was one of my picks for Sunday's
Scene of the Week
- and I praised the show for its good use of music even though I'm not the biggest fan of Bon Iver. The decision to give more modern music a use here as opposed to the likes of the Rolling Stones and The Who (
She's A Rainbow
&
Happy Jack
were respectively were used in Season One) works with the theme of the episode, where we saw The National's
Turtleneck
and Tame Impala's
It Is Not Meant to Be
join Bon Iver for some spectacular music moments. Once again I have nothing but praise for the music choices that this show uses, and it knows how to use them really well.
The episode put David and Syd front and centre for much of its hour as it explored their connection and Syd's character, sending David down the rabbit hole of Syd's past in a much needed Syd-centric episode. As we've largely seen the narrative unfold from David's perspective it's rare that we get a glimpse this big into Syd's mind, both literally and figuratively, so this episode ticked all the right boxes for one of the most compelling characters of the series. Sydney may have taken a little longer than the other characters to be freed from the curse of the monk's chattering plague, but the decision to spend a little longer with Syd was a good one. The scenes set in the gallery of Egon Schiele's work was a nice touch too given how much Schiele plays an important influence on the original character creation of Legion himself in the comics, with co-creator Bill Sienkiewicz using him as an inspiration for his art.
Early childhood is especially tough for any mutant, let alone Syd - who doesn't like to be touched due to her powers, and we see the show test what we know about the character so far, and what David knows about her character so far. David believes Syd not being able to touch people is the reason why she's upset, but it's nothing as simple as that, and he hopelessly misses the point multiple times. It helps that the episode almost feels like a response to the criticism of Syd and David's relationship, adding depth to the two characters. As much as Christopher Nolan's
Interstellar
reinforced the message of love being greater than anything else in the universe,
Legion
offers a nice counterbalance to that, preferring instead to remind us that love won't save us, but it is the thing that's worth fighting for. It's a powerful message that's handled really well through Syd as she gets to show what she believes to her boyfriend in a unique and fascinating way.
Legion
has not shied away from using movie directors in the past with
A Girl Walks Home Alone At Night
's Ana Lily Amirpour bringing her own directing talents to episode two, but here we get to see Ellen Kuras, the cinematographer of both Martin Scorsese's
Bob Dylan: No Direction Home
&
Eternal Sunshine of the Spotless Mind
, bring her talents to the table in an excellent episode that really made the most out of its fantastic visuals. The scenes that explored Syd's past were presented very well - Syd being bullied at school, dressing up to go to a party and finding a costume that was the right fit for her whilst dancing alone at a punk bar - these were all incredibly stylistic moments that really made
Chapter 12
stand out.
The set piece at the heart of
Chapter 12
was a harrowing and disturbing moment that saw Syd test the full extent of her powers as she attempted to switch places with her mother's boyfriend, really showed how unnerving
Legion
can be. It's clear that there is no possible way anything good can come from a situation like this, and it shows that Syd, like everyone else, learns from her mistakes, with this one in particular being a choice that she made without thinking about what the consequences could be. The episode goes a great way in showing us all these incidents that made Syd stronger as a result and helped shape her into the person that she has become today. Life is a war, according to Syd, and love is what they're fighting to save.
Of course, in true
Legion
fashion, chaos is not limited to what we find inside Syd's mind, as when Syd and David wake up, they find themselves in a Division 3 during the middle of an emergency. It appears that Lenny is back - having apparently found a way to break free of the mind of The Shadow King and has come running to Division 13 for help. Met with an armed escort, she's escorted into the building, somehow restored to her own flesh. Is this another trick of The Shadow King? Or is this something else entirely?
What did you think of Chapter 12? Let me know in the comments below and be sure to stay tuned for Chapter 13, which airs tonight on FX.