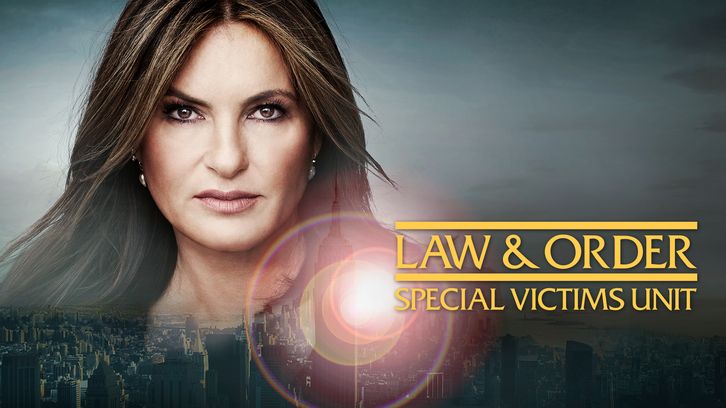 19.21 - "Guardian"
Directed by Stephanie A. Marquardt
Written by Julie Martin & Matt Klypka
Reviewed by KathM

What starts out as a straightforward he said/she said and takes an odd and surprisingly original turn in this week's story. I'm impressed by that alone.

Tiana's brother, Malik, and his friend run into a bodega in the middle of the night. A misunderstanding with the owner has them running into the street, right into the police that owner called when he thought the boys were going to rob him. Malik begs them not to arrest them but to go to the local park because his sister is being raped.

SVU is on the case. They find Tiana, the 16-year-old victim, sprawled on the ground in the park, disheveled and out of it (her tox screen later shows a crazy amount of alchol and herion in her system). Malik runs up and tells her that he's going to kill the men who raped her, and Tiana immediately agrees, shouting that she was raped. My first thought was that he wasn't really her brother, that he was actually her pimp. Boy, was I wrong.
Their stories differ immediately. Malik says that there were six big guys with a gun, but Tiana swears it was three teenagers. Fin is
NOT
impressed by the way Malik ran away and left Tiana alone in the park, regardless of how many guys there were, and neither am I. You take care of your family. Only when Carisi and Fin find the three boys who claimed that they gave Malik $200 to have sex with Tiana does it all come out: Malik is her brother and her pimp. Oh, and her legal guardian, as their mother is in prison.
And Tiana seems okay with it.
The last half of the episode deals with Malik on trial for child endangerment and promoting prostitution, among other things. Olivia also tries to help straight-A student Tiana understand that she can have more in the world than pimping herself out and getting high and drunk so she can handle it. She's their witness against Malik, but says she won't testify and maintains that she is the one who wanted to prostitute herself and did the whole thing on her own. The family had money for things before her mom went to prison, but they only had a small amount of federal support and it wasn't enough to give them the things they wanted. So she told Malik that she could help out by selling herself, and he seemed okay with it. One of the witnesses at the trial is the driver hired to take Tiana around to keep her safe as she went to "appointments", and says that whenever he dropped her off she ran into Malik's arms and he hugged her tight.
I thought the show couldn't get any more disturbing, but I was wrong. Their mom went on the stand to testify on her son's behalf she's all Team Malik until Fin brings in the man she assaulted (which is why she's in prison). It comes out that the person who organized the "date" which led to the assault was Malik. So yeah, he pimped out his mother and his sister. This finally disturbs Tiana enough to run out of the courtroom. It makes me wonder if she actually did come up with the idea to sell herself, possibly with some not-so-subtle hints from her brother. She said that she was constantly afraid of there not being enough money to make rent on the federal monies they received, and sometimes thinking that she'd be better off dead. It makes it hard to sort out who wanted who to do what.
But Malik did talk to his friend Jerome and tell him to make sure that Tiana didn't testify, so he made Tiana OD. Because...I don't know why. At some point I just sat there and looked confused. And more than a tad horrified. Oh, and Tiana refuses to believe that Malik had anything to do with it, even when she listens to Jerome's interrogation where he admits what her brother asked Jerome to do.
The family dynamic was so disturbing, but the writing was so good (it's been awhile) that it almost convinced me that the situation was normal, that this was a matter-of-fact way to handle things, to live. And that Malik wanted to keep his sister safe, so he made she had a car and driver so she'd have someone watching over her as she did her business. But really, Malik, doping her up and pimping her out in a public park? And still Tiana thinks that she has to do this to show him her gratitude for all of the real care he gave her. She tells Benson and Rollins about how Malik had to drop out of high school to take care of her when their mother went to prison. He made her waffles and was strict about getting her homework done. In the end she says she won't testify if Malik takes a deal, which he does. In the end Tiana walks away, hopefully right to a therapist's couch. You wonder whether she'll be okay.
What I really want to know is who started it. Did Malik and Tiana's mother come up with the idea to sell herself, and either asked Malik to help her out in order to keep all of the money in the family? Did he suggested it to her and offer to arrange her "dates"? And was Tiana the one who offered to prostitute herself? I'm still not entirely sure.
The best part of this episode was Fin. Where has he been? This story is also about him. a little. In a quiet way rather than a "Grandma stole my son!" Benson kinda way. He talks around living in the projects, instead of talking about how it impacted him. He yells at Malik for leaving his sister alone and in the park, and it shows you how much he values the people he loves. It's been interesting watching Fin grow this year, seemingly before our eyes. He's quiet, more introspective. He's a Sgt. now, albeit one without a squad. He's waiting for that next step, and I think emotionally he's preparing for it. This episode, with its bizarre and often disturbing twists and turns, suits him.