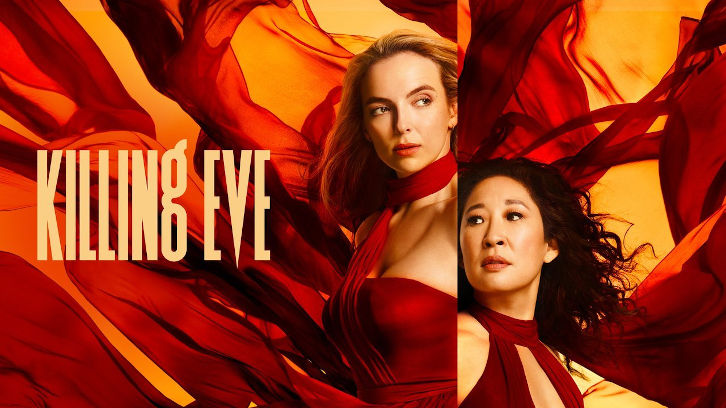 Usually, a series with a limited run will have at least one episode in which there is a lull before building to a big finale. But, as it has from the beginning, Killing Eve, breaks that mold with another stand-out episode, "Take Me to the Hole". The writers and producers keep their foot on the pedal, as they race towards a conclusion. They continue to throw in startling twists and turns that keep your head spinning, but more importantly, twists that keep you tuned in. If there's one lesson Eve (Sandra Oh) and Villanelle (Jodie Comer) both learn in this episode, it's trust no one. They discover that when it comes down to it, they are more alike than they know, both ending up feeling betrayed by people they had grown to trust. What results is an episode that, unlike other shows, gives secondary characters the chance to shine. In this case, we get outstanding performances from Fiona Shaw as Carolyn Martens, Eve's new MI6 boss and Kim Bodnia, as Konstantin, Villanelle's father-figure handler and as we recently learned a member of the mysterious group, The Twelve.


Upon learning that Nadia (Olivia Ross), the other woman with Villanelle when they were hunting Frank, survived Villanelle's attack and is now in a prison in Russia, Eve tries to persuade Carolyn to use her Russian connections to get them an interview with her. Surprisingly, Carolyn not only agrees but insists on going along. Upon their arrival in Russia Eve sees a whole new side to Carolyn emerge. As Carolyn arranges an initial meeting at a nearby bar with Vladimir (Laurentiu Possa), the normally no-nonsense, pragmatic woman suddenly becomes concerned about her appearance and insists she must dress up for this meeting. She confesses to Eve that she and Vladimir have a complicated past. She further confuses Eve when she reacts almost like a giddy school girl at Vladimir's arrival. Shaw shines in the bar scene wavering between cold-hearted spy and a woman reunited with a lost love. Then the writers give us yet another brilliant twist. Vladimir, equally smitten with seeing Carolyn again, agrees to let her and Eve go to the prison but insists that they are accompanied by one of his associates. Carolyn is surprised when the associate turns out to be another old friend, Konstantin. Yes, THAT Konstantin (Kim Bodnia)!
Unbeknownst to Eve and Carolyn, someone else wants to see Nadia at the prison as badly as they do. Konstantin had earlier sent Villanelle undercover to the prison, to finish the job of killing Nadia (more on Villanelle's mission later). Bodnia oozes charm and a guarded affability as Konstantin accompanies them to the prison. He agrees to wait outside, but listen in, as Eve and Carolyn try to persuade Nadia to tell them about Villanelle and the organization they work for. They even go so far as to offer to get her out of the hell-hole prison. And, just as it looks as though Nadia is about to talk, he inserts himself into the interrogation saying the sound equipment was spotty and he couldn't hear, but in reality, with just the slightest look and nod of the head, threatens Nadia out of talking. This man may look and act like someone's grandfather, but there is no doubt he is cunning and maybe even more deadly than his murderous protégé, Villanelle. Like Shaw, he shows us added layers to his character.
Konstantin's actions didn't go unnoticed. Later, a suspicious Eve meets Vladimir alone to try to persuade him to allow them to make a deal with Nadia. In exchange, she promises him the name of the mysterious group they are investigating. To sweeten the deal, she also promises him the name of an informant that had ruined a mission he and Carolyn had been on years ago. In confidence, Carolyn had told her that Konstantin had helped her get the best of Vladimir on that mission. Eve now isn't sure who to trust, especially after learning that Vladimir wasn't Carolyn's only suitor/spy in the past. She even orders Kenny to investigate his own mother to find proof of a connection between her and Konstantin. She is stunned when Kenny calls her back saying he did, indeed find proof of a connection between Konstantin and his mother.
Villanelle in the meantime is doing her best to get thrown in the hole (solitary confinement) and as far as she is concerned the sooner the better. Single-minded in her mission to kill Nadia, Villanelle is not only fighting to complete it but fighting her own demons. Before becoming an assassin for The Twelve, Villanelle had been a prisoner at that same prison. Per Konstantin's instructions she was to kill Nadia, somehow make contact with the prison doctor, who was The Twelve's inside man at the prison and top recruiter of young women like her, and then get taken to the hole where Konstantin would come and retrieve her. But, like Eve, Villanelle learns a hard lesson in trust. She completes her mission of killing Nadia, and when found with blood on her hands standing over Nadia's dead body, she almost cheerfully declares, "Take me to the hole!" Only, when she's put in the hole, the doctor arrives. She expects he's there to take her to Konstantin, to get her out of a place filled with her demons. Instead, the doctor declares, "Konstantin, who?"
The only weak part of this episode and the series for that matter is Eve's husband. From the beginning, Niko (Owen McDonnell) has been portrayed as the supportive husband. However, in this episode he acts totally out of character, becoming almost shrew-like, arguing he wants Eve to quit her new job because he doesn't want her to end up dead like Frank and Bill. Again, his character, which started out interesting has become somewhat unrecognizable. With just two episodes left, there are so many questions left to answer. What's in the note Nadia managed to scribble for Eve before Villanelle killed her? Will we get to meet Anna, who is it revealed to be the wife of the man Villanelle killed by "cutting his knob" off? What is the true relationship between Carolyn and Konstantin? And, is Carolyn one of The Twelve? Discuss these questions and your thoughts on the episode in the comments below.