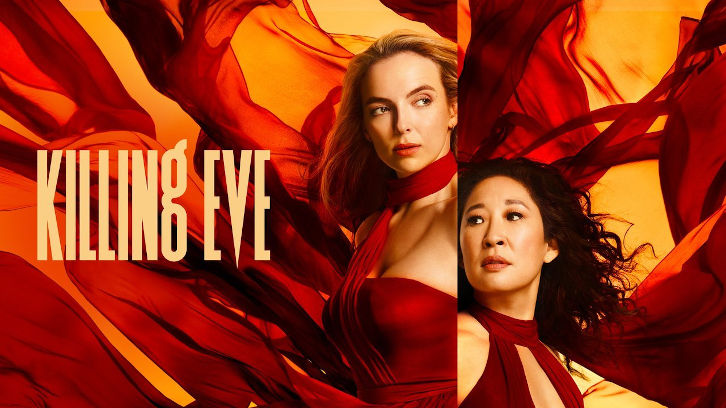 Just when you thought this superb season of Killing Eve couldn't get any better, they give us an episode like "I Have a Thing About Bathrooms" (1x5). In an episode unlike anything this reviewer has seen on the screen in a very long time, Killing Eve continues to not only raise the bar on outstanding mystery/thriller television, it's taken that bar and thrown it out the window. Episode 1x5, "I Have a Thing About Bathrooms" is a brilliantly written, intelligent and gripping hour of television, featuring award-worthy, tour-de-force performances from stars Sandra Oh (Eve) and Jodie Comer (Villanelle). In a review of an earlier episode, I speculated that the show would soon give us an entire hour consisting of mostly these two incredible actresses and the complex characters they have created. And we very nearly got that. Before discussing those scenes that literally took viewer's breaths away, here's a look at the number of plot twists that got revealed this week.


The centerpieces of this series masterpiece are two sequences both taking place in Eve's London home. The first involves Eve oddly donning the new clothes and perfume sent to her by Villanelle. The second and most breath-stealing is an intriguing, bizarre encounter between Eve and Villanelle. It's a strange dinner party dance where the two match wits with one another, sizing each other up while Villanelle eats warmed over Shepherd's pie. These scenes make one truly wonder who is the hunter and who is the prey.
Later, armed with the name, "Oksana", that Frank (now tucked away in a safe house) remembered, hearing, Kenny uncovers a Russian prison file of a young girl incarcerated. Her crime? Killing a man who attacked her by "cutting his knob off," a phrase that is likely to become a catch-phrase for the show. A weary Eve takes the file home to study as her husband is at a bridge competition.
Then comes the scenes that literally took viewers breaths away with their intensity and creativity. Can you imagine the last time you saw or read a thriller of this stature where the serial killer shows up in the home of the person investigating them? That is exactly what Villanelle does. She chases a panicked Eve through her own home, eventually trapping her in her bathroom and calms her down by running water in Eve's face and announcing, "I just want to have dinner with you." What????
One can only imagine where this highly intelligent and crafty game of wits between these two will go next. Well, we know where, Russia back to Villanelle/Oksana's roots, perhaps the more important question is how the game will continue. What could they possibly do to top this week's brilliance? What were your thoughts about Eve and Villanelle's dinner party and the episode? Discuss in the comments below.