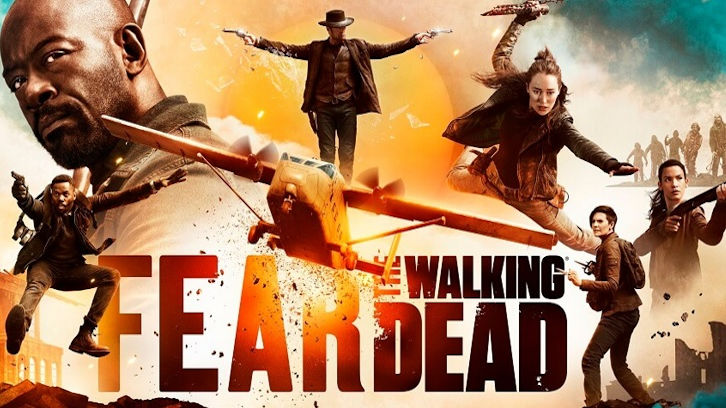 It is always tough to do a follow-up episode to one game-changing outing like last week`s episode. And while Burried gave us a sense of direction Nick`s death wasn`t properly mourned, not yet. But I hope it will be, still many episodes to go before the season wraps its run. The fourth episode of season 4 was written by staff newbie Alex Deylye and directed by Magnus Martens.

I truly have to give a major shout out to Alex as she really did a phenomenal job in capturing the essence and vibe of the show and this season is her first big writing gig, so a round of applause guys. The way the writing and directing combined within this episode and how they`ve complemented each other made this a worthy outing.

Especially the scenes in the Van with Althea shouting Victor, Alycia and Lucianna were really strong and impressionable. You could feel their pain, their sorrow but also their strength. Their survival instinct resonated so hard and gave all the emotional energy this episode needed.
The "original" gang being united in their desire to go after the Vultures was another beautiful sentiment about how united they were and how close they grew during this time. Nick`s burial felt honest and while people usually connect burials with a lot of crying it was appropriate for them to just phase through it cause they had a different plan on their minds. Also, they know it was Charlie who killed Nick and I wonder how that will play out down the line. Will they be able to go an eye for an eye? Also how long will Althea stay on the same side as the team and will curiosity kill the cat a lot of questions to be answered this season.
A neat surprise was that John`s Laura and the Baseball stadium`s Naomi were the same individual. Wonder how this story will play out and if she feels the same way about John. The Naomi I wanna run away plot was probably the more tedious part of the episode but still, it worked in the grand scheme of Naomi integrating into the group and becoming someone who wants to stay with the group. I`m sure she isn`t dead and that we will see her return with Madison in the present timeline. One thing I pray for is that this Morgan-John on their own thing won`t turn into a filler episode involving the two of them and accidentally joining the team again. There aren´t enough episodes for that, so let´s just skip it.
My favorite part of the episode by far was Victor and his struggle. The feelings he started having for Cole (Sebastian Sozzi) were making him change and his honesty was turning into a burden. The chemistry between Cole and Victor was really great and their scenes made me more exciting for every other following scene. Victor is a complex and strong character and him getting more focus is just what the show needs. Seeing Victor whose survival compass only ever pointed to him challenge it was interesting to watch and perfectly executed by Colman Domingo.
Last but not least we got a big dose of Nick and Lucianna in the Stadium timeline. Lucianna is working really well this season and much more tolerable as her character feels a lot maturer. Her fear for survival and love for Nick were canceling each other out. It was sweet to see her emotions for Nick prevail even though they are part of what went wrong on that fateful day.
Another episode low on Madison ended but I hope that will change with further outing. What are your thoughts Burried? How are you liking this new chapter in FTWD`s run? Feel free to comment down below, looking forward to hear your thoughts.