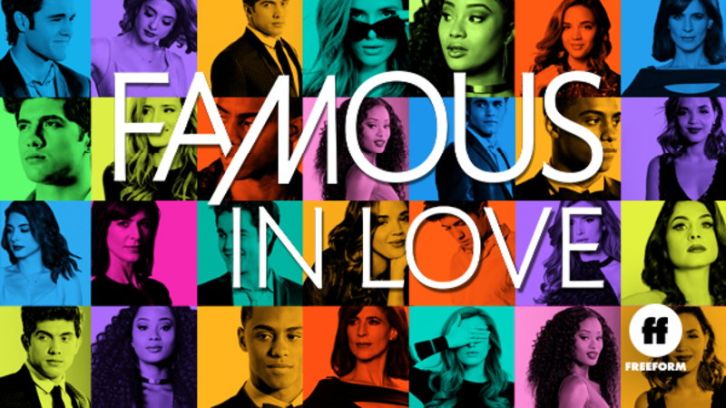 Previously on Famous In Love…The Tin Creek Film Festival turned out to be a disaster for Jake and Paige. Tangey had new music to showcase, Jordan was trying to manage his disastrous public relations situation, Nina was her usual manipulative self, and Harper shocked us with her sleek maneuver of stealing a script right out of Nina and Steve's hands indirectly. There was also a visitor from Paige's past who showed up unexpectedly but seemed to be in Paige's good books, so that left us with some type of a cliffhanger. Last week we saw some unexpected shift happening on the show with new characters taking the reins and commanding to control, while other characters fell back into bad habits.

"Look Who's Stalking."
If anyone has been reading my reviews, they will remember that Paige had been going through a stalker type of situation for a couple of episodes. Well, this all comes around in this episode as things escalate with bullet speed. The writers tried in several different episodes to mess with the viewer about the identity of the stalker, but if you have been a keen watcher, this was easy to figure out. I will get back to this part of the episode in a little while. Relationships are hard, and anger causes those coupled to make stupid decisions. Last week we were left wondering if Paige was going to hook up with Eddie and in a scene that has been regurgitated on every show with a cheating storyline, we get the gist of their night together. Eddie seemed to harbor deeper feelings for Paige from the past, but gladly she informed him that this would not go anywhere because of her boyfriend who she had conveniently forgotten about when she ended up in Eddie's bed. It was refreshing to see Eddie set Paige straight by pointing out her disregarding attitude towards her relationship with Jake. Paige ran to Cassie who was back this week to cry about her betrayal, but Bella Thornes performance was not the greatest in this scene. The emotions didn't seem genuine and Cassie blaming the stalker stress for Paige's cheating was lame. Jake, on the other hand, had his hands full with Billy who apparently was starting to show signs of falling in love with him. Billy's offer to ask her dad for money for Jakes feature was sweet, but there has to be a catch somewhere, and he would be stupid to fall for it.
A relationship that no one seemed to pay attention to was ending prematurely in this same episode. Adam announced that he would be moving away to film a movie for eight months and Cassie threw a fit. I will not dwell on this because the writers didn't give us much to connect with from these two characters. Their relationship was forced, and the audience never got a chance to see them develop. Writing Adam off suddenly via a dramatic exit was strange. Adam could just not have shown up in any more episodes, and nobody would have cared. The show needs to do well by Georgie Flores because as part of the main cast, right now her story is not worth talking about. They need to make a decision on whether her role would only be Paige's sidekick therapist or an upcoming actor on the show on her own ambitious path.
I don't know if any other person was taken back by the whole shoplifting incident with Alexis; it was baffling especially when she told Sloane that she forgot she put the shirt in her bag. This was a plot twist that many reality shows like "Alexilicious" use to get more viewership. There is always cameras rolling and the fake surprise when caught and voilà ratings go up when the episode is aired.
STOP PLEASE!
As a viewer, I was bored out of my mind with how predictable this set up was. Also, the whole fake story that Sloane gave Tangey about Alexis losing it was ridiculous. If you're keeping count; I am on eye roll number I cannot count on my two hands.
So much happened in this episode that was unnecessary, the whole Cassie and Adam situation could have been scraped off or done four episodes ago. Sloane did not need to be on this show even though my guess would be I. Marlene King was using it as a way to warm the screens for Sofia Carson. Sloane's storyline is bogus and adds nothing to the other elements. The drama she brought in the two or three episodes she's been in was nothing to write home about. I would have preferred Cassie's role to be explored more or even Jordan's backstory expanded. I am not sure what Freeform is planning to do with it after this season; however, my recommendation would be a new showrunner if they decide to keep it going. I have been watching this show religiously since season one not just as a reviewer but also a fan so my disappointment this season is well documented. The writing has been lackluster, and the plot has been jumbled up like a box of stale mixed cheerios; yes imagine eating that.
Don't forget to watch Famous In Love on Freeform Wednesdays at 8PM ET.