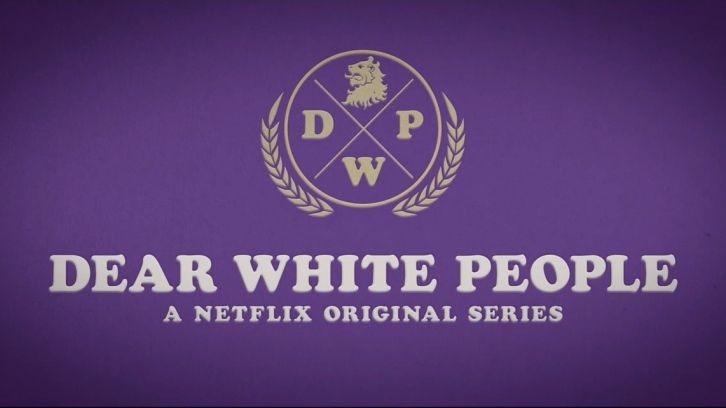 After a masterfully well-done first season, Dear While People returned to Netflix with a second volume of stories around its beloved group of unique characters. Following closely the events of the end of the first season, Dear White People Vol. 2 manages to serve us another excellent set of episodes. Let's review.

The current social and political climates we live in impact Dear White People, even if no names are being directly called out or specific events referenced. There is a main concern with racist voices getting louder and louder within the show, as well as a worry from many of its characters that society is moving backwards. As in season 1, Sam (Logan Browning) is the leader of this never-ending fight against racism but she at first seems to be at a loss for words. When the season opens, Sam doesn't know what to say on her radio show and is baffled by the violent backlash she is experiencing on social media, especially when a troll uses her as his main target. But Sam is not the only one struggling this season. On some level, each characters deals with his own crisis, whether it is Lionel (DeRon Horton) learning to approach his sexuality and relationships, Troy (Brandon P. Bell) trying to reframe his identity, or Reggie (Marque Richardson) copping with being held at gunpoint by a cop. The idea of constant fighting with or against something is present in all of the characters' lives, whether they are up against other peoples' perception of themselves, or fighting to find their place in a world that seems to be rejecting them.
If character development is one of the strongest suits of this season, the writing and especially the dialogue is not to be undermined. The eighth chapter of Volume 2 contains the most remarkable piece of dialogue in the entire season, putting Sam and her ex, Gabe (
John Patrick Amedori
), in a face-to-face where emotions collide with divided views. But the show isn't just good at putting words in its characters' mouths, it is also excellent at using narrative tropes in ways that conveys story ideas in creative manners. Episode 4, for instance, uses speculative narration to present viewers with a version of Coco's (
Antoinette Robertson
) life that could be if she decides to have a baby, and to help her make the decision of keeping it or not. In this episode, both viewers and characters are presented with an option and can decide if they like it or not. Ultimately, the decision is Coco's but seeing what her life could turn out to be also gives viewers the opportunity to question whether they think it's a good thing for her character or not. In fact,
Dear White People
allows us to know its characters so deeply that we get highly invested in their fate, no matter how shitty a human being they can sometimes be, and it solidifies this connection between the viewer and the characters by having them look straight at the camera at the end of each episode.
The second half of Volume 2 is definitely where things kick into high gear and the story arcs become more and more compelling. The last three episodes of the season are the strongest ones and the show leaves us on a very high note in the finale, introducing a character that has always been there (and yet that we've never seen), a character we are dying to see more of. Old and new relationships are born or repaired, and many of the characters end the season on a higher note than they started it in. The same way season 1 ended with a protest, season 2 does too but this time with a hint of hope when Lionel and Sam make a discovery about secret societies that could help them "save the campus and the world." It is clear that
Dear White People
have big ambitions for the future of the series, that it has things to say about fighting nonsense and ideas for ways to make its characters' evolve, and based on how well it handled this Volume 2, the rest of it cannot come around soon enough.