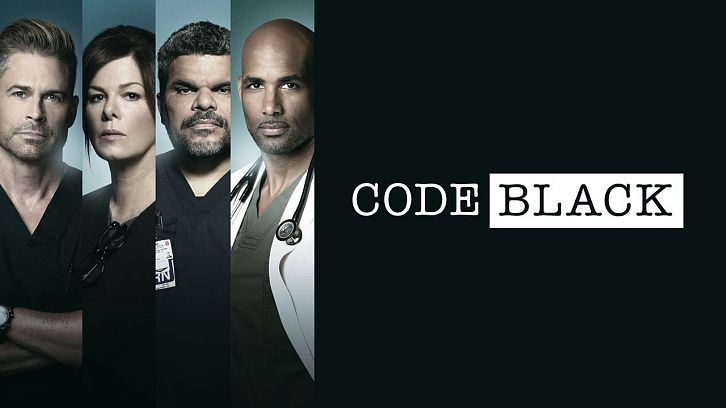 Code Black always had this weird but beautiful way of combining hope and tragedy and giving its characters progress throughout. La Familia took things to a new level as Jesse`s Brother took up most of the time in Center Stage with other interesting cases and character-driven stories were roaming the episode. The 3rd episode of the season was written by Barbie Klingman and directed by Michael Shultz.

Before talking about the highly emotional stuff, let's revisit what Diego Avila was up to this week. And while this controversial character is making my eyes roll like crazy and makes me wanna punch the wall, I love him to the core. Tyler Perez is doing a phenomenal work portraying this filthy mouth character. My stomach cringes everytime he makes one of his revolting statements but the even more important part is the reaction of his surrounding to his words. They don`t approve it and don`t intend to cut him off any slack. Diego`s need to justify himself towards Guthrie proved just how aware he is of his behavior but is still triggered to see how far he will get with this stint. While I don`t need a redemption arc for him I do wanna see how far the writers will go with his story and how deep of a grave he will dig for himself.


And while Diego`s stupid jokes were floating all over St Angels Memorial, Jesse suffered one of the toughest hits someone can face during their lifetime. Luiz Guzman`s performance during the episode was heavenly perfection, impeccably dosed with the right amount of denial, sadness, acceptance and hope all wrapped in a 1-hour roller coaster. The final information that Jesse and Jose were foster brothers took this whole story to another level and made it even more personal for Leanne and April but I will come back to that a bit later. What this season brings back to the superb season one quality is the full-time return of Leanne & Jesse. Season 2 pushed their interactions bit aside but now they are back and bring all the emotions all the time. Most people in have that bestie in their life where only looks and gestures are enough to understand each other and that are Leanne and Jesse. They have a connection that exceeds the verbal and they transfer it to the screen and that just shows how well cast they are, how well the script suits them and how immensely talented they are.
As said Leanne had some strong moments with Ariel as well. The two of them are like light and shadow, so different, so incompatible but can`t exist without each other. Ariel is a damaged girl, life abandoned her and she barely clings on to the life as she barely hangs on. She will need a lot more of reassuring from Leanne to believe she won`t be left alone again but they are on a good way.
Another great example of how the show combined the light and the dark is the story of Ethan and Rox who both carry some darkness within themselves but see also the light inside each other. Also, their story this episode went from tragic, to hilarious and back to deadly serious. Ethan feeling comfortable enough with Rox to share his brother`s death was a major step in their current friendship, which is heading towards a relationship. Their story this week also included the return of Pepper Russo. Pepper is obviously a very shy girl still trying to find her grounding so her getting involved in the vaginism case was indeed hilarious but she handled it well. Also loved her bada*s repair of the bone displacement, she rocked it. The writers better keep her around.
The reveal that the porn actors are an actual couple was like a slap with a wet towel, haven`t seen that coming. The writers using their story to feature a bunch of different relationships was very smart and very well written. The way the writers toned down Noa and Mario`s relationship feels a lot more natural and enjoyable to watch. They are still learning about each other and adapting so it is nice for the writers to give them more space to get to know each other. Also, we need to appreciate every single Mario-Angus scene. Those two are such a treasure and their scenes feel just so honest and comfortable.
Last but not least let`s talk about what a great mentor Campbell is. He isn`t if you didn`t the sarcasm but the dynamic between Angus and him is just worth all the messiness. I`m honestly surprised how open they let Angus talk back to Campbell he was never the one to defy superiors so blatantly but I like it. It makes their interaction interesting and gives both of them so many more layers.
The episode ended with a heartfelt and long needed hug between Leanne and Ariel and I think we all need one after this episode. Code Black continues to defy odds and deliver compelling stories week after week. Stop by the comment section and share your thoughts on La Familia.Don`t forget to tune in next Wednesday for a new episode at 10pm Central on CBS.