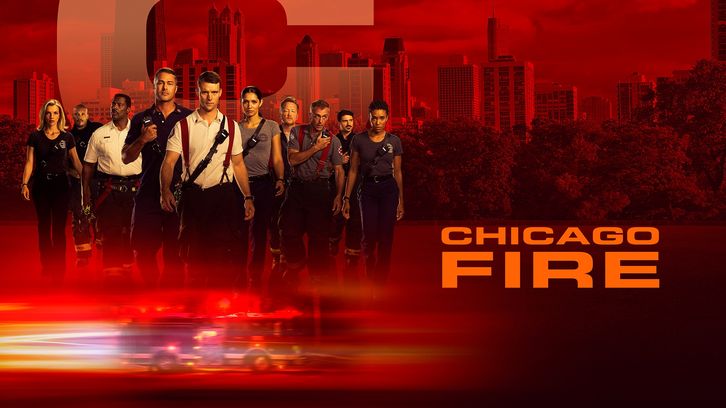 "The Unrivaled Standard" was a very emotional episode that included an amazing performance by David Eigenberg. However, I could have done without some of the other stories especially the return of Renee Royce.

I loved the scene at the beginning of the episode when Severide brings Stella her mail. He tells her he's going to keep bringing it to her as a punishment for moving out. He agrees to take her out on a date, and things seem to be going well. That is until Renee comes back into the firehouse. Did anyone else think it was funny when Capp said "This day is about to get interesting"? Dawson gives Stella the background story on Renee, and I loved that Shay was mentioned!


It turns out that Renee is on a case to help take care of firefighters, and she asks Severide for help. While it seems innocent enough, I don't trust her, and I have a feeling this might cause some issues between Severide and Stella. Brett even makes a joke later about how Stella shouldn't have moved out.
The other story I could have done without was Cruz and his married friend. Cruz did decide to end things with her, but not before damage was done. Brett finds out about his night, and she gets upset. They do make up at the end, and he tells her not to give up on him. How much do you all want to bet that once these two get back together, Antonio will show up and want a relationship with Brett? It seems like something the show would do. Side note: Did anyone else think it was funny when Capp turned and tried to listen to Otis and Cruz's conversation?
Besides those two stories the episode was well done. I loved that Casey and Severide came up with a plan to campaign for Boden. They really want him to get the commissioner job, and I thought it was great that those two wanted to help. Boden's done so much for them, and they think the entire department can benefit from Boden's help. But Boden doesn't feel the same way- at least not at first.
The other story in "The Unrivaled Standard" revolved around Herrmann. He's coaching a basketball team, but he's having some trouble with one of the dad's who keeps yelling. This guy, Paul Calannino, is loud, and he's ruining the fun for everyone. Herrmann has a talk with him at Molly's, and it turns out Calannino isn't such a bad guy. He's just trying to connect with his son through basketball.
The firehouse gets called to an auto service store that's on fire. The fire is very dangerous and Boden wants everyone out, but Herrmann is desperate for more time. He finds someone who needs help and is able to get him and the man out of the fire. Herrmann realizes once he's out that Calannino went back inside. They go back in once the fire calms down, but it's too late. They lost Calannino.
After the fire, Herrmann beats himself up over Calannino's death. This was such an emotional scene as Herrmann breaks down and cries with Mouch. David Eigenberg did a fantastic job portraying Herrmann's grief.
The entire firehouse go over to the Calannino's house to pay their respects, and Boden decides he wants to throw his hat in the ring for the commissioner job. We also learn that Grissom wants the job, too. This will be interesting to see what happens between these two. I had mixed feelings about Boden getting promoted before, but he deserves it.
The final scene of the episode was heartbreaking as Herrmann sees Calannino's son playing basketball by himself. Herrmann goes to him and gives him a hug. Seriously,
Chicago Fire
, rip my heart out why don't you!

What did you think about "The Unrivaled Standard"? Did you think it was as sad as I did? How do you feel about Renee returning? Leave a comment and discuss below!