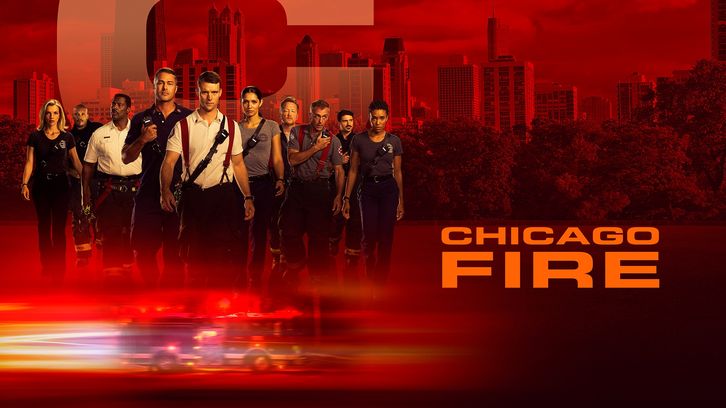 Does anyone else feel like this season of television just started? But it's already May, and it's the end of another season of Chicago Fire. This year viewers were given a two hour finale, and the cliffhanger could change the entire show.

Dawson and Casey are trying to have a baby which is great, right? But they visit a fertility specialist who tells them Dawson has an aneurysm which could rupture if she gets pregnant. Dawson decides she still wants to try to get pregnant, but Casey's worried. He mentions adoption, but Dawson can't go through losing another child like Louie again. Casey visits an adoption agency by himself just to get information (how funny was it that the lady's name was Dawsey?). As you can imagine, this does not go over well with Dawson. She doesn't want to adopt. They fight, and Casey tells her she can't have her own baby.

Back at home Dawson tells Casey that it's her risk to take so she is going to have a baby. Casey gets irritated because this is just one more big decision that she is making without him. She says that she can't be dependent on him, and he doesn't understand why. She tells Casey that she'll be back later and walks out. Now, I can see both sides of the situation. Dawson just found out devastating news, and she's right: Casey knew who she was when he married her. But I understand why Casey's frustrated. He doesn't want to lose Dawson, and it would be dangerous for her to have a baby. He has the right to have an opinion.
Dawson also had a rough week as a paramedic. Brett and Dawson get called to an apartment building where a man answers the door, this guy is bleeding from a cut on his head. Dawson leaves to get supplies, and the guy tells Brett his neighbor is messed up. She walks to the bedroom and finds a woman with a knife sticking out of her chest. She tries to radio dispatch, but she can't through. By the time Dawson gets back it's too late, and the woman has died. This call deeply affects Brett as she sobs in her car later that night.
The next call doesn't get any better. Dawson, still upset from her fight with Casey, snaps at Brett when she grabs scissors instead of gauze. Brett gets angry and storms off. When they get back to the firehouse Brett tells Dawson that she has never been spoken to like that. While I agree that Dawson was completely out of line, Brett was also unprofessional by storming off. They both needed to put their feelings aside to do their job.
Before these calls Cruz was planning on telling Brett how he feels about her. He was planning a grand gesture, and he even had Otis's blessing. Otis was originally against Cruz and Brett, but Cruz has only made bad decisions since hiding his feelings. But Cruz never gets a chance to tell Brett how he feels. When he comforts her, she tells him his friendship means the world to him.
Does this mean that Brett still thinks of Cruz as just a friend? I'm just confused by this relationship. Does anyone want Cruz and Brett to get back together?
Apparently the theme of this episode was relationship drama because Stella and Severide had to deal with Renee. It seemed like every time they had some alone time Renee interrrupted them. Severide also spent some time with Renee's son. He acts like he really enjoys his time with the kid, but Stella worries Renee is using her son to get to Severide. I have to admit I thought the same thing.
Severide helps Renee win her case, and she kisses him. While this is happening Stella gets worried when he doesn't pick her up from the firehouse. But he's waiting for her at his place. He tells her that they won, and have have a very adorable moment together. He really does care about Stella. I want this to work so bad! Stella makes Severide happy, and it's refreshing to see him in a serious relationship. Who would have thought Severide would ever have the healthiest relationship on this show?
The other big story this week was the race for commissioner. At first it looks like Boden is going to get the job as the current commissioner endorses him. Things take a bad turn when the news of Boden accepting a cash bribe gets out. This obviously isn't the whole story, but the commissioner pretty much throws Boden under the bus to save himself. It's pretty clear that Grissom is behind this, and Otis discovers that Grissom's been changing his progress reports to make him look better. They tell Boden, but it's too late. Grissom is named as the new commissioner.
Grissom is such a jerk. He's always rubbed me the wrong way, and after he treated Severide, I hate him. I hope that this news becomes public knowledge next season, and Boden can get the promotion he deserves.
At the end of the episode Dawson finds Chief Hatcher, and asks him to tell her more about the Puerto Rico trip. She originally turned down the opportunity, but now it sounds like she wants to go. Now, everyone has heard the rumors that Monica Raymund isn't coming back next season. So will Dawson just go to Puerto Rico? Or will something else happen? I really hope they don't kill her off. I've had my issues with Dawson over the years, but I don't want her to die.
Even though I love Dawson and Casey together when they're happy, they have had so many issues and so much drama. It might be nice to have a break from that next year. I guess we'll find out in the coming weeks if Monica really is leaving. David Eigenberg hasn't signed a new contract, either, but I hope he does. I can't imagine
Chicago Fire
without Herrmann.
Other Thoughts:
- I loved that Herrmann tried to cheer Stella up by asking her to help his kids and braid his daughter's hair.
- If Dawson leaves can we please get Peter Mills back? I think most of the fans loved him, and I still miss him dearly.

How did you feel about the season finale? Did you like this season? How do you feel about Dawson leaving? What do you want to see next season?