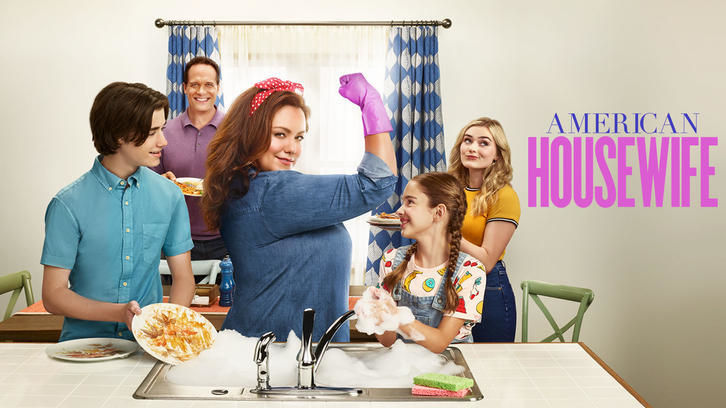 After a year whole year of planning, the Spring Gala is finally here! And it's turning into a total train-wreck...

Things begin looking pretty good for Katie. Castle's coming, the venue's ready, the food is ordered. Even if she's getting forbidding phone calls from last year's crazed gala chairwoman Stacy Klauser, even if the mean moms of Westport (headed by Tara Summers) don't believe she can pull it all off, Katie's got this thing in the bag!


Greg's been left in charge of the kids full-time while Katie sets up for the gala, and he's decided to go full-on "Fun Dad." He's letting them eat ice cream for breakfast, stay out past curfew, and even skip school to go visit Hans Gruber at the farm. While there, the kids start pestering him about getting a pet. Yes, pigs aren't good house pets. But, a dog would be a whole different story, right?
And that's how Greg ends coming home with Luther, the farm sanctuary's foster dog. Now, he's just got to figure out a way to tell Katie, which shouldn't be hard since she's in a such a great mood about the gala working out.
Except then things start going haywire. Right as Greg prepares to introduce Katie to the newest member of the family, Katie finds out that someone called PETA on her. Turns out that there are some questionable ethics regarding using an elephant for domestic purposes. Who'd a guessed?
With Nathan Fillion only wanting to do the Gala because he gets to ride in on an elephant, (And that box of animal crackers he ate was all elephants, so it must be a sign!) Katie calls in arch-enemy Chloe Brown-Mueller's employee/slave Maria, known as the craftiest lady in Westport, to help her out. Greg can borrow a camel from the farm sanctuary, so all Maria has to do is make it look like an elephant. And she's more then happy to help if it means spiting her hellion boss!
With that problem taken care of, Greg attempts to introduce Katie to Luther again. And again the phone rings! This time it's Doris. She's at the venue where the vendors and the caterers are supposed to be setting up - and no one's there! Apparently, all the vendors and caterers are saying Katie canceled everything the week before!
Katie's now at her lowest of lows, plopped on the couch talking about how she's going to leave Westport and run off to Mexico with a hot guy named Enrique. Greg though is ready to swoop in and save the day, giving a super inspiring speech about how the Katie Otto he married wouldn't let anything stop her. She'd find a way to throw the Gala her way, not the fancy Westport way. It's then that Luther finally escapes from hiding and introduces himself to Katie!
And so, with Greg, his creepy assistant Grant, the kids, Doris, Angela, and Greg's friends the recycling crew, Katie sets out to save the gala. Katie sends Angela to the outlet store to buy tons of floor pillows ("Fine. I'll do it because we're friends. But, I am paying full price!"). Angela, Greg, and the recycling crew raid her house for Buddist themed decorations and then clean out the trashcans for trashcan punch. Oliver rallies his ballet class to turn into Bollywood dancers. Grant brings in his uncle, who runs an Indian food truck. And Taylor and Anna-Kat steal flowers out of Chloe Brown-Mueller's yard for centerpieces. Katie and Anna-Kat feed Nathan Fillion a box of animal crackers that are just camels and elephants to give him a "sign" to ride in on the camel dressed as an elephant. Katie even finds time to call Stacy Klauser and let her know that she was probably set up by Tara Summers as well.
And everything works out! Stacy Klauser even shows up to body-slam a bewildered Tara Summers. Oh, and it turns out Tara wasn't the one who sabotaged everything! It was Susanne, one of the only nice (if slightly off her rocker) women in the group. Apparently, those Mexican diet pills she's been downing have made her just a bit psychotic!
Random Thoughts:
-"A brain freeze before 8 A.M. This is living!" I agree, Anna-Kat. I agree!
-I hope we see more of Luther next season!
-Best line goes to Greg during his speech to Katie. "You are Katie Otto. You have stood up for the down-trodden, the poorly dressed, the larger gals, the people who don't believe opening a bag of peanuts on an airplane can really get someone sick ten rows away!"
-I'm dying to know what swear word Katie keeps using that even Doris thinks is unwarranted - that means it's gotta be really bad!
Were you surprised that Katie was able to pull the gala together? What do you hope to see on the next season of
American Housewife
? I've had a blast reviewing this season! I'll see ya'll on the other side of summer!