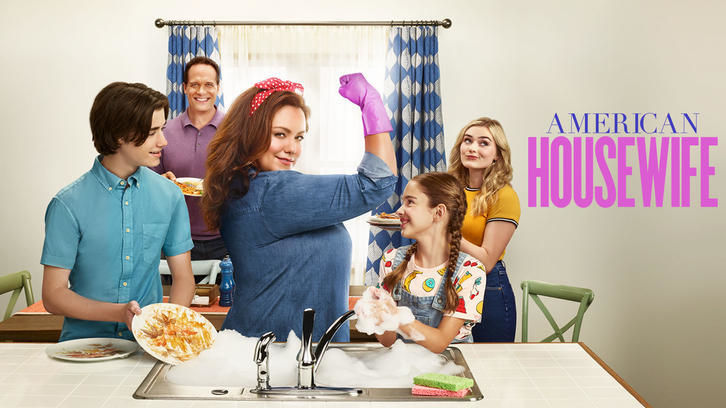 "In a relationship, only one of you is allowed to have a bad day." As if...



Katie's old coworker Ashley is coming into town and they're meeting for breakfast. Katie can't decide which sweater to buy to wear to breakfast, but Greg convinces her to go with the pink one. The next morning, while Greg gets ready for his first day as a tenured professor, Katie fixes Anna-Kat's shoe, bribes Oliver and Taylor and happily heads out to drop them off at school before her breakfast.

But then we're back to the sweater! Scrap pink, in this reality, Greg's convinced her to go with the blue one. Katie snags it on the door. Now in a bad mood, she gets mad when Anna-Kat asks her for help getting her shoe on - so Anna-Kat just decides to cut the laces to get her foot in and then staple them back together! Oh, and Oliver and Taylor? Katie really doesn't have time for that crap, so she just handcuffs them together. (Because, yes, Katie and Greg have handcuffs...)

Back in Pink Sweater Reality, Katie gets to school only to find out it's a teacher workday. No problem! She decides she'll just take the kids with her to breakfast. At breakfast, Oliver and Taylor get along since they've been bribed and Anna-Kat woos Ashley (who works so much that she's slowly going off the deep end) with her cuteness.

Greg, on the other-hand, isn't having the best day. His new "corner office" is quite literally, a converted supply closet. And his assistant seems crazier then a loon, so Katie says her and the kids will stop by to cheer him up after breakfast.

In Blue Sweater Reality, Katie arrives at school and promptly throws her handcuffs at the school marque in a fit of rage because she forgot it was a teacher workday. Having lost her car keys (and the keys to the handcuffs!), she has to call a cab to take her (and the three "life-killers) to breakfast. At breakfast, Anna-Kat trips over her stapled shoelaces and spills her juice all over Katie. Taylor and Oliver are still handcuffed and fighting. Ashley comes in, happy and fulfilled with her successful work-life in this reality. This is around the time Oliver announces to Taylor that he has to go pee and that if she doesn't come with him, "it's either pee in there or pee out here, your choice!" (And Greg's still got a creepy assistant and supply closet for an office...)


Back at home, Greg tries to make Katie feel better. He uses a bobby pin to get Taylor and Oliver out of the cuffs. Taylor, Oliver and Anna-Kat then take a deep dive into Ashley's social media and discover that not only is she perpetually alone, she's on multiple dating sights, and she was arrested in '08 for public intoxication. Realizing that she really does have it pretty good, Katie decides to invite Ashley over for dinner at the house.

In Pink Sweater Reality, Katie and the kids take Greg some unsalted peanuts to cheer him up. While he goes on a walk to get some air, they redo his office and convince crazy assistant to move out into the hallway. This cheers Greg up so much that he even decides to invite crazy assistant over to the house for dinner!

And then we're back to the original sweater scene. This time, Greg convinces Katie to go with a green jacket. And because he likes the jacket so much when it arrives, Katie decides to cancel breakfast with Ashley so she and Greg can "make use" of those handcuffs. And she gets pregnant...

For the last time, we start back at the original sweater scene. Except this time, Katie decides she'll just "find something on the floor of [her] closet." Sounds like a good plan to me!

Random Thoughts:
-Best line goes to Katie about Greg. "Then, because of your father's latex allergy, we had Anna-Kat."

Which reality did ya'll like better? Pink or Blue? Let me know below!