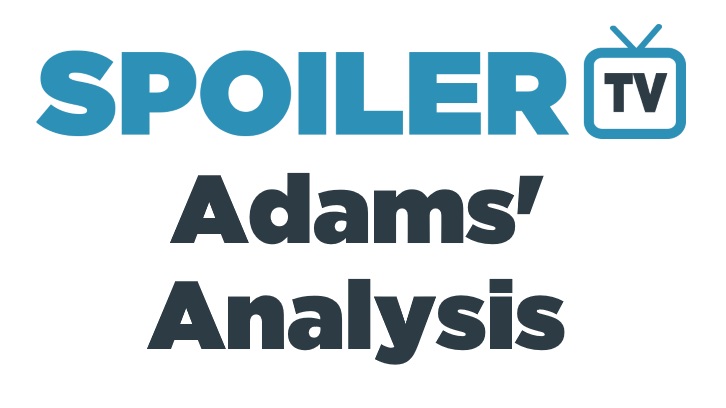 I usually post this column biweekly on a Thursday, so this is a rare exception.

Donald Trump may claim that FOX News is his favourite channel, but it should surely be CBS Television Network.

That's not because of perceptions of the Eye Network's primary demographic — although that would play into it a little — but because there seems to be so much winning. Kelly Kahl, CBS Entertainment President, even used the phrase "totally winning" to describe Jay Hernandez in the new Magnum P.I..

Like a drunk patron telling the bored bartender for the ninth time in half an hour about how he just got a promotion at work, CBS's executives regurgitated facts and figures about their series' ratings performances constantly during a press conference on Wednesday to discuss their new primetime schedule.

Did you know that CBS has won ten consecutive weeks and is set to win the season for a tenth consecutive year — despite NBC having the Olympics and the Super Bowl?

Did you know that Bull is the number four drama on television?

Did you know that The Big Bang Theory had "zero viewer loss" from a year ago?

Did you know that NCIS is the number two drama on television? That's pretty disappointing for CBS's flagship series — but wait, because it's also the number one show in the world. Did you know that?

The list is endless, and boy, don't we get told it.

It's not to say bragging about success is such a repulsive thing, although on this scale a feeling of CBS's inflated ego begins to kick in. But, as a network, when this forms the main substance of your announcement, you heap pressure on yourself to back up the talk and also be able to prove it's more than just a numbers game.

Instead, what happened was that the assorted collection of reporters huddled together in a room in New York showed very little interest. And not just in the facts and figures, but the network and its schedule as a whole.

In a Q&A session that ultimately lasted fewer than five minutes, CBS executives fielded eight questions from six reporters. Among those questions came light-hearted, largely meaningless prompts about the discussions had over whether Magnum would have a moustache or whether there's a comma in the show's name, as well as a blunt non-answer to a question about Pauley Perrette's assault allegations.

It's true that this group is unrepresentative — not just of the wider television-watching public, but of TV reporters in general, with a listen-only conferencing option available for those not able to make it to New York. But it says plenty about CBS's widespread appeal when those who are paid to watch and write about television have virtually nothing they want to know from the executives that helm the network.

Thom Sherman, Senior Executive Vice President of Programming, offered up this message to producers when asked about the five remakes CBS have: "We also have plenty of new stuff on the air as well that aren't remakes. I think shows that are big, loud and noisy, and [that] are creatively terrific, those are the shows that we're going to want to do going forward."

How, exactly, are CBS achieving this? Tastes may vary, of course, but their schedule reads more like a catalogue of paint colours than a sports car magazine. And even if you like most of the programming they have — programming which, in fairness, does a damned good job at achieving its objectives — it must be recognised that their line-up isn't at all ambitious.

All five remakes — Magnum P.I., Murphy Brown (technically a revival), S.W.A.T., MacGyver, and Hawaii Five-0 — are on the fall schedule and, in fairness to Sherman, all those television-loving 20somethings will probably be glued to their couches in eager anticipation of a moustache-less Magnum in a rebooted show that had ended before they were born. Or perhaps not.

Indeed, CBS's attempt to appeal to a younger audience is highlighted best by God Friended Me, an "uplifting" drama about an atheist who receives a friend request from God on social media — I'll take bets on the site not being Facebook or any recognisable alternative, and instead a fictitious one — and goes around helping those in need, who he finds from God's friend suggestions.

Ah, yes. The deep dive into social media. Because that's what young people look for in their television. No social media in your show? No thanks.

Nothing about CBS at the moment is inspiring. Its decision to fill its first two hours on Monday with three shows that feature actors of colour in lead roles (Cedric the Entertainer in The Neighborhood, Damon Wayans Jr. in Happy Together, Hernandez in Magnum) is a positive step towards shedding the label as "the old fogie network" — a claim CBS Corporation CEO Les Moonves tried to dispel three years ago.

The rest of this lineup is bland and lacks an injection of creativity.

That works for CBS. It's worked for them for decades. After all, they remain the number one network in the ratings. "Kind of like Goldilocks in the Three Bears' house, we think this is just right," Kahl noted of the schedule.

But the moment that changes, CBS will be miles behind the curve. And when you consider just how little appeal their content has to the reporters, critics, and up-and-coming generation of television viewers, that change cannot be too far away.