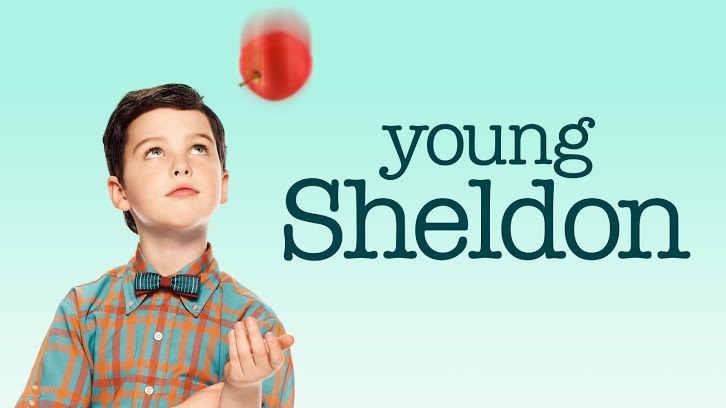 Episode 17 of its freshman season was written by Chuck Lorre, Steven Molaro, Tara Hernandez and directed by Jaffar Mahmood.

Guest starring Billy Gardell and Melissa Peterman as Hirsch and Brenda Sparks.

Sheldon's delicate eco-system has been upset and he is on the run from a predator; a deceivingly sweet-looking, six year old blonde one. Even offering to help his bus driver with his taxes does not get Sheldon dropped off closer than the 97.5 meters from the bus stop to home.

He asks Tam for help in learning some self-defense skills, but to no avail. Sheldon was sure that jiu-jitsu was just a matter of physics. Tam offers some solace that maybe Sheldon will be big like his dad someday.

Sheldon: "my dad and I both like my mom, I think that's where the similarities end."

Meanwhile, Me maw is doing great at the bowling lanes throwing all of those 'frozen turkeys.'

While wrapping himself in bubble wrap (an extra layer of protection) gets Sheldon's predicament found out by his family, he will not divulge his aggressor's name. All of that popping when he sat down was bound to let out Sheldon's secret.

Mary asks Georgie to keep an eye on Sheldon. This could go either way. Georgie seems most annoyed that all the girls in school thinks Sheldon is so cute. It must be tough growing up with a genius for a brother.

While walking to school together, Georgie laments his dreams: "I had that dream about my teeth falling out, but I guess that beats my hair falling out."

Georgie is such a great foil to Sheldon and I enjoy seeing their brotherly interactions.

When Sheldon decides to hide behind a garbage can, Georgie figures out he's hiding from 'sweet', little Bobbie Sparks; pony tails and all. Sheldon is a metric using, briefcase carrying rabbit to Bobbie's lion.

Growing up in the 80's I never saw the appeal of yoo-hoo, but Sheldon just wants to get home after a hard day at school to his beloved watery chocolate flavored drink. He's not asking for much.

In his desperation Sheldon goes to Missy for help. His reasoning being that she is a girl so she can hit Bobbie. He relinquishes his life savings ($4.00) and his tv privileges for two months. Oh no, no Professor Proton afterschool for two months! Missy: "that sucks for you."

Sheldon has had enough of tadpoles down his shirt, slaps and stolen lunch money.

George and Me maw both know how bullies (because they are bullies) work and try to stop Mary from getting too involved, yeah right. When it comes to Mary Cooper there is no messing with her cubs.

George talks to nice guy Hirsch, but he's not much help either. Hirsch: "I've taken dumps bigger than this kid." And Bobbie denies any wrongdoing; pure evil. Hirsch teases George about his wife sending him over.

When Bobbie confronts Sheldon about ratting her out, he retaliates. Sheldon: "I've read a book on jiu-jitsu and I am prepared to throw it at you."

Mary Cooper has had enough and goes to the bowling lanes to confront Brenda Sparks; a middle-aged, blonde bully. Mary only ends up getting sprayed in the face with pine scented bowling shoe deodorizer. Mary: "I'm gonna pray for you." I never knew that retort could be spoken in such an angry tone. Zoe Perry is fantastic!

Connie is there with her bowling league friends, but again not much help; worrying more about losing her bowling privileges to Brenda 'the mean bitch.'

Missy's attempt at helping Sheldon only turns out to be a fun tea/dance/make-over party with Bobbie and sweet Billy Sparks. Billy looks so cute with his new make-over, though.

So, really everyone has failed Sheldon miserably???

Hirsch and George take to the chicken coop to hide from their wives. Being a football coach, the smell is nothing to George. They bond over a few beers (from the mini fridge) and Hirsch apologizes for Bobbie's behavior. But, George seems more concerned/embarrassed that Sheldon is able to be bullied by a six year old girl.

Brenda is afraid of chickens so she won't go near the coop. When she starts screaming for her husband, he continues to hide, but assures George that just means he's getting lucky tonight. George: "love is a mysterious thing, but this is the most fun I've had all week."

Hirsch promises that he'll talk to Bobbie, but there's no guarantees. I guess that's better than nothing. I am curious to know if George ever becomes comfortable with Sheldon's 'ways.'

In the end, Sheldon is still running from the school bus stop to home; usually screaming the whole way. But as in the words of that famous philosopher Friedrich Nietzsche: "that which does not kill us makes us stronger." Or was it Kelly Clarkson who said that?

Random thoughts: I loved how Georgie sleeps in his clothes so he can sleep in later. So funny that Mary accused Missy of bullying Sheldon. Missy: "only with my words."

I could lament that someone besides Mary should have taken Sheldon's bullying more seriously, it is a sit-com so I will let it go this time. I was on the receiving end of quite a few bullies and it was always those sweet-looking, blonde girls that were the worst.

Just a sharply written and acted show; wonderful again. This cast has terrific chemistry, too!