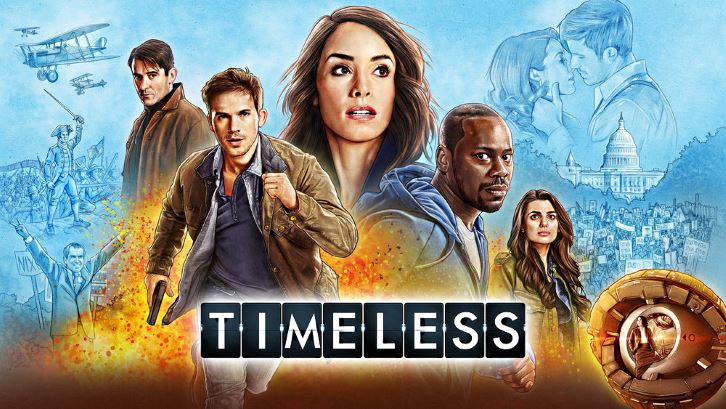 Timeless
"The King of the Delta Blues" written by Anselm Richardson and directed by Greg Beeman. I adored this episode! Look for two major shoutouts to the fans – the Clockblockers! The main story concerns historical figure Robert Johnson (Kamahl Naiqui), and the theme of the importance of music runs throughout the episode. I really saw a great deal of Kripke influence throughout this episode.
Look for more tension in the bunker. Connor (Paterson Joseph) is having a crisis – and he's not the only one. We learn several surprising things about Connor. We get another interesting team up. Intel on the initial mission comes from an unexpected source. The team travel to San Antonio, Texas, on November 23, 1936. Wyatt (Matt Lanter) is given his own mission – which has already been spoiled by the previews. Look for Denise (Sakina Jaffrey) to have a present for Garcia (Goran Visnjic).
While there is plenty of tension on the mission, there are also plenty of lighthearted moments – and some fantastic music thrown it for good measure. Look for more Blues greats than just Johnson to make an appearance. Pay attention to the aliases the team uses – they're brilliant!
The writing, acting, and directing are all fantastic in this episode. Joseph, in particular, delivers a stand out performance. One fight scene is shot from some really creative angles that really enhance the scene. I continue to love how the show looks at history from a holistic viewpoint.
There are some really nice moments between Connor and Rufus (Malcolm Barrett) and between Lucy and Garcia. Jiya (Claudia Doumit) has some shocking news for Rufus. And that's all I'm going to spoil for now!
Remember to tune in Sunday night at 10/9c on NBC – remember we have to keep those ratings up! And in the meantime, her are a few juicy dialogue teases….
It is bloody dangerous.
Only if we give up hope…
But. I really have to pee…
This baby was put together with tin foil and Juicyfruit.
Keep them safe.
And boom goes the dynamite.
It wasn't us.
To Hell with oblivion.
Are you calling me a coward?
This is me, returning the favor.
Is it ok to keep secrets from someone you love?
Your lips to God's ears!
I get what you're doing. It's a shameless manipulation.
The day Connor Mason is officially, nobody.
Wyatt! I need to speak with you.
I don't need this crap! I'm out of here!
First? What are we dealing with second?!
Get some clothes. Steal a car.
You're delusional.
If you're not here to provide intelligence, what are you good for?
On that day, in San Antonio, Robert Johnson and Don Law changed the world.
You people are Philistines!
We don't have time for your mid-life crisis!
Life is but a walking shadow. A poor player that struts and frets his hour upon the stage and then is heard no more.