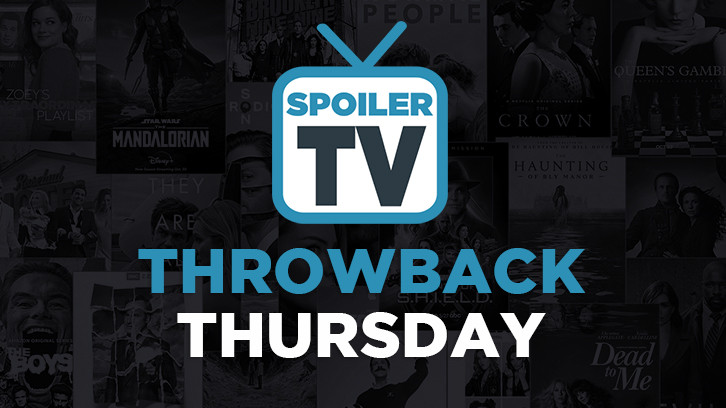 Throwback Thursday, a weekly article in which we look back at our favorite TV episodes from over the years.

Five years ago today, Nikita unleashed one of its biggest twists. Here's a look back at "Tipping Point". Don't read on if you haven't seen the episode or the season three episodes that follow, as these will also be mentioned below.

It takes about three seconds for Rachel (Jessica Camacho) to derail Alex's (Lyndsy Fonseca) master plan and pave the way for chaos. Three seconds define everything that happens inside Division from the previous episode through another two subsequent hours. Everyone suffers. Because of three seconds.

The twist, in which Alex is revealed to be secretly leading the mutiny inside Division, is out of left field, although the clues are there. Alex isn't herself. Amanda's (Melinda Clarke) brainwashing of her two episodes prior changed her ever so slightly — enough to heighten her survival guilt and desire to save everyone, yet not enough to make her a different person. Sean (Dillon Casey) rightly notices it, but accepting her at her word when she says she's fine costs dearly.

Forgetting for a moment the flawed logic behind its existence, Alex's plan almost worked to perfection. As far as everyone on-board with escaping knew, Rachel was the one in control. She was very much the fall person should anything go wrong, with Alex masterminding matters from the shadows, using her position inside Division's tight inner circle to her advantage wherever possible. If not for Rachel's slip, things might have ultimately gone better. Strangely, it feels wrong to call it Rachel's slip. While she was the one to say the titular phrase, she had no grasp of its significance; only Alex knew. To tell it to Rachel was a major mistake, one she instantly came to regret.

It's difficult to know if Rachel actually knows how important "tipping point" is, because her flustered response when Ryan pushes her on it doesn't seem to be that of someone panicking that they made a horrible mistake; it feels more like genuine annoyance and confusion. Her apology a minute later doesn't make it clear either. But the crux of the issue here is how damaged Alex is at this stage after Amanda's antics. Alex may have a troubled past that can affect her, but she is well-trained and using the phrase in conversation with her cohort was a mistake she would never normally make.

The interrogation scene itself is impressive. Rachel is insistent on taking the blame, but Camacho's eyes often shift across the room to look at Alex. Until Ryan (Noah Bean) realises the truth, he and Rachel's back-and-forth is an interesting discussion of Division's agents' futures, between two believers in what the best outcome is.

Shooting Ryan is a bold move, not necessarily for the show — which kills characters on the regular with the intention of keeping them alive, and sometimes for real — but for Alex, whose motivations stem from wanting to save everyone. It's hard to believe she wouldn't want to save him, Nikita (Maggie Q), Michael (Shane West) et al. as well, despite her anger after the shooting. "We leave them here. They're just gonna become another Jason," she says, clearly riled by what she has done. But they're still her friends, and letting them die instead seems counterproductive. We see, too, suggestions (which are confirmed in the next episode, "Masks") that Amanda planted memories of Larissa through the similar frame stylings of Alex's split-second flashbacks, first to Larissa and then to Amanda.

The lie that Ryan saved Alex's life holds, even as Michael appears to suspect something is off about her in-depth lie of what Rachel said before escaping.

As the strings are pulled on Division's imminent collapse, Nikita and Michael are running a side mission that sees him given a new hand, having had it cut off earlier in the season. There are some major elements at play here, with the mysterious Shop's deep roots in the series — its connections stretch back to Percy (Xander Berkeley) and right through to the series finale.

Heidecker (John Billingsley) first appeared in "Brave New World", six episodes earlier, and we knew from then that he was capable of developing world-changing new technologies, with Nikita aiming to get him to create Michael a new hand. After they killed Heidecker, Michael maintained an interest in learning more about his operation, and that came to a head here.

Much like the procedure to replace his hand, this was a particularly delicate operation. As much as Birkhoff (Aaron Stanford) is often the comic relief, his concerns over dealing with these people were well founded — if Percy was in league with them, they must be dangerous. Arming The Shop with the prion is undoubtedly a mistake, but a necessary evil if that's what it takes.

The real concern ends up being less the consequences of giving them the prion, but the consequences of not giving it to them, especially once Nikita and Michael reach Buffalo. Their explosive seemed like a good idea in principle, but there was no chance The Shop were going to be without some leverage of their own: in this instance, denying Michael the anti-rejection serum. But they delivered on the promise, and Michael's hand looks as good as new, if not slightly creepy.

Full credit needs to go to Maggie Q, too, for her performance in the episode's final scene. This is an impressive cast, but Q is a superb lead, and her tearful apology to an unconscious Ryan is the standout moment of the hour. Even knowing that he survives, it's an emotional scene to watch, and the best possible way to end a fantastic episode. This whole season is truly excellent, and the following two hours — "Masks" and "Broken Home", in particular — are worthy follow-ups.