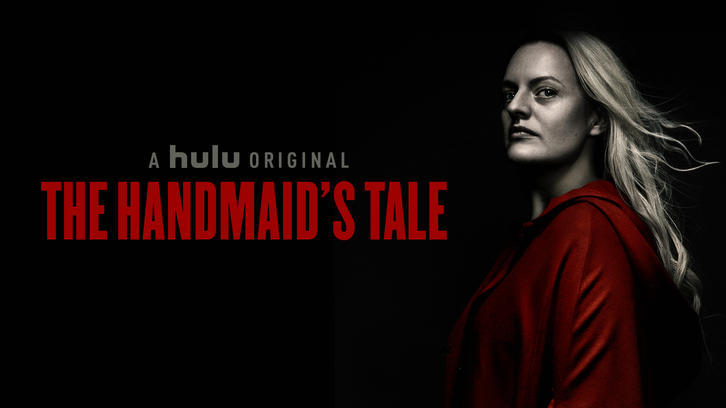 The Handmaid's Tale
"Night" was directed by Kari Skogland with the teleplay by Bruce Miller. This was a powerful ending to a stunning first season. Throughout the acting and writing have been, well, award-winning! The season ends essentially as the novel ends, but the season ending remains ambiguous. With the second season returning this week, I thought this was the perfect time to revisit where we left off!
The episode begins with the beginning of June's (Elisabeth Moss (June/Offred)) subjugation which creates a nice counterpoint to where we find her in the present of the storyline – joining the resistance and providing the strength that Moira (Samira Wiley) needs to escape. She might not have been able to keep Janine (Madeleine Brewer) from jumping with promises of hope, but she does help Moira. Aunt Lydia (Ann Dowd) comments on their outfits – a parade of sluts – as they are marched single file and lined up. And of course, there's nothing the least bit provocative about anything any of them are wearing. They are forced to clasp their hands in front of themselves and look down. Utter submission.
June's voiceover comments on how they had a way of looking at each other at the Red Center. In "real life" – before – you might have caught a glimpse, but not seen it for hours, days, or years. When June has the audacity to look another "chosen" in the eye, Aunt Lydia has her zapped with a cattle prod, forces her to humble herself, and makes her apologize to HER!
The series is beautifully shot, and this opening sequence is no exception. We have some slow motion as June watches Aunt Lydia lead her down a bright corridor. They enter a dark room with a single chair. Aunt Lydia says "please" and motions for June to sit – like she has a choice! And we finally get to see how she came to have that red earring – they are all chipped like pets. Moss clearly conveys the look she hinted at – terror. The machine they use to attach the earring is gigantic, loud, and some kind of relic.
In the present, June isn't terrified anymore, and she's starting to see that some of the others aren't as well. The voice over points out that they shouldn't have given them uniforms if they didn't want them to become an army. And we get several shots of the army "columns" in the episode – with June as their leader.
June arrives home from shopping with her "package" and luckily goes directly into her bathroom to hide it. When she then goes into her bedroom, Serena Joy (Yvonne Strahovski) is waiting for her. She blindsides her by backhanding her, sending her violently into the wall. Serena Joy knows about the "affair" and tells Offred that she "could have left her something" – some sham of her marriage? What's been left to June? It's utterly hypocritical of her. If anyone has made their bed and should have to lie in it, it's Serena Joy. In a nice parallel to the opening flashback, Offred tells Mrs Waterford that she's sorry.
Serena Joy's own repressed emotions continue to bubble over, but like Aunt Lydia, she knows that Offred is also something precious. She drags her into the bathroom and forces her to take a pregnancy test. I'm betting that if it hadn't been positive, that would have been it for June at the Waterford's.
Serena Joy takes the pregnancy test from Offred and tells her to get on her knees and pray that God makes her worthy in some way. However, it's Serena Joy who drops to her knees and prays over the pregnancy test. There are several religious echos – the handmaids are dressed like nuns and Serena Joy prostrates herself in the pose of a penitent. Everything she's done has clearly been to secure a baby for herself. Meanwhile, it's Offred who bleeds – both literally into the tub and figuratively in the loss of her own life and family – and eventually this new baby too.
Serena Joy's entire demeanor has changed when she comes back into the bathroom with the "good news." She tells Offred that their prayers have been answered. June is incredulous and asks "You think I prayed for this?" Why would she want to bring a baby into their house? Serena Joy is clearly unstable – not to mention the world that she's helped to create. Serena Joy continues to be blind to any perspective except her own, telling Offred that God knows what's in her heart. Of course, she would want to have a baby and be forced to give it up!
As June lies in bed, listening to the music box, she remembers the first time she was pregnant. She remembers lying in bed with Luke (O-T Fagbenle), making plans for their baby girl. The possibilities open to her are a stark contrast to what lies in store for Offred's baby.
When Fred (Joseph Fiennes) arrives in his study that night, he finds Serena Joy waiting for him. He comments that a group of Marthas had been planning some kind of attack. It's the first real indication that things might be unraveling for Gilead from yet another direction. Serena Joy is at the Scrabble board. Scrabble is clearly Fred's way of breaking the ice. She knows him. She asks if he wants to play, and he points out that it's against the law – that she wrote! It's reprehensible that she could do that to her own gender! And what if this baby is a girl?
Serena Joy tells Fred that she knows. She also tells him to control himself – she doesn't want June hanging herself or stepping in front of a truck. We know that the previous Offred hung herself. Fred turns it back on Serena Joy, accusing her of having brought "lust" back into the house – and finally pulling the trump card that she answers to him. It's the society that she helped to set up after all. He tells her to go to her room like a child. She counters by telling him that Offred is pregnant – and then gets her own back by telling him that it isn't his. He's too weak to ever father a child.
Rita (Amanda Brugel) is clearly thrilled that Offred is pregnant. She's made her a special breakfast – which she doesn't touch – and hugs and kisses her. Is she simply playing a part? Is she happy because it will protect Offred? It seems odd when it seems that Rita is also part of the resistance when she finds the package later in the episode.
Nick (Max Minghella) is concerned when he sees June's face. She explains that Serena Joy found out about the Commander. She also tells Nick that she's pregnant. She asks him not too, but Nick is clearly moved. And in a gesture that mirrors the flashback between Luke and June, Nick puts his hand on her belly with June's. They share a moment – which Serena Joy interrupts.
In another move to protect "her" baby, Serena Joy commits her cruelest action yet. She doesn't let Nick drive, and she doesn't let Offred look out of the windows – don't touch the curtains. She takes June to where Hannah (Jordana Blake) is being kept. The threat is clear. Anything happens to Serena Joy's baby, something will happen to June's. Moss is simply magnificent in this scene as we see the full extent of her anguish. Strahofski is brilliant as the ice Queen. It's downright creepy that Hannah is dressed all in pink – handmaid-in-waiting colour?
We also get a glimpse into the fact that life in Gilead isn't that terrific for men either. Warren (Stephen Kunken) receives his punishment – and even being a Commander doesn't save him. Fred is willing to be lenient, but Mrs Putnam is not. She couches her revenge in love for her husband and fear for his soul! And Commander Pryce (Robert Curtis Brown) is enough of a sadist to push for the extreme measures. Warren's left hand is removed. The special effect is incredible – and even though it is pristinely surgical, it's still horrific as they remove a perfectly healthy limb. And it's interesting to note that they still have some ultra-modern conveniences.
After the trauma of seeing Hannah, June tries to take refuge with Nick, but he's not in his apartment. She then goes to Fred in his study. She asks – begs – him to protect Hannah from Serena Joy. Fred is sure that she would never hurt a child, but June assures him that he doesn't really know her. He congratulate her on the baby and asks if it's his. She says of course – but he knows that she's lying.
June disobeys and opens the package. It's full of letters and stories of survival – of women's voices. Some just want to be remembered; some want help; some want to find their children. None of them want to be forgotten. June draws both hope and strength from the letters.
We see a triumphant and almost spent Moira make it to Ontario freedom. The next time we see her, she is shell shocked. She's not the strong confident woman we first met. She's also clearly stunned to be being treated like a human being again. It's also clear that she is far from the first woman to show up in the same condition.
After what's happened to Warren, Fred offers an olive branch to Serena Joy the next morning. He's also spurred on by June's plea for Hannah and her conviction that Serena Joy is capable of hurting a child. Serena Joy is clearly worried that Fred's bond with the baby will be with June, but he assures her that after the baby is born, June will be gone and they will be a family.
June has fallen asleep with the letters – which are written on whatever found material the women were able to find and look like a quilt laid out on the floor. June is woken by three bells – a death knell – a savaging. Offglen (Tattiawna Jones) is not happy when June takes a long time to get to the gate, but it's clear that the two are growing closer as they tell each other to shut up in a teasing way.
When they gather, it's to be a stoning. Ann Dowd is fantastic in this scene. She is clearly upset and rambling at the start – maybe stalling the inevitable. She may be a monster, but she does care for them on some level. She's clearly not happy that this is happening to Janine. The women are all shocked. It's one thing to let them take their pent up frustrations out on a man who they would see as one of their oppressors, but it's quite another thing to ask them to further victimize one of their own.
Surprisingly, it's Offglen who refuses and calls Aunt Lydia out on it. June is the next to step out of line, but when the soldiers would shoot her, Aunt Lydia intervenes, saying these "girls" are her responsibility. Even the term girls demeans them, of course. And in another echo of the opening scene, June, on the surface meek, drops her stone, and says "I'm sorry, Aunt Lydia." And as all the other women follow June's lead, Aunt Lydia knows she is defeated. June doesn't drop her eyes this time, but smiles, even as Aunt Lydia tells them to go home and threatens that there will be consequences.
I loved the scene with the women marching back to their homes with the red of their uniforms framed by the snow. The music was perfect as well – Nina Simone's "Feeling Good." In fact, the music for the entire series is spectacular.
Back at the refuge centre, Luke is waiting for Moira. She walks down a hallway with the mirror image or counterparts to the letters in June's package – it's the people waiting who haven't forgotten them, leaving messages and descriptions and pleas for news of their loved ones. Moira is surprised to see Luke, but she's on his list. She's his family. This is a very sweet moment as we remember that in the flashbacks, the two of them didn't always get along. Wiley is terrific in this scene as she finally feels safe enough to really let go.
June muses as she waits for the consequences to catch up with her that this might be the last time she has to wait. She's in disgrace – which is the opposite of grace. And this is a nice play on words that conjures up another one of Margaret Atwood's novels – Alias Grace. June remarks that she should be terrified – also circling us back to that first scene. She finds that there's both serenity and even hope in futility because she tried to make things better for Hannah.
Nick comes to June first when the black van arrives. He tells her to just go with them and trust. Rita hugs June as she leaves and immediately retrieves the package. Did she know it was there because she's part of the resistance too?
Serena Joy is not happy that they are taking June – and her baby! She calls for Fred, but the soldiers tell him that everything is in order. All of his power can't help him. Serena Joy wants to know what June has done. June defiantly meets her eyes and Fred's as she goes out the door. Serena Joy, completely oblivious to even the concept of empathy, says "after everything we did for you!" Really? Like what? Rape her? Lock her up in her room? Beat her? Take her daughter from her? Threaten her daughter?
The episode and season end with June's voiceover: "Whether this is my end or a new beginning, I have no way of knowing. I have given myself over to the hands of strangers. I have no choice. It can't be helped. And so I step up. Into the darkness within. Or else, the light." And another great song choice – "American Girl." In this context, given an entirely new meaning.
This series is the complete package. Stunning writing, direction, cinematography, and acting – and a timely social commentary. I'm really looking forward to the second season. Will they be able to maintain the story quality now that they've essentially run out of the source material? Fingers crossed! Did you love the first season? Looking forward to the second? Let me know your thoughts in the comments below!