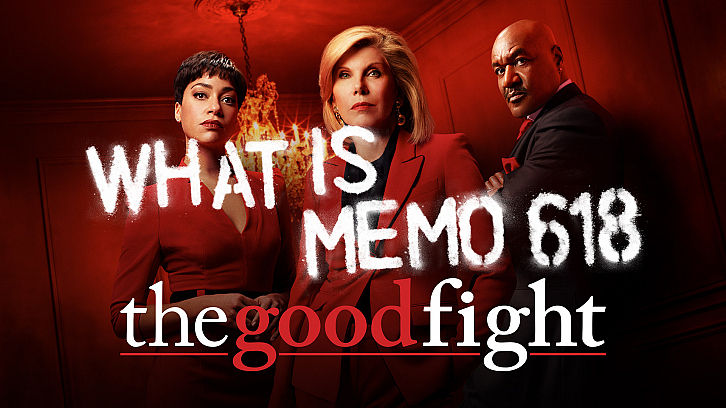 Boy, was this a whopper of an episode. All hands were on deck for this one and I loved it. When I say loved, I loved the fact that everyone was involved. The episode itself was well-paced and entertaining, although there were some developments that broke my little shipper heart. This was also more meta than it's ever been about Trump, taking on some realistic and serious issues that real life law firms might actually be doing.


The main storyline for this episode is what essentially boils down to the United States Vs. Donald Trump. The Democratic party, anticipating a win for the midterm elections, want to find a way to impeach Trump. They are interviewing several law firms to take on this huge case and Reddick, Boseman, and Lockhart (I just realized they made Diane a named partner) is one of them. They want each law firm to come up with the best case against him and whoever does get the business. I should also note that Margo Martindale is playing the representative of the Democratic National Committee, Ruth Eastman, and is, as she always, great. If there's been one major highlight for this season of The Good Fight it's the guest stars.


So it's Diane, Adrian, Julius, and Liz who have to figure out how they're going to win this competition. They have to come up with the best strategy, but fortunately, they have many, many routes to choose from including but not limited to sexual harassment, obstruction of justice, and cullusion. Seriously, there's a whole board filled with them. Everyone except for Liz argues over which one to choose. Liz is oddly quiet until their next meeting with Ruth when she starts rambling about having evidence of Trump's wrongdoings. She goes into great detail about what those wrongdoings are, and she's believable until she reveals what she's saying may or may not be lies. The point of her speech was to show that they can say anything about Trump at this point and people will believe it because he's already been accused of everything. And now instead of going after one thing, they should go after everything.


Ruth likes what she hears and wants more of it. The only problem with this strategy is with Julius, the one and only Trump supporter, putting up a fight with everything they want to try because he doesn't think they should hit below the belt, but Liz thinks that is their only option, and Diane eventually Adrian agree with her. Liz asks Ruth to take him out of the equation, which she does. In response, he flips them the bird. But, their strategy works. They end up being one of three law firms chosen to take this on. However, The DNC doesn't want all of them, they only want an exclusive team with one member from each law firm. She wants Liz representing this one.

The two other storylines for this episode are again headed by Maia and Lucca. Maia and Amy are still together after the whole, you know, Amy testifying against Maia thing earlier on in the season, but Maia seems pretty checked out of the relationship. Which could be because of the testifying, or it could be because, as Maia tells Marissa, sometimes she feels like she's struggling with staying in a steady relationship or throwing caution to the wind and doing whatever (and whoever) she wants. Methinks it's a little bit of both.
Anyway, this is what happens. Maia and Amy have been hanging out with Marissa and her boyfriend, Drew. But his and Marissa's wild escapades of drinking, fighting, and possibly drugs is too much for Amy to want to continue being around. It's not too much for Maia, though. She's enjoying all of it. I don't know if this is a side effect of all Maia has gone through with her parents, but she is being very rebellious and Marissa's encouragement of it isn't exactly helping keep her steady. Maia ends up hooking up with Ruth's assistant, Carin, who she flirted with earlier and commiserated with her over both of them having famous dads involved in a family-destroying scandal. What makes this hook-up (and my heartbreak over Maia cheating on Amy) even worse, is it gets caught on the DNC's camera.
Francesca is back and knows that Lucca is pregnant. She comes off as just a grandma wanting to be in her grandchild's life and wanting their parents to be together and raise them together, but Lucca knows better. She is reminded by Marissa about the upcoming elections and realizes Francesca and (maybe) Colin want to use her to get him elected to the Illinois First. She can help win over the African-American voters. She agrees to help and be the supportive baby mama after it is slipped that Colin impregnated her. It looks good to the African-American voters that he got a well-educated African-American lawyer pregnant, as Colin's campaign manager (Michael Ian Black!) reveals. I like this guy probably because he reminds me of Eli, who I miss.
The episode ends with a weird animated music video about the president. One of the King's unique touches that are both entertaining and bewildering.
That's it for today, folks. What did you all think?