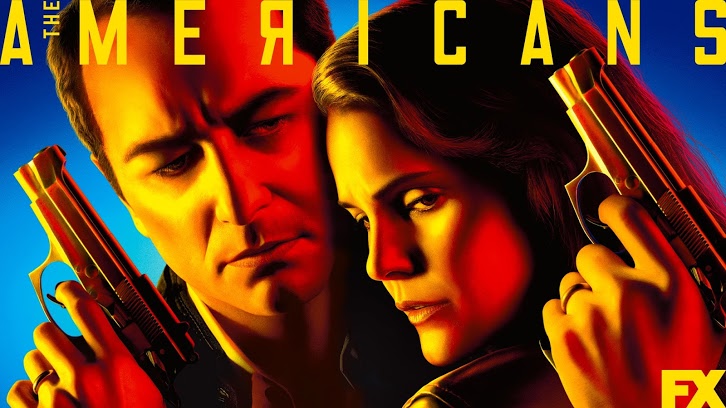 Early into "Urban Transport Planning", Elizabeth gives Paige a useful piece of advice: "You can't ever really know what's going on inside someone's head."

It's particularly notable in an episode where her observation applies to everyone — except for her. She pulls no punches on numerous occasions here, most obviously in the teaser where she once again rages at Paige for breaking protocol during the meeting last week. The pressures of the job are getting to her more and more; there is palpable fury on Keri Russell's face as she scrubs away blood and brains. It would be wrong to call her a ticking time bomb. There is no build up to a major explosion, rather an outburst every time one bubbles anywhere near the surface.


After years of restraining emotion, this is Elizabeth's inner soul laid bare. The calmness that was once a staple of her work appears to be in decline from the sleepless nights and high stress she now handles herself. In fairness to her, things are going wrong left, right, and centre. By the end of the episode, her body count goes up by another, forced to kill Evan (Greg Hildreth), a supervisor at the warehouse that quality checks and ships the radiation sensors. There's always a ruthlessness about her but this felt extreme yet necessary at a time where the stakes are so high and where her days just get worse and worse.

Penny for everyone else's thoughts of Elizabeth. While we see the full scope of her anger, other characters are cagier around her. Paige duly acknowledges her faults in running into the Rennhull meeting and accepts the aggressive tone with which she is berated. But she is taken aback by the idea that Elizabeth lives her life without fear of death. Paige wants to be a part of this, and she wants to make a difference — "You want to make a difference, make a difference," Elizabeth says — but suggestions that her job won't be like this make matters more difficult to take in.

By the time it comes to "Mr. and Mrs. Teacup", the divide between mother and daughter is less apparent, and Elizabeth even tries to convince Philip that there is no problem with Paige when he's critical of their conversation. She certainly hasn't gone soft — although her praise is immense — but we see by the end of the most recent hour that her lighter approach is probably the wrong one.

Paige is truly fascinating at this stage. Not only does she seem to have inexplicably, totally renounced her Americanness and opted to bat fully for the Soviets, but she's trying to hit home runs from screwballs she's never before seen. So when she ends up in bed with Brian, her friend's brother who interns for Charles Bennett, a Florida Congressman on the Armed Services Committee, alarm bells start ringing. Elizabeth warned her not to mix dating and pursuing a source — and she's "not ready to go after a source, not by a long shot" — and yet here is Paige, just barely out of her teens, blindly ignoring her mother's word. Is it to try and impress her? Perhaps. Whatever the reason, this is a grave mistake. It may not put her in danger, but it will, without doubt, cause problems.


What if Brian catches her? What if she develops feelings for him but realises she'll have to use him to get crucial information? Director Roxann Dawson makes it clear that she is going to try and work him with the lingering shot of his id badge; after presumably sleeping with him on the first date, this doesn't seem like the smartest move. Date him, sure. But don't work him.

One must wonder what Philip would think. Somehow, he seems about as depressed as he was an active spy, although that's what he currently is. He's still working Kimmy, who reappears in "Mr. and Mrs. Teacup", and Oleg's mission has left him feeling pretty stressed. Yet another outburst follows when he realises that Paige has been thrown straight back into work after her colossal mistake two episodes ago. It's less aggressive, less hostile than the marital spats we've seen before but marks a fascinating turning point. The arguments this season have come from Elizabeth's side but here is Philip raising problems, clearly affected by Oleg's task and his wife's increasing lack of trust in him.

He slips up massively in "Urban Transport Planning", telling Elizabeth: "You haven't talked to anyone back home in over 20 years."

"Neither have you," she responds."

Of course, we know that to be a lie, on both counts, except it is Philip who shows his hand. Perhaps he's getting rusty. In any event, the tension between them is bubbling away — despite a civil conversation between the pair in bed later — and it isn't unexpected. With them both embarking upon secretive missions this season, a divide was always going to eventually happen. How far will it go? When Oleg first approached Philip, it was difficult to tell exactly how much he would be willing to betray his wife. Now, it seems much more likely. While it's ludicrous to even entertain the thought of him truly hurting her, he may well do something to stop her if he thinks that's the only option.


Spare a thought for Paige in all of this. Since the Jennings spent time apart in the latter stages of season one, the only real uncertainty has been with their position in the United States in general, and who they really are. Rarely has there been a stage where Paige could knowingly witness wider issues between her parents since they reunited.

If you were to identify recurring themes from The Americans, there are a few that stand out. Family. Spycraft. Loyalty. But there's another: discomfort. Discomfort in the show's occasionally brutal violence and its tense dramatic moments, discomfort when the central couple argue, discomfort when Stan gets anywhere near their operation or vice versa. The latter two dominate and The Americans is at its best when leaning on them, but they also lead to worse situations for the main characters. This has the potential to blow all prior struggles out of the water — and with only six episodes remaining, the past two episodes could be the spark that begins a slow descent into implosion.

Notes:

• Philip's stress certainly isn't being helped by his current financial state. In expanding the travel agency, he's now desperately short of money and Henry may not be able to continue at St. Edward's come the following school year. Henry's quietened reaction to the news in "Mr. and Mrs. Teacup" was heart-breaking.

• The titular Mr and Mrs Teacup, Sofia and Gennadi, were relocated in "Urban Transport Planning" after a potential breach with her friend Bogdan, but now face danger from the Soviets. So too, Stan — Marilyn tasked with following him in the hopes of him leading to Gennadi.

• Stan met Oleg once again and warned him: "Whatever you're doing, don't." Their relationship is among the more complex and intriguing in the show's history, especially after Stan temporarily sold out Oleg to the CIA last season. They work as friends, enemies, and everything in between. Right now, we're somewhere in between, but I'd like to see them on slightly better terms before the series is out.

• Elizabeth is drawing more with Erica, whom she takes out to keep tabs on Fyodor Nesterenko at Martin Gurren's house. Erica's condition unsurprisingly worsens, and Elizabeth has no workable information to show for being covered in vomited blood. Given how badly things are going for at the moment, it wouldn't be surprising if Erica died just in advance of the summit, leaving Elizabeth without a way to keep tabs on both Nesterenko and Glenn.

• It wouldn't be a great final season if we didn't get to see Philip as Jim Baxter at least one more time. One of his finest disguises, albeit one of his creepiest fake lives.

• Oleg's method of relaying information back to his father is terrific. As is Igor lying about how his grandson is "Like a baby. Healthy. Fat."

• The ending of "Teacup" is simply beautiful, Dawson with a wonderful pull focus from Philip to his sandwich, then cutting back to the exact same shot and shifting focus back to him after the brief flashback. It's an emotional reminder — for Philip and viewers — that while he may be short on money right now, 1987 Virginia is still better than late 1940s/early 1950s Russia, where he scrapped for the tiniest morsel. Henry might not be able to study at private school for much longer, but at least he will have a roof over his head and food on the table. Assuming, of course, the FBI doesn't catch his parents first.

• Apologies for the delay in these two reviews. Hopefully, my pieces for the rest of the season shouldn't take this long.

What did everyone think of these two episodes? Leave your thoughts in the comments below!