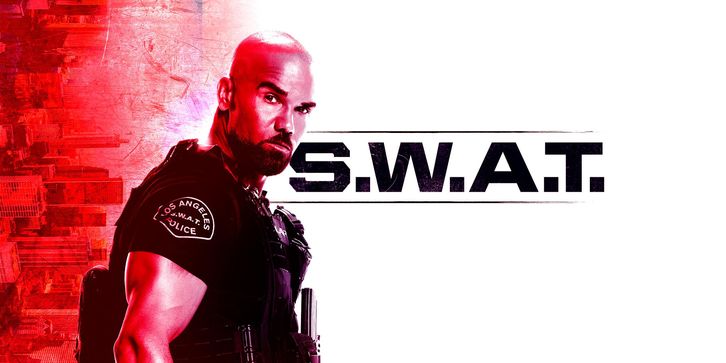 Last week's episode of SWAT, Armory, opened with a tease. Did you think the husband was going to walk in on his wife dead or kidnapped? Then you haven't been watching this show as religiously as you should.
She's not dead. No. Just having an affair, with one of our favorite SWAT officers.
Yes. Street is sleeping with a married woman. In his defense, he didn't know she was married.
"You attract what you put out there," Chris tells him. Street probably didn't have the best role models in his parents when it came to relationships, so he may not always be making the best choices. Good thing Chris is there to help him change that.
Chris is awfully concerned about Street's dating app profile – and Street's personal life in general. Could Chris possibly be developing feelings for Street that go beyond friendship? Her body language as she almost flirts with him about it seems to suggest so.

Jessica's being interviewed and has to contend with such questions as, "How does it feel to be the first female police captain in the history of swat?" She answers with a simple, "it feels right," and focuses more on the second part of the question, about making changes. One day people will focus less on the captain's gender and more on the work she's doing, but that day is a long way off yet.
Hicks' distaste in the proposals comes out as he first ushers the reporter out of the room and then fiercely tells Jessica to do the puff pieces in her own time.

From being chewed out, Jessica has to switch into negotiator mode. Angel has taken a family hostage in the valley, and from the van Jessica speaks with him, keeping her voice calm as she tries to get him to let the family go and walk out.
While she negotiates, the team moves into place, getting visuals on what's happening inside the house. Jessica manages to talk Angel into letting one member of the family go, the son, but his parents are still held hostage.
Deacon throws his keys in, to make Angel believe there's a getaway car waiting for him, and immediately throws a grenade in after. The teams breaches the house, get the parents to safety, and arrest Angel.

All in a day's work.

Michael Plank is back. He and Jessica are held in the armory by Angel, who freed himself of his cuffs while in custody at SWAT HQ. It's up to Hondo and the team to try and track down his abducted sister Abby before she's killed by the gang Angel said no to.
Hondo has impeccable timing, and the team bursts in and saves Abby just as she's about to be killed.
Luca, Deacon, and Tan cut the wire to the armory door, unlocking it.
Jessica and Plank overpower Angel and manage to get him into position so the sniper can put a round in him.
Having pulled the pin out of a grenade, Angel is ready to die, when Hondo brings Abby in, and the siblings have an emotional reunion.
Later, Hicks apologizes to Jessica for his earlier words about the interview.
"I know you were just looking out for me, and I will never forget you were the one who gave me a shot at SWAT,"
she tells him.
And she has a heart-to-heart with Plank too, who admits he's known loss, and tells her the story of how his fiancée was killed by stalker.
I want to like him, because he's helping Jessica, but I'm still not fully sold on his intentions, and I'm still upset he caused Hondo and Jessica to break up. So I'll keep on side-eying him for now.
And Street's date, who he got thanks to Chris fixing his online dating profile? She drives a Ducati. A girl after my own heart.
Maybe I need to let Chris take over my dating profile too…
This week's episode,
Patrol
, sees the team out on patrol – as they do once a month.
Hondo takes a personal day to go visit his sister, and to try and move his father out to LA. It's an emotional episode for Hondo as he watches his father's condition deteriorate, while clashing with him over what's best for him. His father was his hero growing up, but that relationship fractured when he walked out on Hondo's mom.
Shemar Moore nails the emotion as Hondo fights to get his father to understand and opens up to him in the process.
Chris is requested by Mumford, which confuses her enough to get on the phone to Hondo. Hondo sees it as Mumford potentially trying to poach Chris to diversify his team. Throughout the episode Chris touches base with Hondo, and it's nice seeing that bond, how much she respects his opinion, and how much he respects her.
"I'm open to new ideas, new approaches,"
Mumford tells Chris, and he's not just referring to where she should keep her gun.
At the scene of a shooting, he watches her calm down the victim of a shooting, and it's clear he wants her for his team. But she struggles later when a suspect overpowers her and knocks her around. She has to walk through SWAT HQ with her wounds visible to all and keep her pride.
It's hard for Chris to admit the male suspect was stronger than her.
When the suspect threatens to take out a bus full of people, the team moves in to stop it from happening. They enter the bus, and Chris gets a little retribution when she's the one who overpowers and cuffs him.
Her SWAT team has her back. Always. Chris is where she should be. But if Mumford needs a little diversity, Erica's a possibility…
Meanwhile Tan is chasing a suspect over fences and through yards and okay, listen, LA folks, you need to start locking your doors. Let the last two episodes be a lesson.
He loses his radio, and so begins the boys trying to get it back from a teenage girl who picked it up. It's a fun storyline in an otherwise emotional episode, with just the right amount of comedic moments to not disrupt the flow of the episode.
Luca has a wonderful storyline this week as he stays at SWAT HQ to work with kids who are at risk. He recognizes the signs of dyslexia in one little girl, Kelli (played by Kenny Johnson's real-life daughter), because he was diagnosed at 14, and he offers to help her mother by taking Kelli to sit the simple test to find out. How much do I love Luca? SO MUCH. He looks like the proud papa in every scene with Kelli (no acting required), and breaks me with the delivery of one simple line:
"Reading is hard."
That was a whole lot of emotional storytelling in one episode, SWAT. But it was a wonderful episode, and possibly my favorite all season (although it's tough, because I love
Miracle
a lot too).