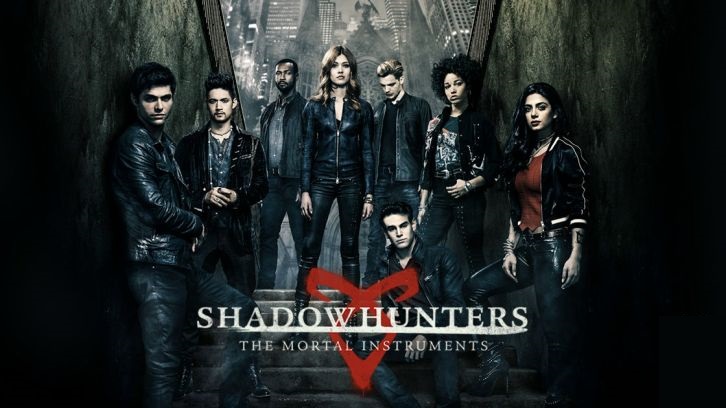 This week on Shadowhunters, Jace is convinced that Jonathan is The Owl (crazy dude possessing people). He, Clary and Izzy follow a potential victim but in the end, it turns out that Jace is actually The Owl. Magnus and Alec host a dinner with Maryse who tells them that she's about to be exiled. Simon starts to experience the effects of the Mark as both the werewolves and Raphael were hurt when trying to hurt him. Luke is forced to kick him out, while also trying to calm down Ollie before her excitement gets herself killed or worse (… expelled) ( sorry, couldn't help myself). Also, Raphael's sister dies and he seems to be keeping a young vampire in his basement, though not anymore now that she's escaped.

Oh boy: So it's been clear these past two episodes that there's something wrong with Jace. Having dreams about your kind-of-brother encouraging you to kill your girlfriend is not normal. I have to admit that books 4 & 5 are a bit hazy for me, so even I was wondering what was up. But when Jace took off that mask it all came screaming back to me. I'm not entirely sure if this is how it happened in the books, I know Lilith's control was involved. But Jace is going to have some serious guilt issues when this whole mess is over. He spent the second season wondering if Valentine's influence made him evil as well, and now this. But Lilith's plan has finally been revealed. She wants to resurrect Jonathan. Now the main question is why he's so important to her.

Favorite duo: There are many options here, but I really liked Clary and Izzy's interactions in this episode. They both handled the situation with Jace really well, especially considering the implications of Jonathan being back for both of them. But I wish Clary had told Izzy the truth about Jace's resurrection. Clary and Jace are not equipped to handle this by themselves and Izzy can't really help them without knowing the full story. And she would totally keep it quiet if they asked her to. Once Clary realizes that the resurrection is what caused these problems, I hope she'll confide in someone, preferably the smartest person in the Institute (aka Izzy).
Get married already: I know everyone said last week's episode was the big Malec episode, but I actually think this one was even more important for them. There doesn't always have to be life-threatening drama. I love domestic Malec. They have never seemed more married than they did in this episode. Both expected a very awkward dinner with Maryse, instead, it was very casual and almost mundane. Sure, this is partly because Maryse was on good behavior but also because Alec and Magnus have become so much more comfortable around each other. They used to walk on eggshells around other people, but now they're that couple everyone is jealous of. So I would love more scenes like the one in the kitchen, please.
Unrecognizable: Do you guys remember Maryse during season 1? It's like she's become an entirely different person. She's been through a lot lately and I guess what other people think doesn't matter that much to her anymore. But I do miss some of her fire. She seems to have accepted her exile a little too easily, while season-1-Maryse would've fought. Alec is right when he says this isn't fair, there were plenty of prominent families involved with the Circle, yet it seems that Maryse is the only one getting punished. (btw this is not what I meant when I said Raj would be getting company soon!) I doubt it'll actually happen, though. I'm sure Alec, Izzy, and Jace will fight for her and once the news about Lilith breaks it'll be all hands on deck.
Poor baby: Everyone needs to stop getting mad at Simon for the effects of the Mark. Especially when they were the ones trying to punch him in the first place. Simon did not have any luck this week. Luke kicked him out (though he didn't really want to), he's been banished from Fairy (not that bad if you think about it) and Raphael is pissed at him (kind of a problem). But at least he still has Maia. I have to say, despite being a Sizzy fan, I do like the relationship between Simon and Maia. I just hope he doesn't screw it up the way he did in the books.
Confused: I felt really bad for Raphael this week, losing his last family member. But what the hell is up with the girl in the basement? Clearly, she's a new unstable vampire. The sire seems to be relevant somehow as well (wonder if it's Simon) and I get the feeling we've seen her before. I wonder if she's supposed to be the new Maureen. In the books, Maureen was an unstable new teen vampire who was obsessed with Simon (because he was her sire) but on the show, Maureen was his friend in season 1 (who seems to have disappeared) so I wonder if this girl is supposed to take on that role.
Best quotes: Izzy: "We just got a fire message from mom saying she's 'dropping by' for an impromptu 'family dinner'." Magnus: "Those are a lot of air quotes."
Magnus: "Cooking is an art, not a science." Alec: "If that were true, there wouldn't be instructions."
That's it for this week. Check in again next week for an all-new review and let me know in the comments what you thought of this week's episode.
Please be respectful in the comments, any unnecessary rudeness isn't welcome.