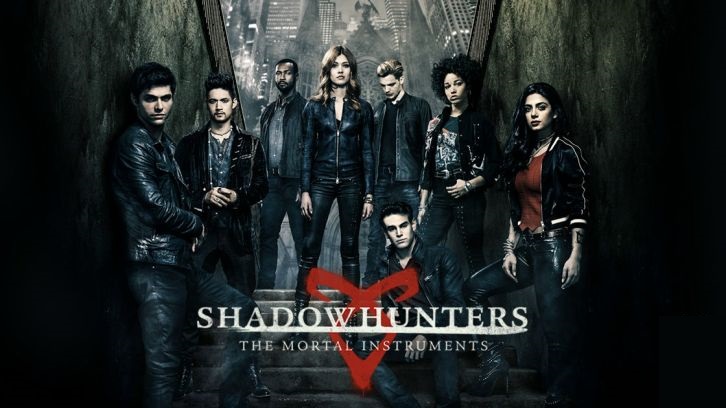 This week on Shadowhunters, Jace spends about half the episode under Lilith's control, the other half worrying he's losing his mind like his mother did. Clary and Izzy hunt a rogue vampire, Heidi, who turned a mundane and chained Raphael to a roof at sunrise. Izzy is furious that he kept a girl prisoner. Alec tries to figure out how to help Morgan, possessed mundane, and she's eventually alright after Jace, as the Owl, seems to exorcise her. Simon, in need of a place to live, meets 'Kyle', who is in need of a roommate, so he moves in with him. 'Kyle' then has a shady phone call with Luke.

Shady: It's really difficult to talk about Jordan… I mean Kyle, without giving too much away because I already know where all of this is leading. I have no doubt that the writers are going to be closely following the books where this storyline is concerned. I just hope the reveals don't take too long. The longer the lies go on, the harder it will be to forgive and I just want to get to the part where everyone gets along.

Most disappointing: I'm not happy with how Luke is handling the whole Simon situation. I get that he has to consider his pack, but still. I'm assuming he called 'Kyle' to help with getting Simon a place, with someone to keep an eye on him but clearly he just got Simon involved in a new mess. Which mean his plan wasn't really well thought out. Also, what's the point of being alpha if you can't put your foot down every now and then. I think it's time his pack learns some manners (with the exception of Maia of course).
OMG (said in the style of Chandler Bing): Jace is literally losing time and his mind and they still won't tell anyone what happened. Even when Alec told Clary about the Parabatai rune disappearing, which only happens when one of the duo dies, she still said nothing. This storyline was so frustrating this week. Like, they could've figured things out in episode 2 if they'd just confided in their friends. I'm not saying they should got to the Clave with this info, but surely Izzy, Alec, Magnus, … can be trusted. I do have to say that I like that mental illness was addressed here. They seem to at least understand the concept of it. I know this doesn't seem as much but having just recently read Lord of Shadows, let's just say it could be a lot worse.
Trouble in paradise: last week Izzy was very supportive of Raphael, but boy did things change this week. As it should. At a certain point it doesn't really matter who you do it for, and Raphael really crossed a line. I'm actually glad Izzy called him out on it, I thought the show would just gloss over it. Sure, Heidi is a bit deranged, with what she did to the mundane, but from where I'm standing, her actions towards Raphael were completely justified. I think we only got a glimpse last week at what he's been putting her through. I wonder if this is the last we'll see of him for a while. He played a pretty important role in the last book, but it's possible we won't be seeing much more of him until then.
That's it? So I've been holding off on talking about Lilith until her plans became clearer. Apparently right now her only real plan is to revive Jonathan. I'd hoped for world domination or something. I mean, Lilith is one of the first … evils (not sure what to call her). Pretty sure she created vampires or something. So it's kind of disappointing that her only plan seems to be bringing Jonathan back. Though I guess as a mother (can you even call her that) her priorities do seem to be in the right place. And I bet she has loads planned once she's reunited with her "son".
Best quotes: Luke: "We're talking about vampires and werewolves. Thousands of years of hate. It's not pretty but that's just the way it is." Maia: "I can't believe those words just came out of your mouth. Are you seriously telling me there's no use in trying to change bigoted behavior?"
Alec: "You help me all the time. If I came to you every time I had a problem." Magnus: "We'll spend more time together. Ugh, torture."
That's it for this week. Check in again next week for an all-new review and let me know in the comments what you thought of this week's episode.
Please be respectful in the comments, any unnecessary rudeness isn't welcome.