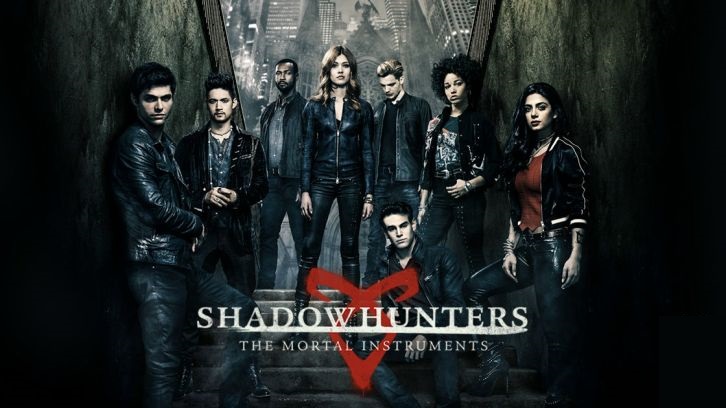 This week on Shadowhunters, Clary, with the "help" of Luke and his sister, summoned an angel, who confirmed that something is very wrong with Jace, and then got him killed by Lilith. The latter then stole a bit of Clary's soul so that she could take away Jace's love for Clary. Alec is starting to struggle with Magnus' immortality. Simon discovers Jordan (or Kyle, whatever) is a werewolf who is spying on him.

Oh no: Should've known all the happy and domestic Magnus and Alec moments were leading up to something. Happiness never lasts on this show. I was really hoping the writers would skip this storyline from the books (or at least skip the bad stuff, which they still might), but I guess it was bound to come up. When it comes to plans for the future, I feel like Magnus and Alec are polar opposites. Magnus lives in the moment because when you're immortal it's hard to plan for a future that never ends. Alec, on the other hand, is a planner, likes to know where something is headed. So they're bound to clash her. But the biggest problem is that, right now, when Alec looks at the future he sees him aging while Magnus doesn't. He sees a box of items that belonged to people Magnus has loved in the past, possibly as much as he loves him now, but those people are just a memory now. Magnus has probably had this discussion a few times in the past, with different people. So he has a pretty good sense of where the discussion will go, which is probably why he's avoiding it now. But we all know that won't last.

That escalated quickly: Well, Lilith sure stepped up her game this week. She has remained mostly behind the scenes these past few weeks but this week she realized that if you want something done right, you have to do it yourself. I'm assuming that winged beast was her true form, yikes. She really showed off her power this week. Not only did she almost effortlessly manage to steal a bit of Clary's soul (that's bound to have consequences) but she also killed an angel. And now she's managed to somehow take away Jace's love for Clary, which has turned him into the perfect soldier. I'm guessing all hell will break loose next week.
Not going to end well: Oh Izzy, you should really know better. Don't get me wrong, I loved seeing her smile again this week, it feels like we haven't seen it in a while. But we all know relationships with mundanes don't last. That poor guy is probably going to get himself killed. He nearly did, if he'd walked into that alley just a bit earlier. She covered pretty well, all things considering. But how long until he gets suspicious. I'm surprised he didn't ask about the tattoos.
That didn't take long: So remember last week when I said I hoped they wouldn't drag the secrets between Simon and Jordan (I'm not saying Kyle anymore) out too long? Well, the cat's out of the bag already. No details about the Praetor yet, but Simon hasn't exactly given him time to explain either. Honestly, I kind of agreed with Jordan about the gig. Such a crowd in an enclosed space. What if someone accidentally shoved him? We've seen the kind of force the Mark gives off, that would not have been pretty.
Best quotes: Jace: "Who are you?" Jordan: "I live here. Who are you?"
Izzy: "I actually work from home." Charlie: "Must be nice." Izzy: "Not at all."
Jace: "I was trying to help the homeless." Simon: "Yeah, very funny. Leave me alone. I'm keeping this btw."
That's it for this week. Check in again next week for an all-new review and let me know in the comments what you thought of this week's episode.
Please be respectful in the comments, any unnecessary rudeness isn't welcome.