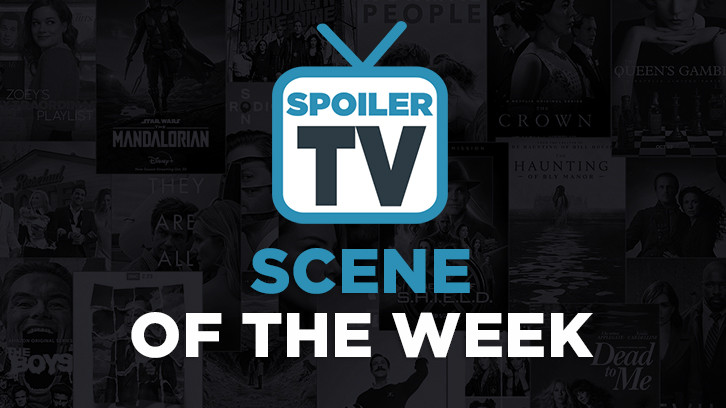 A weekly feature in which we're trying to find the most compelling, best acted, written, directed and just generally great, memorable scenes that we've seen in past seven days on TV.

AGENTS OF SHIELD, "All Roads Lead...", April 20, 2018, Actors: Dove Cameron, Catherine Dent, Chloe Bennet and more, The Scene: Ruby's transformation
Justyna: The entire sequence when Ruby enters the particle infusion chamber and successfully bonds her cells with (8% of) gravitonium makes for such an intense and powerful scene. It's everything her life was building up to and yet the second the procedure starts, it becomes clear what a grave mistake she's made. The fact that it's even possible to relate to her character and feel sorry for her is a testament to the great job the actress and writers have done in this moment. Ruby's in a terrible pain and she completely loses control over her powers. She accidentally causes Strucker's death and then attacks Fitz and Simmons when they're unable to reverse the process. The voices in her head cause her to damage everything around her and her mother is the only one able to at least partially calm her down. Though everything the team has been trying to do was focused on stopping the Destroyer of Worlds, once Ruby leaves the chamber it's no longer about good vs. evil or Ruby vs. Daisy. It's such an interesting turn in the story and the fact that the episode ends with Elena's choice to kill her makes this even more impactful and surprising to watch. Kudos to the cast & crew for their great work. Special shout-out to Dove Cameron who did a wonderful job with Ruby's portrayal during this painful transformation. Can't wait to see next episode already.

BLACK LIGHTNING, "Shadow of Death: The Book of War", April 17, 2018, Actors: Cress Williams, China Anne McClain, Marvin "Krondon" Jones III and more, The Scene: The fight sequence
Justyna: I thoroughly enjoyed watching this show week after week and I'm excited to see what's gonna happen next in season two. There were so many wonderful scenes that I could highlight (like Pierce family vs. Proctor or the flashbacks), but it's the fight sequence set to "Tiimmy Turner" by Desiigner that made the biggest impression on me. The rhythm of the song worked perfectly with the confrontations taking place at Pierce family's location and at Proctor's headquarters simultaneously. I loved the transitions between the two fights that allowed for the scene to continue through different characters' perspectives. Starting from Lynn, Gambi and Jennifer who have to take down ASA operatives entering the house they are hiding in. Both Lynn and Jennifer find themselves in such situation for the first time and yet they fight back and survive together. Even though she's still adjusting to her powers, it was great to see Jennifer using them to protect her family. Then there's Black Lightning finding his way to Thunder and taking down all the men in his way. The visual effects of all the powers are beautifully done. Finally, there's the attack on ASA, when Tobias, Painkiller and Syonide go after Proctor to take over his facility. The entire sequence is intense and wonderfully shot. It ends with Pierce family and Gambi getting out safely when the police arrives at the scene. I absolutely loved the way this moment is edited, and how the music perfectly binds all these stories and shots together. Kudos to entire cast & crew for such excellent work!
Naomi: The Pierce family fighting Proctor's army of agents. This scene was the s**t!! I can't stand the song Timmy Turner by the rapper Desiigner, but it was perfect for this fight. Jeff, Lynn, Anissa, Jennifer plus Gambi fired shots, electricity, and went hand to hand in combat against the ASA agents. Watching Jennifer send an energy blast into one of those men to save her mother has me so excited for next season's superhero battles.

BOSCH, "Book of the Unclaimed Dead", April 13, 2018, Actors: Titus Welliver and more, The Scene: The final scene in the tunnel
Laura B: Bosch is such an underrated series nicely balancing a gritty noir and a family crime drama. It's taken four seasons though for Bosch to really get somewhere more personally in terms of his mother's murder and it was gratifying to see one of the main storylines directly tie into his quest. This season was also an emotional one, given what happens in episode 4.04, but I chose this scene because of the way it all accumulated back to the tunnels, the juxtaposition of an elegant wealthy past and a gritty underworld tucked into LA's cityscape, as Bosch has move up and down on an angels' flight to finally confront the thing that hurts him most! So glad Amazon already renewed this. Looking forward to where this all goes in season 5!

BROOKLYN NINE-NINE, "DFW", April 15, 2018, Actors: Andy Samberg and more, The Scene: The cold open
Justyna: This show continues to be amazing and I absolutely loved this cold open. As much as I enjoyed the entire episodes, this scene was just so genuinely hilarious and wonderfully done that I ended up rewatching it more than anything else from the hour. It was a surprisingly awesome cover of the song, the harmony worked great and Jake quickly got caught up in the performance. "Ah, chills! Literal chills." He was so happy about this short musical moment that he completely forgot why the line-up was there in the first place. I loved him admitting that the second the witness identified the man responsible for her brother's murder. "Oh, my God, I forgot about that part" line was simply perfect. Andy Samberg is such a scene-stealer in these openings. Kudos to cast & crew for their excellent work.
Milo: The Criminals Sing. Jake getting the criminal line-up to sing to "I Want it that Way" by the Backstreet Boys so they could be identified was so perfectly timed and really well done, easily one of the best cold-opens of the show to date made even funnier by the dark twist in subject matter at the end of the song where we were reminded that criminal number five killed the witness' brother, and Jake had been too caught up in getting the criminals to sing to remember an important detail.
Kollin: Cold Opening (Backstreet Boys). Jake Peralta having the lineup sing "I Want It That Way" was the funniest scene of this series, hands down. They were in such beautiful harmony too! The punchline at the end when Jake gets so caught up in the song and says, "oh, my God, I forgot about that part" when the girl identified the killer was the cherry on the top. I died.
Beth: The cold open to BSB. I cannot even describe how hilarious this was to me. I rewound that part more than I'd like to admit.

BULL, "Justified", April 17, 2018, Actors: Michael Weatherly, Geneva Carr, The Scene: Marissa stops Bull from blaming himself for his sister's death
Dahne: Bull blames himself for his sister's death but Marissa sets him straight. There were several good scenes in this episode including Bull explaining how his sister died at the hands of her husband's abuse and Benny's heart-to-heart about the difficulty of the case, but the best scene was Marissa pulling Bull out of his self-pity rant. The two have such a long history that they know just what to say to each other.

CRIMINAL MINDS, "Believer", April 18, 2018, Actors: Kirsten Vangsness and more, The Scene: Garcia is kidnapped by the serial killer cult
Dahne: After 13 years, I wasn't sure where Criminal Minds would go in this season finale. The cult of serial killers is a great way to jump start interest in the 14th season, especially since they flew under the BAU's radar for so long. Ending with Garcia kidnapped and Spencer given an ultimatum just makes me more excited about next season.

EMPIRE, "Of Hardiness is Mother", April 18, 2018, Actors: Taraji P. Henson, Terrence Howard
The Scene: Cookie admits she doesn't want things to go back to normal
Luana: Cookie tells Lucious she doesn't want things to go back to normal. We've been waiting for a while for these two to give it a real shot and I'm glad she stood up for herself demanding the respect she deserves.

FOR THE PEOPLE, "Everybody's a Superhero", April 17, 2018, Actors: Susannah Flood, Caitlin Stasey
The Scene: Kate and Anya kiss
Luana: I love Caitlin Stasey and I couldn't be happier to see her chemistry with Susannah Flood, already in love with them.

GOTHAM, "To Our Deaths and Beyond", April 19, 2018, Actors: Erin Richards, Alexander Siddig and more, The Scene: Barbara gives up the Demon's Head to save Tabitha (picked by Jaz)

HERE AND NOW, "It's Here", April 15, 2018, Actors: Daniel Zovatto, Sosie Bacon, Marwan Salama and more, The Scenes: Ramon walks towards Mount Hood & Kristen and Navid say goodbye
Luana: Ramon walks towards Mount Hood. I'm not even sure if I understood what was going on but the whole final sequence gave me chills, everything covered in volcanic ash and those creepy shadow-families... my jaw was on the floor, I really hope we get to see where this goes, and it better be crazy.
Claire: Kristen and Navid having to say goodbye. Especially heartbreaking when Kristen says: "you're my only friend." So sad because they had only recently found each other. And Navid having to leave with his mother because his father is quite disturbed is also heartwrenching.

JANE THE VIRGIN, "Chapter Eighty-One", April 20, 2018, Actors: Gina Rodriguez and more
The Scene: End sequence
Marine: This show always manages to have the best jaw-dropping finales. This one did not disappoint and in those last few minutes everything was there: emotion, worry, astonishment. It was perfect.

KILLING EVE, "I'll Deal With Him Later", April 15, 2018, Actors: Jodie Comer, Kim Bodnia, The Scenes: Villanelle's evaluation & Konstantin confronts Villanelle in her apartment
DJRiter: Villanelle has been ordered by her superiors to undergo evaluation before being given another assassination assignment. This amazing scene where the evaluation occurs is an incredible tour de force moment for Comer. She takes her seemingly soulless character, Villanelle through a rapid-fire success of emotions in reaction to the evaluator and her handler, Konstantin's questions. And she does it all with turn on a dime changes in her mood, through subtle changes in body language, her doe-like eyes, and facial expressions. She never gives away which was her true emotion. Comer continues to make Villanelle a character we shouldn't like but one that we can't stop watching.
Samantha: Konstantin confronts Villanelle in her apartment. There were quite a few scenes in this episode that impressed me, but Konstantin confronting Villanelle in her apartment was a standout. The two of them at times have a strangely playful banter, but Konstantin was well and truly pissed to discover that Villanelle had gone behind his back and killed a target when he'd essentially benched her, and him storming into the apartment and throwing her up against the wall is probably the first time we've seen her look remotely fearful.

LEGION, "Chapter 11", April 17, 2018, Actors: Dan Stevens, Jean Smart, Aubrey Plaza, The Scenes: David manages to get through to Melanie & Amahl Farouk talks with David
Laura B: Amahl Farouk talks with David about Villains, Refugees, and his Father. Although I'm on the fence if the viewers can really trust what The Shadow King is telling David, I've been grateful for the juicy exchanges such as these, making Farouk a rather intelligent villain for David to confront. The imagery too has been nothing but stellar and I feel like the story is moving a little faster than last year and really willing to play with all of the former dynamics more.
Samantha: David manages to get through to Melanie. I've long given up trying to understand all the ins and outs of Legion (it's just one of those shows where you're not supposed to understand everything) and this scene was trippy and frustrating as hell, but eventually had something really sweet to it. With the focus on finding and stopping the shadow king & his connection to David, it seems to be a bit lost on everyone that Melanie has lost her husband again. David eventually realizes that the emptiness of Melanie's haven of sorts is actually about wanting to be carefree. David's words do manage to break Melanie free, even if it is just back to putting the game face on.

LOST IN SPACE, "Resurrection", April 13, 2018, Actors: Molly Parker, Parker Posey, The Scene: Dr. Smith kidnaps Maureen Robinson
Laura B: Dr. Smith kidnaps Maureen Robinson and takes her to the Alien ship. Parker Possy deserves so much credit in this remake's re-imaging by making the former clumsy Dr. Smith into a highly intelligent female sociopath! It feels just about as revolutionary, as when Katee Sackoff become the new Starbuck! I chose this scene because the dynamics between these two women are so good, especially now that the cat is out of the bag! I didn't care too much for Robinsons outside of Will, before this episode, but Dr. Smith and Maureen bring out things in each other that seem to not only be pretty fun to watch, but perhaps where the character development is going to come from.

ROSEANNE, "Darlene v. David", April 17, 2018, Actors: Sara Gilbert, Johnny Galecki
The Scene: Darlene tells David they can't be together
Shirleena: Darlene tells David that they can't be together as a couple. Because they would fight, and break their kids hearts again. So the best thing to do is stay friends and focus on raising their kids together.

SIREN, "Curse of the Starving Class", April 19, 2018, Actors: Rena Owen and more
The Scene: Helen reveals she's a mermaid
Samantha: Since the show started there have been hints to indicate that Helen was in fact a mermaid, but that didn't make the reveal any less shocking and I can't wait to see where the show takes this.

SUPERGIRL, "Schott Through the Heart", April 16, 2018, Actors: Jeremy Jordan, Chyler Leigh, Melissa Benoist and more, The Scenes: Alex and M'yrnn talk about his illness & Opening Scene & Winn tells his mum about the night his father was arrested
DJRiter: Alex and M'yrnn talk at dinner about M'yrnn's forgetfulness and his illness. It's a lovely, tender scene that marks the first bonding moments between Alex and J'onn's father, M'yrnn. Leigh perfectly nails Alex's concern and compassion as she tries to gently explain to the older Martian she feels he's ill, only to learn he already knows. Lumbly is masterful as he struggles with admitting the truth to her. They bond over a common goal, protecting someone they both care about, J'onn. Alex can't hide the truth from the man who has become a father figure to her, and M'yrnn forbids her from saying anything in an attempt to protect his son. It's an understated but powerful scene and in the capable hands of two of the show's stronger actors becomes especially poignant. It is brave of Supergirl to tackle a dementia storyline and this was a superb start.
Sean: Opening scene. Kara gives everyone a super serious pep talk about "proving themselves" and doing this "for the people" and then it immediately cuts to everyone doing karaoke night. Such a fun and hilarious swerve and the perfect way to return after that lengthy hiatus. Kara performing Beastie Boys "Intergalactic" and doing the robot dance had me cracking up.
Jaz: Winn tells his mum about the night his father was arrested.

THE AMERICANS, "Mr. and Mrs. Teacup", April 18, 2018, Actors: Keri Russell, Matthew Rhys and more
The Scene: The montage scene
DarkUFO: Montage scene of Philip line-dancing whilst Elizabeth/Paige are doing spy stuff.

THE EXPANSE, "IFF", April 18, 2018, Actors: Frankie Adams, Shohreh Aghdashloo, Steven Strait and more, The Scene: The Rocinante saves Avasarala and Bobbie
Milo: Sure, it may be a bit convenient to have Holden and his crew be the ones that come across Bobbie's distress signal given how huge space is, but it was a perfectly timed moment that brought the characters together in a really cool way, with the Rocinante using missiles of their own to divert Earth's missiles away from Avasarala & Bobbie's ship. Bobbie is turning into one of my favourite characters on TV at the moment (no surprise considering she's one of my favourite characters from the book), and this was a really good episode for both her and Avasarala.
Kollin: Holden and crew saving Bobbie and Avasarala was a bit convenient, but boy was this scene thrilling. The space battles have always been breathtakingly exciting in the Expanse, and this scene was no exception. It also brought all the main players together, marking quite a moment for this show.

THE FLASH, "Lose Yourself", April 17, 2018, Actors: Candice Patton, Kim Engelbrecht, Hartley Sawyer and more, The Scenes: Iris vs Marlize & Ralph confronts DeVoe
Naomi: Iris West-Allen and Marlize DeVoe faced off- one armed with a samurai sword and the other with an energy gun. Both ladies fought honorably for the men they love, but Iris shoved a blade in her shoulder for Barry, so I have to say she came out on top. Awesome to see women characters battle it out!
Jaz: Ralph won't let DeVoe take away his family.

THE ORIGINALS, "Where You Left Your Heart", April 18, 2018, Actors: Joseph Morgan, Claire Holt
The Scene: Rebekah calls Klaus
Beth: Rebekah calls Klaus because she knows he is close to Elijah. I loved this scene because Rebekah knew exactly what caused her bath to be ruined and was angry until she heard Elijah's voice. Those two have obviously had the hardest time with him erasing his memory and you could see from both of them that any sliver of Elijah was incredibly painful but incredibly necessary because they miss him.

THE TERROR, "First Shot a Winner, Lads", April 16, 2018, Actors: Jared Harris and more
The Scene: The "monster" attacks the boat
DarkUFO: The "monster" attacks the boat and gets wounded by the cannon.

THE WALKING DEAD, "Wrath", April 15, 2018, Actors: Andrew Lincoln, Jeffrey Dean Morgan
The Scene: Rick slits Negan's throat
DarkUFO: Rick overcomes Negan and slits his throat.

TIMELESS, "The Kennedy Curse", April 15, 2018, Actors: Abigail Spencer, Matt Lanter, Sakina Jaffrey and more, The Scenes: Lucy and Wyatt get closure & Lucy tries to comfort a young JFK & Agent Christopher tells Lucy she should be proud
Kollin: Lucy and Wyatt put a closure on things. There were many memorable moments in 'The Kennedy Curse,' but Lucy telling Wyatt she is fine with him getting back with his wife has to be the icing on the cake. It was so heartbreaking, but bittersweet to see the level of understanding. The chemistry between the two is so on point, and thus, the emotions they were feeling in that moment could truly be felt. It was just such a raw scene. I normally don't like love triangles, but Timeless has been handling it well, and that is in large part thanks to the actors involved.
Claire: Lucy trying to comfort a young JFK about his future role saying: "you were one of the greatest Presidents!" Abigail Spencer and Grant Jordan. Seeing the young JFK trying to grasp what he's learned of his future was so well written and acted.
Bex: Agent Christopher telling Lucy if she had Lucy for a daughter, she would be so proud.