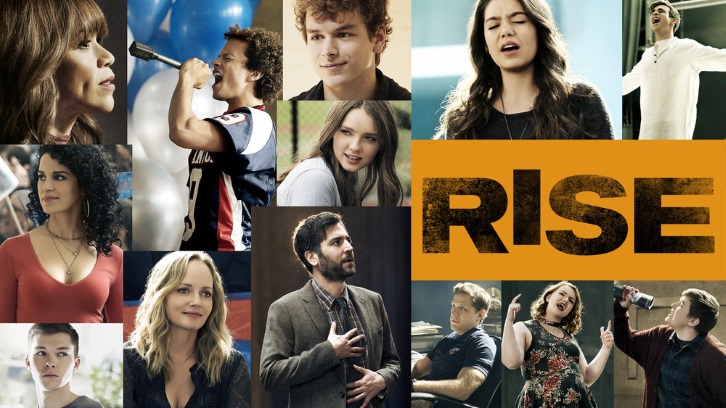 Welcome to my first review of Rise! I will be reviewing this show for the rest of the season. I did not plan on reviewing another show, but I absolutely love Rise so far.

"Spring Awakening" is getting closer and while Lou and Tracy are excited (they even take selfies in front of the sign), the school is worried about ticket sales. This week is tech week for the show which will be hell week according to Tracy. Lou wants everyone to go through the entire play which surprises everyone. I think he thought it would be easy, but the run through is a complete disaster.

Robbie wasn't the only one struggling. Pretty much everyone was dealing with something personal this week. Simon had relationship problems throughout the episode. Jeremy finds out that he's with Annabelle and then decides he's not comfortable with their scenes in the play. At the end of the episode Simon realizes that he can't sleep with Annabelle. I was mad at Simon for hurting Annabelle, but at least Simon realized his feeling before it went too far. I remember the last episode I was upset with him because I felt like he was using her to make a point.
Gordy went to therapy for the first time this week. He seems like he's doing well, but his therapist tells Lou and Gail that Gordy hasn't put in the work yet, and he's putting on a show. Recovery is a lifelong process, and they shouldn't expect this to happen overnight. I know that's not what his parents wanted to hear, but it's realistic. I'm glad that Gordy's getting help, and I love that his relationship with Gwen is progressing. Both Gwen and Gordy need people to lean on, and I'm definitely on board with them together. I hope it keeps moving forward.
Michael also has a pretty heavy story as he learns about Sasha's pregnancy. Sasha is angry because they were best friends, and he just stopped hanging out with her. Michael wants to be friends again and be there for her, and he explains that he was going through things that he didn't understand. Sasha wishes that Michael had let her in. They're both going through pretty difficult experiences so I hope they can repair their friendship.
Back at rehearsal, Jeremy and Simon's scene isn't as good as it was, and Lou is frustrated. It was the one scene that worked. Then he wants to do the graveyard scene, and this is when everything falls apart. Lou isn't impressed with Robbie's performance and tries to remind Robbie how he should be feeling. It isn't like football, and he has to work for it. Robbie screams that he lost everything for this stupid play and runs out. Lou runs out, too.
I hope that Robbie comes back to "Spring Awakening" because he has a wonderful voice. And I'll miss Lilette and Robbie performing together if he leaves. However, I'm glad the show decided to tell this story. I remember being in high school and being overwhelmed by all my responsibilities and trying to keep up with everything. Robbie seems to be struggling with the play and football and wanting to be good at both. Tracy's advice to Lou was a great lesson, too. Not everyone is going to like you. This is true for any profession and any point of your life.
So much happened in this episode, and I thought everyone had amazing performances especially Josh Radnor, Damon Gillespie, Rarmian Newton, and Ted Sutherland. This show has been the surprise show for me this season, and I can't wait to see what happens next week.
What did you think of "This Will God Willing Get Better"? How do you feel about Robbie quitting? Gordy and Gwen? Do you think will happen with Maashous? Leave a comment and let me know!