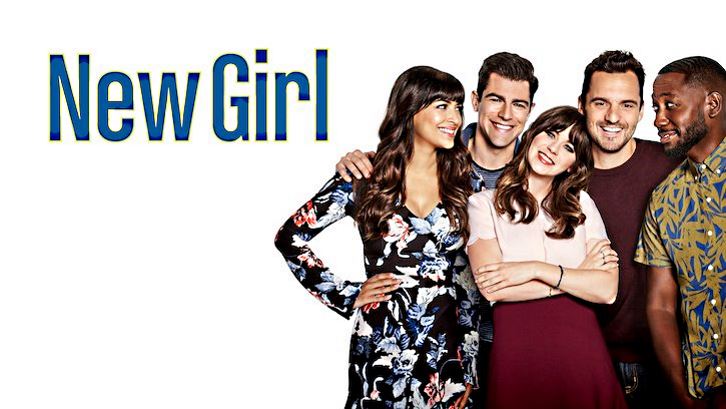 Episode: 7.01 "About Three Years Later"
Directed by: Erin O'Malley
Written by: Berkley Johnson
Air date: April 10, 2018
It's three years later and we're at the beginning of the end. Seems like everything is falling right into place. For once, everyone is genuinely happy and all the characters have grown together.
"I'm a walking miracle with magic inside."
There's Winston and Ally, now married and expecting a baby. These two are really such a fun couple, often with the most comedic moments on the series. Ally hates being pregnant. She refuses to take a break and insists on doing everything herself. Until a set of pictures she took with Winston makes her truly appreciate her new circumstances. And Winston is more than happy to be there for her all the time.
"Wow, this got away from us fast."
Meanwhile, Schmidt and Cece are happy together and celebrating their daughter's birthday. Cece's agency has now grown and Schmidt found his calling as stay-at-home dad of little Ruth. The short montage of the previous birthday parties might have been the funniest bit in the premiere for me. Also, the current (feminist) party, with the game of musical chairs and the parents going wild. There was also the mustache which everyone seemed to hate. Luckily, Nick's hatred of it convinced Schmidt to finally get rid of it. Their duo continues to share some of the craziest and most entertaining scenes.
"I hope this never ends."
Overall, there's not much to say. Things are very different, yet somehow still the same. The characters have grown, the humour's rather the same. It was a good premiere, mostly focused on catching up with everyone. Feels like a long goodbye, leaving the fans with knowledge that all their favorites will get their happily ever after in the end.
Episode: 7.02 "Tuesday Meeting"
Directed by: Josh Greenbaum
Written by: Sarah Tapscott
Air date: April 17, 2018
I really loved this one. The show feels much stronger and hilarious whenever it focuses on these random plots, instead of romantic developments. While the main plot might appear to be Jess' new work, it's the "Three Man and a Baby" setup that steals the episode for me.
"This is just nonsense. I read it and I don't want to be friends with him anymore."
"Remember me to the people."
"Before you, I was his baby girl."
"Play hard, work hard..."
In the end, Jess gets to improve her job and everyone gathers to help Schmidt and Cece get some much needed rest. The stories, the song and Ruth's return - just a fun way to end this great episode.
Memorable exchange:
Ruth:
"Daddy got me this dress."
Nick:
"Well, you know, your dad used to, uh, dress me, too, Ruth."
Ruth:
"Why?"
Nick:
"Uh, because he cared."
Ruth:
"Why?"
Nick:
"I don't really know, but he did."
Ruth:
"Why?
"
Nick:
"Before you, I was his baby girl."
What did you think about "About Three Years Later" & "Tuesday Meeting"? Any favorite scenes, quotes or jokes? Feel free to let us know in the comments. As always, thanks for reading!