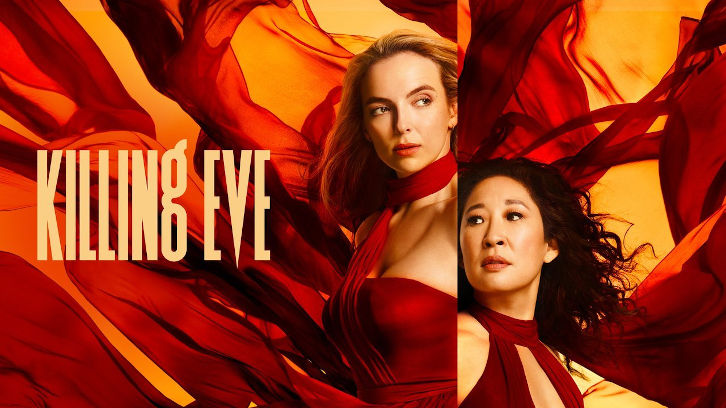 ****SPOILER WARNING – Please note the series review below may contain spoilers from the latest episode of Killing Eve


Fleabag
). As the writer-creator of
Killing Eve
, she is setting a new standard in gripping television. The show's premiere episode was so good BBC America renewed it for a second season before the first show had even aired. She set the bar very high in the premiere, and instead of a second episode let- down, as occurs on many shows, she ramped the story up with another superbly written script for Episode 2, "I'll Deal with Him Later". The result is an episode which at first finds Eve out of a job, and the mysterious Villanelle's employers worrying about her fitness to do her job, killing. By the end of the stylishly shot, expertly edited and brilliantly directed episode Waller-Bridge not only reached that bar, she took a giant leap over it.
Grey's Anatomy
) and Jodie Comer (
The White Princess
) that continue to elevate
Killing Eve
. Both actresses continue to peel back the many layers of the unique characters they play. In "I'll Deal with Him Later", Oh shows us a goofy, awkward side to Eve Polastri, someone not concerned with the trappings of common social skills or amenities. But, make no mistake there is a razor-sharp mind behind the slight goofiness. A mind that as the head of a secret arm of MI6, Carolyn Martens (Fiona Shaw –
Harry Potter
, in a nicely understated performance) recognizes when she recruits Eve for her team that's been a female assassin they've been tracking for two years.
Witness for the Prosecution
) and assistant Elena (Kirby Howell-Baptiste -
Love
).
Watership Down
) has forced her to go be evaluated before giving her, her next target. Using her expressive face and eyes, she turns Villanelle into a maniacal chameleon, her expressions and emotions seemingly turning on a dime. She goes from indifferent and impatient to upset to laughing in rapid-fire succession. You literally can't tell which her true emotions are. Who is the mysterious Anna her handler had the evaluator ask her about? What was her relationship with her mother?
The Secret Agent
) when she's told to do something "normal" by Konstantin who accidentally kills himself with a deadly poisoned perfume she created to use on her latest target, whom she killed after disobeying her handlers again. Yet, we discover Villanelle IS capable of emotion. Villanelle is told by Konstantin her employers are concerned about a new squad at MI6 devoted to finding her, a squad led by a woman by the name of Eve Polastri. In a masterfully edited final scene set to the anthem "La Marseilles", Villanelle researches her pursuer while Eve is trying to track down an odd nurse she remembers at the hospital where her witness had been killed.
Both women have unusual reactions to discovering they have actually met. From Eve, there's almost a joy and giddiness that she's been face to face with the serial killer she has been so fascinated about. And from Villanelle, we see the first sign of true emotion - fear - when she realizes that this Eve Polastri is the woman she met in the bathroom of the hospital before she calmly walked out of the room and killed four people.
Let the games begin. Watching what moves Eve and Villanelle make next is going to be a sheer delight. What was your favorite part of the second outstanding episode of
Killing Eve
? Use the comments below to discuss your thoughts.