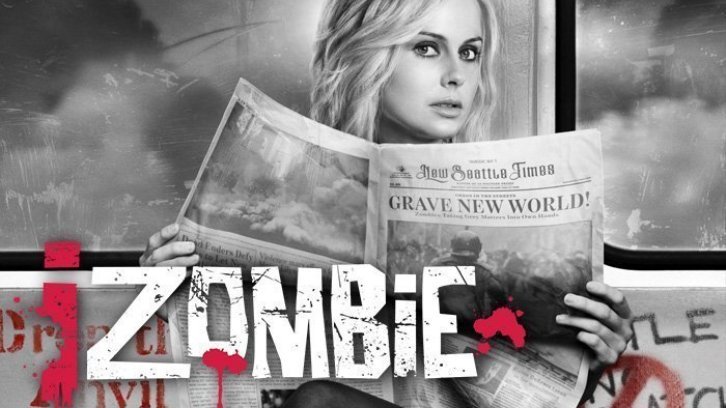 Hi Guys! Sorry this is getting to you so late but I've been a bit busier than usual. I'm giving you some quick drive by reviews on the most recent episodes of iZombie.


I Hate the Player and his Brain
I have to start by saying that this brain annoyed me to no end. After about 20 mins I was ready for the case to be over and for Liv to never play a character again. Maybe that's a good thing that she embodies annoying so well I was turned off, but I didn't spend too much time analyzing it because I was turned off. The thing is, there was nothing new being added to this portrayal of a player. It was pretty lazy and pretty much a snooze fest. There was plenty else to talk about this week though. Liv and Lavon seem to be getting close and I just honestly want there to be one season where Liv doesn't have a love interest. I'm not saying girl can't date, I just want her story to be so much more than guys, and it seemed the show was headed in that direction with the coyote storyline. I was cheering when Lavon turned her down, but I know it can't last, especially as Liv draw deeper into keeping Mama Leone's business afloat. Liv is getting pretty reckless in her attempt to keep up Mama Leone's work and I have a theory as to why this is happening. I think Liv will get caught by Chase, and her sentencing will be what finally pulls Major from his power trip and against Max Rager. I wouldn't be a fan of this storyline, but it's the only reasonable way I see Major redeeming himself and explaining why Liv is carelessly stealing ID machines while on investigations and getting caught by Peyton utilizing it.
Major taking things a little too far is honestly so spot on scary in our current climate, it's really hard to look at. The writers are no longer trying to subtly draw comparisons to real life, they are full on addressing it. It's sad, but so realistic to see someone who was so good and pure, fall down a twisted path like this because they think it's for the greater good. It's interesting because the line between good and bad has really been blurred, is Major just doing his job, or does he enjoy it. Major and his crew shoot up a newsroom because they aren't a fan of what they wrote and then stick to covering it all up. Chase is slowly losing his grip on reality and he is dragging Major down with him. Watching Chase and Major lie to Peyton was heartbreaking and just furthers that Chase is no longer caring if they are in the right as long as they maintain control.
I have no idea why the show decided to have my baby Clive pay for sex and sleep with a hooker after already having Liv and Ravi tell him to basically change everything about himself to get women. Have they met Clive? He is amazing and must be protected at all cost. I also don't agree with Bozzio making Clive feel bad for sleeping with someone. Her kissing another zombie publically is what really drove him to make this decision in the first place. I was someone who actively rooted for these two crazy kids because they deserve happiness and now I'm not so sure I want them together at all. I'm still living in eyeroll-ville about Angus' storyline. It was interesting that Liv had no idea who she was talking to (Blaine's dad) but even more interesting that she sees him as potential ally. At least Blaine now knows that he's free, but I just want to know when I will be free of him. All in all, there were some very interesting things going on, and I'm really loving that Rose is no longer wearing that wig.
B
Chivalry isn't dead, but my Brain Cells Might Be.
I love when shows tackle LARPing (see Emily Owens, MD) but I'm not sure I love when iZombie tackles LARPing. Hearing Liv doing a ye old time accent for an entire episode was painful…but her giving Clive pep talks was pretty sweet. The case of the week was okay and there wasn't much I didn't find enjoyable but it wore out its welcome pretty fast. Liv stayed committed to it the whole episode and I just remember a time where she had a few tendencies of a brain and not days lost to it. She's this character when she's with Clive, when she's investigating cases and when she's scratching potential zombies.
Mr. Boss being back was actually a welcome surprise. I always thought he was a far less menacing villain, but his coming back was the juice this episode needed. Having him, Don E. and Blaine team up to get back at his former minion to get his cash was fun, and Blaine utilizing his Angus and his church to attack a bus was one of the best moments of the season. (I'm not a fan of iZombie playing the blind followers of the religious leader card).
Major does more undercover work with Russ this week. It's tense, sure, but it's not something that I'm completely into. Russ does seem to be a bad influence on Major and is probably taking him further down this dark path. The best part of the episode though was the Isabelle reveal at the end of the episode. What does it mean that this terminally ill young woman can't be turned? She seems immune to the zombie virus, but what do Liv and her crew do with that information? How does Liv tell anyone without outing herself? This was the swift kick this episode needed to truly be great.
B
What did you think of these episodes? What is your theory on what comes next? Sound Off Below!
The next episode of iZombie, MAC-LIV-MORE, airs 4/30 on TheCW.