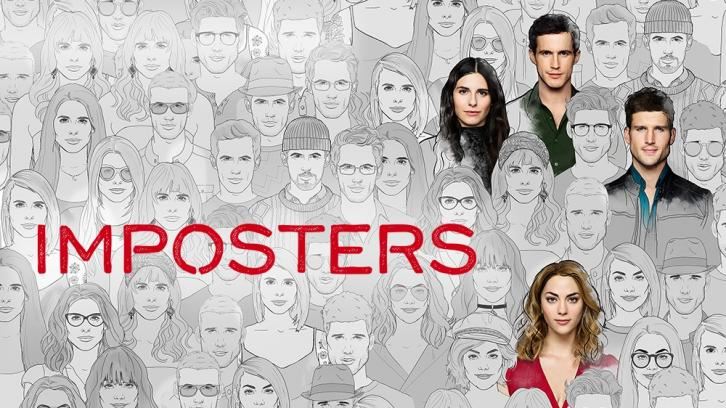 When we last saw the Con Artists and The Bumblers almost a year ago, it was the day of Maddie's wedding to FBI agent Patrick - her latest victim, and also the man in charge of bringing her down. Naturally, not everything went according to plan, but Maddie still left Patrick and Patrick did have some of his possessions taken as would go down in a standard con. Unfortunately for almost everyone involved, The Bumblers are the ones in possession of the very expensive ring and therefore the ones who came out on top.

'Fillion Bollar King' aka the aforementioned ring that Ezra stole from Patrick/the FBI in the season one finale, opens on Maddie starting anew in a small town with a small life, and The Bumblers (Ezra, Richard and Jules) trying to decide where to go to via bus to sell the ring that won't seem conspicuous and draw unwanted attention to them from the FBI. Side note: anyone notice how similar Molly Jackson is to Maddie Johnson? I think Maddie needs to pick her aliases better in future.

The Bumblers travel to Scottsdale, Arizona to sell the ring to one of Richard's old high school friends, with Jules and Ezra posing as his lawyers. Richard is originally offered $300,000 for the ring, but after some negotiation, he manages to up the price to $500,000. Jules is suspicious and calls the deal sketchy, but Richard is riding on a high and won't hear any of it. We all know how this is going to end up. In order to pass the time before the deal is made, Richard takes Jules and Ezra home where they look at younger pictures of him and make fun of him. It's a sweet moment and I love that their friendship, which is one of the highlights of the show, is still allowed to take centre stage.


Back in the undescript town she's hiding out in, Maddie becomes increasingly paranoid that she's being followed. After finding a small unassuming apartment with a landlord who only accept quiet tenants, and working in a bookstore, Maddie has resigned herself to living the quiet life. Police passing her by however, leaves her completely spooked, and when some bird watchers are nearby with their binoculars, she automatically assumes that they are surveilling her. After being a con artist for years and now having The Doctor on her trail, I totally understand why Maddie would be suspicious of everyone around her, but if someone had found her already, what would she be able to do about it? It's not like The Doctor or Lenny would probably let her go that easily, unless they wanted her to lead them to The Bumblers. We know it probably isn't just paranoia following the finale-ending phone call with Lenny, and the news that
Uma Thurman will return as Lenny Cohen
but I'm not entirely sure what else Maddie is meant to do other than what she already has. Maybe not associate with the guy who keeps conveniently showing up?
As The Bumblers discuss what life is going to be like without each other, the Sheriff shows up, but it turns out it's a friend/conquest of Richard and they quickly fall into old habits. Whilst Richard is busy with the Sheriff, we see the buyers of the ring organise their own buyers and it looks like The Bumblers may need extra protection than what they already have. In a flashback that seems a little bit strangely placed, we see Richard's video and how Alice (aka Maddie) came to leave him. It's slightly devastating, I think much more so than Ezra's video and upturning of life was but I just don't think seeing this flashback here and at this point in the episode quite works.
Elsewhere, we see small glimpses of how Max have been doing since the fall out of last season's finale, and it doesn't seem too great. Between drinking too much, being out of money and getting into fights in bars, he's having a tough time.
Richard meets with his old high school friend to make the deal, but expressing regrets about how selfish he was, Richard is warned about how the deal might possibly go south. As Richard meets with his friend, the Sheriff shows up to a day at work high from her night with Richard. Unfortunately, as she has now spent time with Ezra and Jules, the wanted notice for Ezra quickly catches her attention and she attempts to report his sighting in Scottsdale. The long waiting time, and her suspicions that Richard is caught up in something dangerous lead her to ring Richard and then trace his location. As it turns out, the deal does go south as the buyer attempts to shortchange The Bumblers and also pulls out a gun when Richard sees through their tricks. Kim shows up in the nick of time, but The Bumblers have to commit even more crimes to get away. They flee to Mexico in order to sell the ring there, but it turns out none of them are in possession of the ring.
The episode closes out with Maddie being visited Shelly Cohen, one ex-husband of Lenny Cohen. It turns out he's been following Maddie the entire episode (it sure didn't take long for her to be found) and now he wants answers.
I don't know about you, but this episode felt like too much of a filler for a season premiere which is a little bit annoying. Did you enjoy seeing where everyone has ended up since last season's finale? Let me know in the comments.