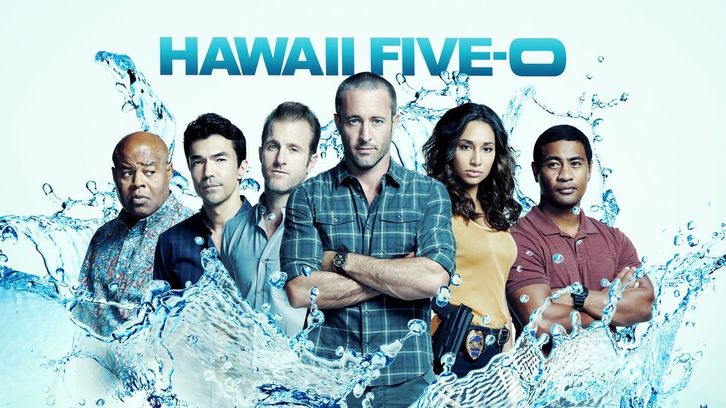 It's a blast from the past this week on Hawaii 5-0. In our cold open, we have a mysterious stranger burying a body near what appears to be the glowing cave from Lost. With abruptness we switch from a little midnight skullduggery to Mr. Davis, a man awaiting news from his doctor.


Leroy Davis is a man who used to be a house-painter, back when that was code for something else. Through a series of flashbacks, we see Davis in his chosen career as a hitman, and the parallel career of the man who swore to take him down. Detective John McGarrett has been dead since this series began, but maybe Steve is the next best thing.
This episode becomes a strange road trip for two very different men. Leroy wants to get eighteen murders off his chest, and Steve wants the opportunity to get justice for all those victims. However, he finds himself conflicted. He doesn't believe that Leroy deserves the closure this could give him, and he's smart enough to know that Leroy wouldn't be doing this without some kind of dilemma looming over him.
Leroy, as you could guess from the first scene at the doctor's office, is dying. It becomes clear early on in the episode that Leroy isn't completely in his right mind. He starts confusing Steve with John, his old nemesis.
As Leroy's memories come and go, Steve digs up a few of his own. Turns out that John was so obsessed with taking Leroy down that he was taking his own kid along on stakeouts.
During this walk down memory lane, Steve even starts to feel a little sorry for Leroy, who is all alone in an empty house with only his cats (adorable by the way) and his ghosts for company. Steve's disposition soured immediately when Junior calls with the news that they found seven bodies exactly where Leroy said they would be.
In some respects, Leroy feels regret for his crimes, but he is also detached from the past. He was never interested in why he was killing people for Mr. Kahele, the head of the old-school Hawaiian Syndicate. His passion and regret doesn't come out when he talks about his victims but does when he talks about his service record with Steve. Steve doesn't buy Leroy's story about the helplessness he felt when he came back from Vietnam. John McGarrett faced the same challenges when he came home, and he didn't turn into a killer to overcome them.
In the end, Leroy allows himself to be cuffed and shows Steve that he still remembers the most important things about his life and his sins. Despite this moment of humanity, the show doesn't let him off the hook for the stuff he's done. It's a striking scene when Steve leaves the ME's office to see a waiting room full of the grieving families who have spent years waiting for answers, and the show is wise to leave it on that note instead of simply with Leroy.
Meanwhile, Uncle Vito is still around and stirring up trouble for the team. This time, he's got seventeen safety code violations racked up at the restaurant and a little slip of the tongue turns the inspector's attention to 5-0 headquarters, rebuilt with the same contractors Steve hired for the restaurant.
Danny tries to foist off the fire inspector on Jerry, who is always asking for more to do (perhaps a meta comment on the number of episodes where Jerry is conveniently missing). This plot is as slight as it gets, but it's nice to see Danny interacting with the team again after he was off on his own little adventure in last week's episode.
In Adam's very disconnected subplot, Agent McNeal is getting shadier by the minute. He offers Adam a car-ride at gunpoint and introduces him to his long-lost sister, who is nursing more than a little resentment about the recognition and legitimacy Adam got at her expense. Noriko has no time for McNeal, who gets unceremoniously shot in the head for all the trouble he went to as a double agent.
Adam's sister also isn't incredibly interested in a family reunion. Instead, she wants money. Like seemingly everyone else on the island, she believes that Adam has Michelle Shioma's twenty-million dollars. If Adam doesn't come through with the cash, Noriko is ready to destroy everything he cares about, including Kono and Chin.
We may have spent episode after episode wondering if Adam could trust Jessie, but maybe we should have been wondering if Jessie could trust Adam. He knew where Michelle's money was the whole time but found it easier to lie to Jessie and almost get himself killed to protect its location. Now, with so many lives on the line, he doesn't have a choice.
Adam takes Jessie to a bonsai nursery/bank, where he's been keeping Michelle's money with an old family friend. The twenty million may be enough to pay his sister, but he won't be able to fulfill debts his father had to some very dangerous people. Adam's luck gets even worse, when, against the advice of his mentor, he withdraws the money and Jessie promptly disappears with it.
I immediately assumed that Jessie was going to the money drop alone out of loyalty to Adam, so it was actually a pretty good twist that Jessie actually was just going to take the money and run. When Adam and Tani chase after her, they find out that someone else got to the money first and killed Jessie to keep it. My money's on Noriko, who, despite her assurances to Adam that she just wants to disappear, probably isn't off the show just yet…
What did you think of tonight's episode? Let me know in the comments!