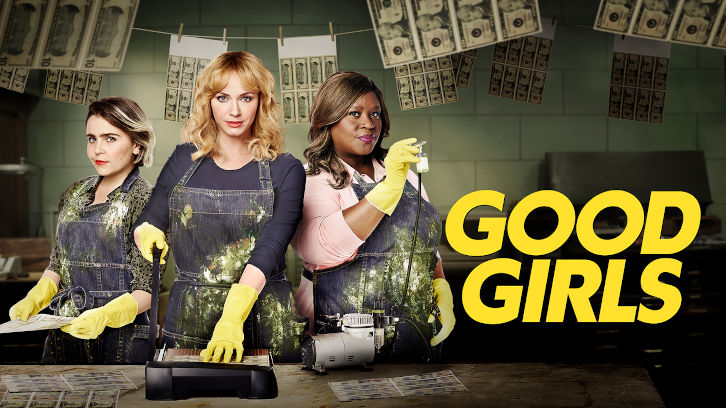 Things get intense as we approach the finale, I feel as though the girls are always one step away from being found out or even worse. What pushed them to the point of going against Rio once and for all? Find out below


Rio seems to be ready to get back in the game and has a task for the Good Girls. He wants them to pick up a truck, not steal something or run something across the border, just simply drive a moving truck from point A to point B. The girls agree after Rio is pretty adamant that no details will be given, but that isn't what is on their mind. Beth is ready to tell him about Eddie until Annie and Ruby stop her. Again, Beth is living in the grey here, I get that it is Eddie or them but still, I have to side with Annie and Ruby. Getting someone killed when you are not innocent, is just not okay. For better or worse, those three have committed some big time crimes, they aren't innocent and they explore that thought later on in the episode. I have to say Christina Hendricks has absolutely owned the role Beth all season, and she makes me believe that Beth is completely changed from who we met in episode one, it has been captivating to watch.
The ladies make it to the truck and debate if they should take it because it could be being watched. They come up with the idea for Ruby to ask Stan about what Eddie knows. So the truck will remain parked until they get those details. I was so uneasy about this truck business all episode. Ruby's creative way of figuring out what Stan knows is to relive their younger glory days with some weed and Nelly. This was absolutely hilarious, I love love love these two together and watching them get high and eat cheese puffs was so fun. In the midst of her high stupor, Ruby almost forgets what she was supposed to ask Stan, but after a quick call to Annie, she remembers. He spills the tea but again, Ruby is so high she is fuzzy on what he said. Ruby is pretty sure that Eddie didn't say anything about a truck so the ladies are a go.
She arrives to deliver the truck to Rio angry and bewildered. It was all a test to see if Eddie had talked and apparently he didn't say it all but was 'taken care of'. This scene made the episode for me. The performances of both actors were amazing and you could cut the tension with a knife. Beth finally realized that they are not special and that Rio might eliminate them. She picked apart his choice of words in the exchange and realized it was only a matter of time before some strange men are in her kitchen to take care of her, Annie and Ruby. Rio does not confirm nor deny this and cooly tells her to go home because they are done. Did our girls just get fired? I think so!
Back at Beth's house, the ladies discuss and are at a loss, facing possible death will do that to ya! Annie tosses the idea of turning themselves in so it can be over, but that just doesn't seem fair to their loved ones. Beth bucks up and decides that the bad guys could have written the fairytales about right and wrong and it is time to take charge because they are the good guys. This is a stretch, are they women who were initially pushed to the brink? Yes, but they haven't been pure good guys for awhile, they are guilty even though I love them and root for them.... They are not innocent women by any stretch of the word. They have scared innocent people with robberies and put unsuspecting housewives and Tyler in harms way with their 'secret shopper' ruse. This is a case where there are no good guys, just who is worse. The worse is Rio and they decide to play some offense and get Rio thrown in the slammer. I am not sure these three know what they are getting into but here we go.... This tees up a very tense finale me thinks.
Other developments include:
- Ruby is killing it at Dandy Donuts, but let's be honest, Ruby kills it at most things; when she gets a call that Sara is high on the transplant list but will need 100 grand down (Healthcare is BS in the USA). They aren't sure what to do so that explains why Ruby is still in rather than out. She also faces her fear of Rio's threat by asking Stan what would it take for him to not love her, he thinks she is joking until he sees the tears in her eyes. Before he can answer, he gets a call from the donor registry, there is a kidney and it will be Sara's if they have the money. This is a bad time for Ruby to get fired from her illegal activity, no?
- Finally and most weird is Boomer (or should I call him Nelson now?) and Mary Pat. He sees her harassing Annie and decides she a person to know to get the one up on Annie once again. After a quick manipulation of Tyler, he finds Mary Pat at her church and begins to
romance
her. It works enough for him to get an invite to her house where he plants a recorder on her book shelf. I mean, I find the character of Mary Pat as a great thorn in the girl's side, I haven't always liked her, but I am hoping Boomer doesn't weasel his way in too much. The woman is lonely and overwhelmed, a man like him will use her and lose her and that is the last thing she or these children need.
So how will win with the girls v. Rio? Do you think they are wrong for believing they are the good guys? Is the Boomer/Mary Pat pairing going to help change the game in the finale somehow?