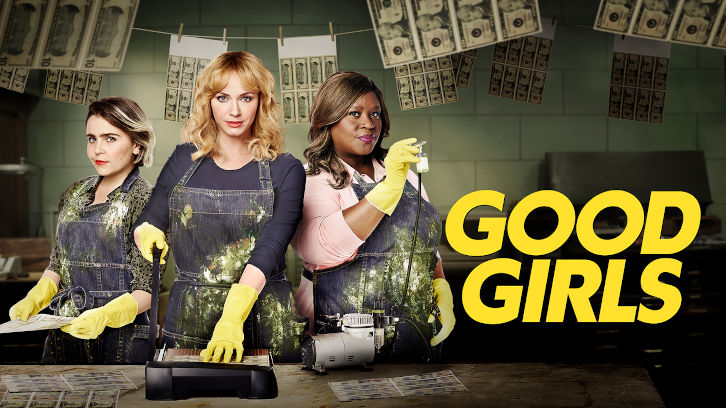 Another week another stellar outing of Good Girls. The girls are getting used to their gangster lives but live is throwing road bumps in their way creating emotional and funny stories to enjoy.


The episode starts quite smooth with the girls lives going on smoothly. That changes quite swiftly when Rio and his gang bust the party and accuse the girls of f-ing with them and throwing their fake money back to them. This results in the girls staking out the Housewives they employed to wash the money. The girls eventually find the faulty apple and decide to handle it. The handling doesn`t go as smoothly as anticipated and starts ripping a rift between our girls. In some really heartbreaking moments the girls grow slightly estranged with all of them ending up in a bad (emotional) place.
This leads up to some really good scenes for the girls individually and delivers some good character growth, for some of them at least. Annie is a mess and Boomer`s actions from last week catch up with her and leads to her being separated from her daughter but finds herself in the hot embrace of one of her ex-flings.
Stan meanwhile delivers some trouble to into their family life as he got very swiftly used to the new money inflow. The chemistry between Reno and Retta works really fine and captures me as a viewer week after week. Retta as always goes for full feelings and delivers a monologue towards the end of the episode that once again cements her as my favorite
Bad
Good Girl.
Still, the rich gangster sas worked best with Beth. She enjoys this lifestyle so much and Elizabeth Hendricks breaths in so much energy into the story. Beth`s scenes with her husband are hilarious as she enjoys putting his cheating behind where it deserves. While her scenes with Rio continue to carry the same amount of
sexual
tension that drives this money laundry plot. I did wish we get to see more of Rio and him interacting more with the girls individually. Manny is a great actor and her deserves more screen time.
Also Beth proves quite capable of handling the cheating housewife, Mary Pat (played by the wonderful Allison Tolman) and is seemingly able to handle it. But guys be certain NBC wouldn`t cast Allison Tolman to be just a dul played housewife.
Hope you've enjoyed my little preview and don't forget to tune into a new episode of Good Girls Monday 10pm Central on NBC.