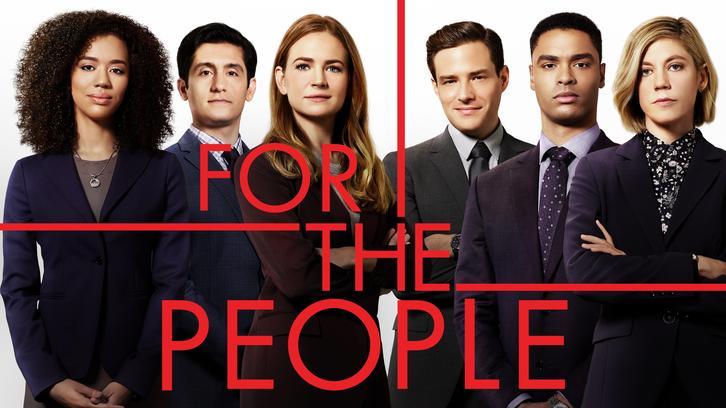 Episode 4 of FTP's freahman run was written by Liz Craft and Sarah Fain, and directed by Nzhinga Stewart. The episode heavily focused od Seth but still gave enough space for other character to hit the spotlight.

Going automated! This simple story was done so well and had so much heart. Mrs. Krissmann fighting hard for her judge roulette was a nice side story. It was nice to see Tina fight for old school stuff and showing that having a sentimental connection to old stuff isn't bad or lame. The modern world is eating us up fast and we should all fight to keep our world as technology free as possible.


So let's talk about the big case of the week. Seth and I came a long way since I wished he was recast after watching the Pilot episode. Seth is a complex and strong character who is driven by his sense of justice and right and he is really admirable. The writers did a great job of building up this story and Ben Rapaport delivered the perfect performance as the stress of this big case and the defense Ahole attorney Todd were hitting hard against him. I must say I giggled hard when Todd discredited all of Ben's witnesses.
The two pep talks Seth got were really great, each in its own personal way. The talk with Allison felt so honest and personal and so intimate. She gave him the strength he needed at the moment to be the human he needed to ne, while the talk with Kate gave him the necessary ispiration to be the lawyer he was always meant to be. Seth Oliver isn't an underdog anymore.
The cat and mouse game between Leonard ad Kate wasn't appreciated. The shy nerdy girl falling for the Player trope just pissed me off. The writers if they wanted to go anywhere near this story should've done it with a lot more delicate writing and tave they scenes more space to florish. Still, their scenes are a joy to watch and I hope for better writing.
The 4 Defenders joining forces (pun intended) to free the mentally impared woman was solid side case. It wasn't high profile but gave us bonding time between the Rookies, more insight into Jill's bada*sery and revealed a nod about Sandra that will certainly come around to bite her behind in the process, she doesn't like Hopsitals and it is different with her.
Last but not least I liked the information we've got from the case. Who knew Cheerleaders are suffering this type of issues. Very intriguing. Jills speech at the court was powerful and so important and the attention was put on the spectrum of mental illness in a different accepting and more open way.
What did you think of "The Library Fountain? Vote in the Poll below and scroll down to the comment section down below to share your thoughts on the episode!