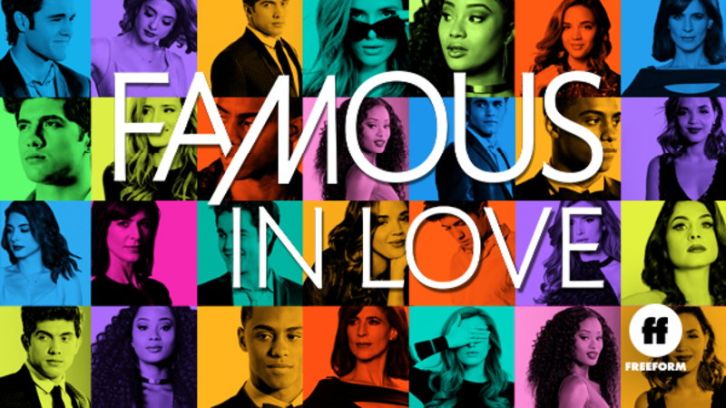 Famous in Love is back for SEASON TWO tonight, April 4th with two back to back episodes. If you don't remember what happened at the end of last season, fear not because my job is to recap, then tell you what I think about episode one of season two. In the season one finale Rainer (Carter Jenkins) found out about Allan (Shawn Christian) being his father, Tangey (Pepi Sonuga) and Jordan (Keith Powers) fought after she found out he was sleeping with Nina (Perrey Reeves). Paige (Bella Thorne) and Rainer's "Locked" press conference was interrupted by Jake's (Charlie Depew) never been kissed type of confession of love. Cassie (Georgie Flores) was dating Adam right; I think that's what was happening to her. Tangey fired Ida (Vanessa A. Williams), and she and Alexis (Niki Koss) had a friendly fall out or something in that vicinity. Okay so I binged season one a long time ago, and my memory could be failing me, but it doesn't even matter because this entire show is about Paige and it's all going to be the same anyway; am I right or am I right……

"The Players"
We start with Paige and Cassie filming an independent movie called "Stealing Georgia" written and directed by the young and upcoming filmmaker Jake. When we left off last season, we didn't know who Paige had decided to date, but their relationship is revealed during the first five minutes of the episode. Paige also posts on her social media that she's off the market and with Jake but receives a hostile reception from the Painer fans or is it Raige fans? I am not sure what their ship name is but for this review and moving forward they will be Raige. Enter Vera (Claudia Lee), a cute waitress in the diner where the trio is having coffee after filming for the day. In the beginning, she seemed interested in Jake, but he didn't pay much attention to her. He says something to her which she didn't quite understand, but Paige jumps in to explain. Vera decides to do an improv skit for them to impress Jake since she knows he is a filmmaker and she does well, I was impressed. Jake doesn't have a big budget for his movie so he uses Paige as a pretend home buyer to get into a mansion that was having an open house so that they could film.
Rainer is at some fancy Hollywood rehab in Malibu where he is sunbathing and massaging sunscreen on his new girl Harper (Danielle Campbell). She looks like one of those fancy rich California kids that camp in spa-like rehabs. I don't want to make light of addiction and the steps people take to come off them, but this scene is ridiculous. No wonder we see on the news all the time all the A-list Hollywood types going in and out of these places like they are resorts. This show is trying to portray that lifestyle as organically as possible, but it feels wrong considering most of their young audience does not live in California, but I digress. Rainer is still feeling betrayed by Nina, and he is only communicating with Allan who just a few months ago, he didn't even know was his father. Don't get me wrong I am not a fan of Nina mainly because of her relationship with Jordan, but she has provided for Rainer and given him a fancy lifestyle for a long time so he should cut her some slack.
Does anyone else feel like this show is somewhat of a parody of the regular real/fake drama amongst Young Hollywood or is it just me?
Allan and Rainer are trying to bond, but he really would like him to get his shit together and get to the "Locked" set, but Rainer is not interested in the job anymore. Allan is understandably upset, as a producer there is money on the line here. Also, other people's jobs depend on the star of the movie to come to work. Why they have not re-casted the role makes no sense to me, you would think there were many other young Rainer type actors out there who auditioned and could do a better job with less drama. Rainer got this job because of his mother if he auditioned I don't remember, but his behavior or whatever it is he is going through should warrant a release from the contract. At some yoga class in rehab, Rainer is trying to hook up with Harper, and they exchange some flirtatious looks. She turns him down claiming that this time she wants to do rehab the right way (insert eye-roll). The day didn't end before she was back looking for Rainer and kissing his entire body. Remember when I wrote a few lines above it's a parody of the real shit? Well! Allan deciding to stop the production on "Locked" was long overdue, but his hook up with Nina was not something I expected to happen. They put up this façade of not feeling anything for each other but surprisingly enough they still want to sleep with each other.
Two ladies from the Real Day Time show made a cameo in this episode. I have never watched that show, but it's usually on in my office break room in the afternoons, so I have caught glimpses of it. Also, I consumer a lot of pop culture news so I know about the cast and stories that have come out of the show. In this episode of the "Real Day Time," they have Rainer's best friend and semi-competitor/rival Jordan as a guest. I couldn't stop laughing at this entire scene because of how cheesy it was. Jordan had received a Golden Globe for some movie (No name mentioned) that did amazingly well, that there is even Oscar buzz around it. The speech he gave at the Globes was so moving that it left host ladies and their studio audience as they watched it again. I was rolling my eyes so hard at this; I thought they would pop out. He gives this cute little response about how Rainer is trying to get better, and everyone in the audience is awed at how much he cares for his friend. I still don't believe the writers decided to go with the Jordan and Nina relationship. The two seem like they are continuing to see each other. Jordan wants an Oscar and Nina pushes Allan to get him nominated. Okay, so Allan knows they are sleeping together, but he doesn't seem to care. I will give it to Jordan though; The man knows how to yank Nina around, I think she's in love with him, but we will see if the show will explore that in future episodes. Jordan seems to love her too because in a visit with Rainer he tries to smooth things for Nina, but Rainer is not having it.
Let's talk about Nina and how she set up her assistant for killing Barret. I hated to see the TMZ type dude leave but I loathe the gossip chasers, but it doesn't mean I don't read and enjoy their content, I am just saying! Nina is brutal but the entertainment industry especially television is not for the faint-hearted. I have seen so much online gossip about real-life Nina's, and that's why I have a hate/love type of feeling towards her and the shenanigans she pulls. Ryan who is her new assistant reminds me of the Michael Urie character from Ugly Betty "Marc St. James". He will do anything to be on Nina's good books. He informs Nina of Paige's new boyfriend and the movie she's filming which enrages Nina. She reminds Paige that she is on a contract which does not allow her to work on other projects. Paige tells Nina about her visits to see Rainer, but he refuses to come out and talk to her. She informs Nina that Rainer loves her and that he lights up every time he hears Nina's name mentioned, this softens her a little bit; at the end of the day, Nina wants to be loved by her child. Paige decides to fire the horrible team Nina put together for her and chooses to work with Joanie the Assistant Agent who quits after being disrespected.
Ida is now a producer for Alexis's new reality show which she's using to get back at Tangey for firing her. At the premiere of the reality show that Ida puts together, Tangey starts to feel the absence of her mother and her skills. She is visibly jealous of all the attention Alexis is getting for her show aptly titled
Alexilicious
. I did like the music in this scene mostly because it was Romeo Miller's first appearance on the show as Pablo. He invites Tangey to sing with him, and she agrees; she needed to save face from all the humiliation from Ida's antics. This party had everyone on edge but Paige, I think she's still in the honeymoon phase of her relationship with Jake. Jordan, on the other hand, got jealous of Tangey and Pablo. He decides to leave with a maxim model that we hadn't seen before or had we?
The episode ends with Tangey blurting out about Nina and Jordan to Alexis while they bonded. Do these people watch reality shows at all? There was a camera filming in the room so let's just say when they wake up in episode two; the news will be all over TMZ.
There you have it, episode one of season two which honestly was just average. Having said that, it still had all the nonsense we read on Perez Hilton's website about the goings on in the real Hollywood which was entertaining.
Don't forget to tune in tonight, right after this episode for the second hour of Famous In Love on Freeform