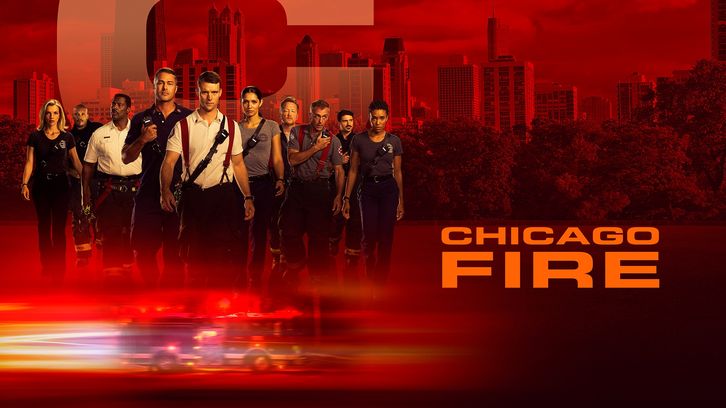 Welcome to Chicago Fire: FBI edition! This episode was... different. There's really no other way to describe it. Honestly, I wasn't very fond of the episode so this will be a quick review.

At the beginning of the hour Stella and Severide have breakfast with his parents, and Severide looks miserable. He's not happy that his mom and dad are back together. He tells Stella that he's lived through this once; he doesn't need to see this again.

Dawson buys Casey as a gift for Casey and talks to Brett about it as Cordova comes out dressed in only a towel. Brett definitely notices and asks Dawson if there's anything she wants to share about Cordova. I thought she was cute.

Casey asks Otis how his physical therapy is going, and he says it's going well but it's slow. He didn't think it would take this long. Casey reminds him he was shot in the neck and it's impressive he can even walk. The important thing is that he will recover and shouldn't put a timetable on it.

We also learn that Cruz is trying to mentor a kid named Tay who is having trouble. He offers to help him with his math homework and tells him to come back to the firehouse after school.


Now we're at the FBI portion of the episode. The house gets a call, but then is immediately told to stand down. The FBI rolls into the firehouse and tells everyone they are taking over. A fugitive is headed to Chicago, and his brother lives in the apartment complex across the street. The FBI tells 51 to stay out of their way, but they end up needing 51's help. Severide and Casey head over to the apartment to check on Hector, the man who's daughter choked on a hot dog. While Casey talks to Hector Severide walks around and finds the apartment of the suspect's brother. He opens the door, and Severide lies and tells him they are doing routine inspections of fire extinguishers.
The FBI is angry that Casey and Severide made contact with the suspect's brother. Things just keep getting worse as Cruz's friend shows up, and they have to send him away. Cruz argues that Tay is a good kid, but Detective Schoville says that his only priority is catching the guy that killed his partner. So at least we know why this detective was such a jerk this whole episode.
Tay gets angry and throws a brick through the window. While the feds are busy dealing with that they miss the suspect going into the apartment. They blame the firefighters for missing their chance to catch the guy, but Casey has an idea. He calls Hector and tells him to pull the fire alarm and the get out of the building. The feds dress like firefighters and head into the apartment complex along with Casey and Severide. Otis gets to drive the truck which I liked, and it made him feel like he was part of the team again.
They get to the apartment, but the suspect won't let Casey in. Casey breaks down the door, and he and Sevetide end up with guns pointed at them. The suspect and his brother walk Casey and Severide out to the hall, but end up getting killed by the feds. I'm sorry, but this was so cheesy. I really hope that the writers don't do something like this again. If the show wants to include cops, Antonio, Halstead, and the others from
Chicago PD
will be just fine.
Even though I didn't like the FBI story, I am starting to like Cordova, and I have mixed feelings about it. I hated him two weeks ago because of how much he wanted Otis's job, but he's growing on me. He seems like he really cares about Dawson, and he's not going to mess up Dawson and Casey's relationship. I think he has chemistry with Brett, too, but it looks like the writers may reunite Brett and Cruz. Great. I don't understand why they just can't let Cruz and Brett be friends.
I'm also proud of Severide for standing up to his dad. I'm sorry that his mom got hurt in the process, but I do think he was right. I'm glad that his mom understood that Severide was just protecting her and didn't blame him for the break up. Then Stella and his mom have a moment alone at the end where she tells Stella to not give up on Severide.
What did you think of this episode? Did you like the FBI agents? How do you feel about Cordova? Brett and Cruz? Discuss below in the comments section!