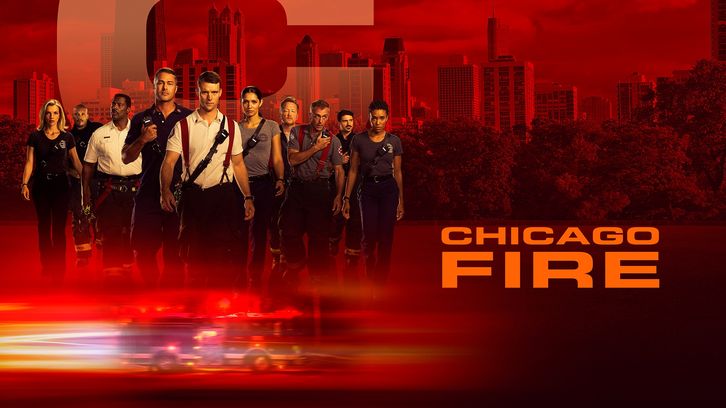 Several things happened this week on Chicago Fire but the most important was that Otis returned to active duty! He's finally back on truck and everything can return to normal. At least for now. Everyone is excited to have Otis back, and they even have a cute ceremony for his cane. But Stella announces that she wants to keep driving. Casey decides that they will have a competition to see who should be driver. Herrmann gets involved in the competition and uses it to his advantage to get Stella and Otis to polish glasses for him at Molly's.

Stella ends up giving Otis his job back put at a price: he has to do some of her chores around the firehouse. Casey asks if her plan all along was just to get Otis to do her chores, but her goal was to get everything back to normal. She wanted everyone to treat Otis the same. I'm glad we learned her motives, and I'm glad she was thinking about Otis.


The first call of the episode is to an accident where a cement truck is overturned. The truck hit a woman, but Severide and Boden are able to pull her out and save her. Later, Severide and Boden receive envelopes full of cash. They get summoned to the commissioner's office where they learn the father of the woman they saved sent the money. He just wanted to say thank you. I hope in the future he finds better ways.
Boden also deals with not getting the promotion he thought was his. Grissom informs Boden that he's not retiring. The news definitely affects him, and he tells Severide he wanted the job. Boden decides to buy a boat, and I really like the idea of him, Severide, and Casey taking it out together. Can we have an episode with this? And I know that Boden wanted the promotion, but I'm glad he'll be sticking around 51 for now.
Later in the episode Dawson and Brett get called to a barbershop where a man had his ear cut off. This was pretty gross. I've seen a lot on this show, but something about a missing ear really bothered me.
Dawson hears from Bria who sounds upset. It turns out Bria needs Dawson's help getting ready for the prom. It seems like Bria's dad is trying to get his life together. Bria looked beautiful at the end. Dawson did a great job helping her, and it was nice of truck to drive her to her prom. At the end we get a nice surprise: Dawson tells Casey she wants to start trying again! I'm so excited. It's about time.
The other story this week involves Cruz meeting an old girlfriend who is married. She tells Cruz she can't stop thinking about him and wants to be with him. He asks Brett about it and asks for her advice. Brett tells Cruz that he is too good of a guy to go through with this. She was pretty adamant, and Cruz is kind of shocked by how she reacts. It definitely looks like the writers want to put these two back together.
What did you think about this episode? Are you glad Otis is back on truck? What did you think about Boden losing the promotion? Do you think Cruz and Brett will get back together?