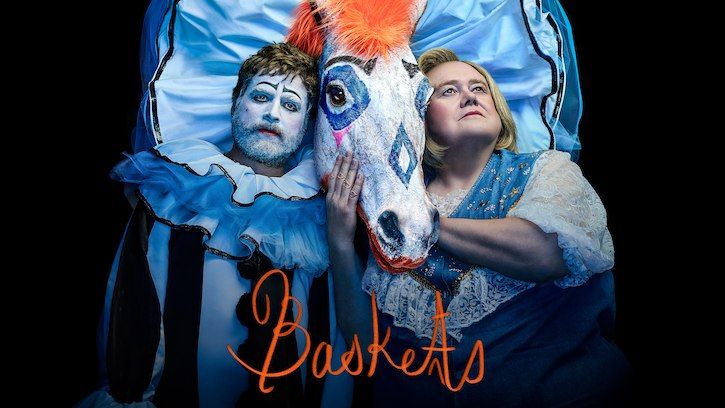 I am a holiday junkie so I love how Baskets follows the holiday calendar during the run of their seasons. Though they are mostly just background for the actual stories.

Where is Martha? I ship Chip and Martha, but she is a no-show for New Year's Eve.

The season 3 finale was written by Samuel D. Hunter and directed by Jonathan Krisel.

New Year's Eve finds Ken renting a cabin in the mountains to bring their families together for a celebration of more than just the new year.

Christine, Ken and Chip find Dale and his new sweetie, Shannon, getting cozy in the cabin. And the rundown cabin is not what they were expecting. Ken: "this is not like the pictures."

Dale and Shannon are loving it. Dale: "the asbestos is making me horny."

Next, Ken sweetly asks Chip for his blessing to propose to Christine. Chip: "propose what?" Ken: "marriage, Chip." Chip is obviously happy and they hug. Chip: "you want to be my dad? Just don't kill yourself like my first dad." So sad. But I love how far Chip has come in his emotional development.

But Dale does not give Ken his blessing, calling him a 'slapping mad man.'

Ken's lovely daughters, Ivy and Monica, show up with food and the family commences playing Hungry Hungry Hippos. I love HHH! During the game play, Shannon, the 'rodeo groupie', discovers that Dale does NOT own the rodeo, is not everyone's boss, can not afford to buy a new Dodge Viper and is not a professional bull rider.

Christine has seen right through Shannon, by the way, as they share a Red Bull. Christine: "I don't think that I am a Red Bull girl, Shannon."

Shannon, the 'gold digger' that she is, storms off in her red jeep, back to Florida, and Dale runs screaming after her in his bathrobe. Dale: "Shanny!!!" Chip confronts Dale about not giving Ken his blessing and they commence with a slapping fight.

Zach Galifianakis is superb playing the slapping twins. I completely forget that they are portrayed by one man, just as I forget that Louie Anderson is a man.

Dale has a tantrum after Chip tells him to stop blaming everyone else for his unhappiness. Dale says that maybe the family would be better off without him and that he feels worthless. Ken, ax in hand, takes off after him. Ken, what is that ax for?

Meanwhile, the remaining group discovers that they are in the wrong cabin when its owner shows up. Maybe, Dale having to break that window to gain entry should have been a clue.

Ken finds Dale, giving him his coat to keep from freezing to death. They go to a local bar and talk and thankfully Ken is never forced to use that ax. Dale forgives Ken giving him his blessing to propose.

Christine laments to the girls about ruining their holiday. The girls tell Christine that they like her and she makes their dad happy. Comparing Dale running off to how her husband ran off and killed himself, Christine admits to the group how worried she is about Dale.

Chip tells his mom that she can't fix him or Dale, that they are grown men and have to fix themselves. She has to stop worrying about them. I am a mom, Chip, and that is not possible; no matter how old your children get.

The group reunites at the big, beautiful 'actual' cabin and as they are joyfully counting down to 2018 in 2009 eye glasses, Ken begins his proposal and Chip answers his phone. I want it to be Martha, but it's actually...Penelope. Oh nooooo!!!

Another great season has come to an end. As always, some of the best acting, writing and directing on television. The Baskets have come so far. Chip has turned into a decent, semi-caring person. Dale is Dale, but he's trying. And Christine has found true love and acceptance... She deserves it! Can't wait for season 4. See you then!