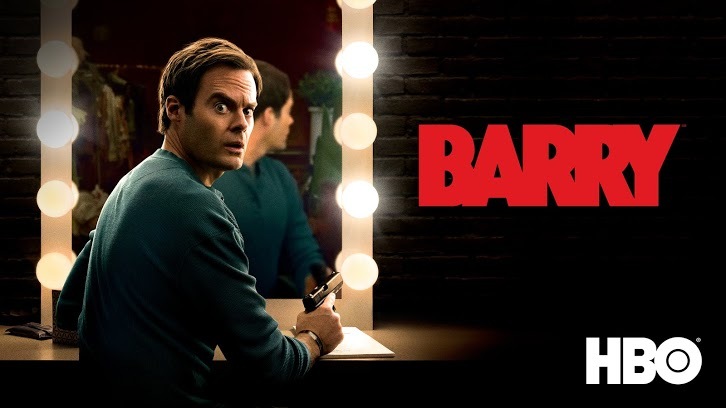 Previously on Barry, Barry tried to stand up to Fuches, but Fuches quickly put him in his place by showing up at a party for the theatre class and threatening to expose his real day job. Elsewhere, Sally's career still hasn't taken off, romance may be blossoming between Gene and Detective Moss, and the LAPD made progress on Ryan Madison's murder case.

'Chapter Five: Do Your Job' opens with Barry at a pier listening to Taylor's voicemails, and boy he sure doesn't mince his words. Let's hope the NSA aren't somehow listening in to Barry's voicemails because he would be exposed very very easily. Barry goes to Chris who is also at the pier (although something makes me think that isn't a coincidence) and asks for the lowdown on Taylor. He's described as a solid dude, but one who was kicked out of a vet rehabilitation program, and Barry seems hesitant to work with him. Chris asks Barry not to tell his wife that they hung out with Taylor the night before, which makes Barry question further what type of person he is.

The idea of Barry seeing this family together once again makes him dream of Sally and the life they could have, which includes a son. I feel like Barry is way too emotionally invested in Sally and it's only going to hurt him in the long run. The disparity between dream Barry's life with Sally and real Barry's life is huge, as evidenced by her frosty brush off at theatre class. She says she doesn't want to talk to him at all, but then they get cast as scene partners for Macbeth, so I think Barry is just going to try even harder to get her to give him another chance. Gene announces that someone is there to talk to them about Ryan's murder and Barry's face drops. These classes he's taking really aren't paying off for him right now and it's surprising that someone hasn't picked up on how much he's giving away.

Detective Moss hands out a photo of an image they pulled from the lipstick camera at the end of the last episode, and Barry is absolutely terrified that he's about to be caught out. No one seems to be immediately pointing the finger at Barry, or quipping about knowing who it could be at all which should be a red flag, but Barry obviously isn't taking that into account and he's struck with fear. It turns out he might have nothing to worry about though because the picture generally just looks like a person-shaped blob, and it's the best the police can do.

Be on the look out for a man with no discernible features. He killed your friend.
Of course, it isn't that easy. The police know that the shooter is at least 6'0 tall and connected to either the gym or the theatre class, which means Barry has to be questioned. He holds well under pressure and gives an alibi that in theory should be backed up by Fuches and his various techniques to simulate different situations, like using a hairdryer to mimic a factory floor. Detective Moss seems to buy it and lets Barry go, whilst two other people are due to be questioned.
Hank texts Barry to let him know that Goran wants to see him, and the three of them plus Fuches have a very serious chat whilst at a children's gymnastics class. Goran thinks there is too much heat on them and wants to pull out of the Bolivian stash house job, which Fuches vehemently refutes. Barry agrees with Goran, because of course he wants out of doing work for the Chechens, but Fuches takes Goran to one side and tries to convince him that they should still go ahead. Barry is the only one who wants out of the job, which Hank saying that if it is called off, he'll be a dead man. Luckily for everyone but Barry, the job still seems to be on, which leads to Barry dropping the bombshell that Taylor knows about it and that he wants in. Fuches is not a happy camper in the slightest, but tells Barry to still do the stash house job with Taylor, and then once it's over, kill him and tie up any loose ends. Barry says no, but Fuches reminds him of his training and repeats over and over 'Taylor has to die' until Barry agrees. It's messed up how little control Barry has in his situation, but I can't see how he could ever be independent.
We jump to the theatre class, where Barry, Sally and Natalie are doing a scene from Macbeth, that just doesn't seem to be working. Everyone but Sally gives a flat performance, which seems to be a constant theme really. Barry's acting almost seems to get worse each week, and I know it would be unrealistic to be a great actor from the get go, but I feel like he should have at least improved somewhat by now. They then discuss the morality of Macbeth and murder, which Barry obviously relates heavily to. The rest of the group think he's simply talking about his time as a marine though, and whilst they thank him for his service for that, Gene says that anyone who murders outside of war is a psycho and irredeemable. It sure looks like Barry doesn't have many people on his side. He ends up leaving the class early in favour of getting a little more in touch with his criminal side.
Detectives Moss and Loach seem to be on different sides about their progress on the case, but with Moss presumably being the detective in charge, she insists that something is amiss with the acting class and that it's something they may need to revisit in the future even though all three persons of interest have alibis. We see Janice go to Gene's house, where they make quick work of getting a little closer.
We later see Barry and Taylor planning on how to carry out the Bolivian job, but Taylor seems more interested in getting straight into doing the job. For such a big building, two people seem inadequate (even with marines training) but they make quick work of the people downstairs before making their way for the others on the upper level. Taylor's lack of patience means he rushes in to take out the rest of the Bolivians, but with Barry so focused on Taylor, he becomes an easy target himself and is knocked out.
Whilst he's passed out, we see another dream of a possible future life where he has kids, but this time there's no Sally. In a way it's sweet that he's dreaming about settling down and having a normal life, but it just doesn't seem like a thing he's able to have seeing as he's been a hitman for multiple years now. I don't know how these dream sequences are going to pay off but I'm expecting them for the rest of the season. He comes to as Taylor has taken out the last Bolivian, and they both go downstairs to check the stash and anything else they can find. Taylor comes across a lot of money, and whilst his back is turned Barry draws his gun. Before we can see the aftermath however, the scene cuts to Fuches and Barry in a hotel reception/dining area.
The episode ends with Fuches celebrating Barry pulling off the job, clearly thinking Barry wouldn't be able to do it. Fuches sympathises with Barry for killing Taylor, but that's cut short when Taylor pulls up a chair. Barry once again hasn't followed orders and now the number of people involved with the Chechens has grown once again. It'll be interesting to see what Goran and Hank have to say, and maybe they'll even prefer Taylor to Barry.
Do you think Barry was right not to kill Taylor and to introduce him to Fuches? What do you think about the dream sequences we keep seeing? Let me know in the comments.