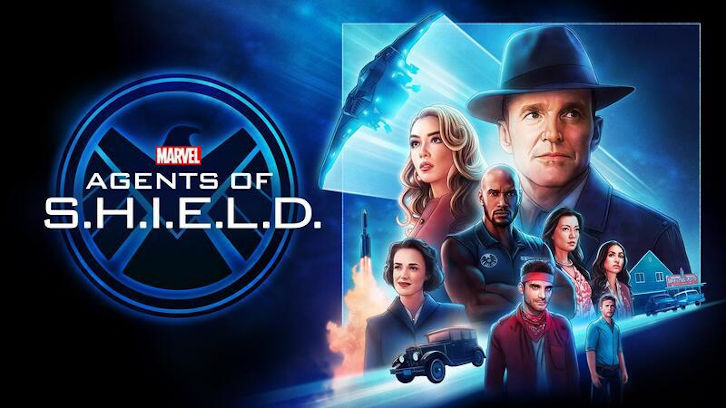 Agents of S.H.I.E.L.D.
"The Honeymoon" was written by the team of James C Oliver and Sharla Oliver and was directed by Garry A Brown. I'm often not a fan of "team written" shows, but
S.H.I.E.L.D.
seems to be a real exception to this rule. And I wonder if having a husband/wife team like the Olivers (and of course the showrunners themselves!!) doesn't actually really contribute a lot to the wonderful couple-chemistry on the show – I'm not downplaying the actors, but the writing has to be there too. First, I have to apologize that this will be a very brief review by my standards – and no fav lines section. I'm on the road and writing a bit on the fly, so I'm hoping people will pitch in in the comments with their fav lines this week!
The episode opens with a terrific scene between Yo-Yo (Natalia Cordova-Buckley), Fitz (Iain De Caestecker), and Simmons (Elizabeth Henstridge). The three are about to inspect the first location for that Hydra weapon. It just so happens that this on is in England. Fitz and Simmons think it's great to be home – but it might have been nicer if they'd been there on their honeymoon. It's quite adorable when they jump out of the plane holding hands. And once again, we have to be struck by how far these two have come since we first met them as sheltered science nerds.
Coulson (Clark Gregg) is having a hard time keeping Talbot (Adrian Pasdar) focused and moving. Ruby (Dove Cameron) catches up with them, and it looks like things are about to go very badly, and suddenly, there's Daisy (Chloe Bennet)! Coulson and Talbot are spirited off while Daisy takes on Ruby. This is a terrific fight scene. Of course, Daisy ultimately wins, but not before Deke (Jeff Ward) takes a bullet for her when Hale (Catherine Dent) arrives to collect Ruby.
Ruby is put into lockdown by Hale, who strips down her room – even taking her posters off the wall! The title of the episode resonates with this part of the storyline as the honeymoon between Ruby and her mother is clearly over – but the honeymoon between Ruby and Werner (Spencer Treat Clark) is just beginning. Ruby has it out with Hale and locks her in before taking off with Werner to go after the machine that will make her the Destroyer of Worlds.
It doesn't look like Deke is hurt that badly until he collapses as he and Daisy fight over him saving her life – and whether she actually needs saving etc… Clearly, they are both covering! They rush Deke back to the Lighthouse, but of course, their surgeon is MIA. Piper (Briana Venskus) has some medical training, but it's Mack (Henry Simmons) who performs the actual surgery. And speaking of Mack, he is none too happy when they find him locked up… Mack insists that his mechanical training will serve him well, and he does manage to save Deke's life – with Piper reading him through it.
Once they are back at the Lighthouse, Coulson fills Talbot in on everything that's happened. He's, not surprisingly incredulous – but he does believe Coulson. Talbot has seen too much by this point to doubt it!
Mack isn't the only one who is angry at another team member. May (Ming-Na Wen) pulls Coulson aside to read him the riot act. Coulson acts innocent – someone had to find out what Hale was up to… May, however, sees a deeper problem and worries that Coulson has a bit of a death wish. She knows his death may be inevitable, but she wants to spend as much time with him as possible before that happens – because she loves him!!! I loved Wen and Gregg in this scene. It's been really nice to see Wen peel back the layers on May this season, and nobody does gob-smacked as well as Gregg!
Meanwhile, Yo-Yo, Fitz and Simmons break into the facility. There's some nice funny moments as Fitz inserts his foot in his mouth when he comments on the benefit to Yo-Yo's new arms as she essentially rips the lock off the gate. He then spends a bit of time trying to get the foot back out again…
They find the machine and manage to break an important part of it. The three discuss the possibilities for changing the future, and Yo-Yo confides in them that her future self told her that they had to let Coulson die. And of course, then Ivanov (Zach McGowan) shows up with his robots. We find out that Fitz and Simmons have a new rule – they don't split up anymore! Yeah! I like this rule….
Yo-Yo tries to use her speed but her new arms aren't calibrated properly yet so they cause her agonizing and debilitating pain – and she can't use them at speed. In the end, Yo-Yo has to fight Ivanov the old-fashioned way. Of course, he's all robot – not just his arms. In the end, Yo-Yo takes him out a window to kill him. And really? That fall should have killed her too…. Once Ivanov is dead, all the other robots whom he was controlling also drop dead.
While Fitz and Simmons are pinned down, he tries distracting Simmons with questions of time, such as the perception of time being an illusion – but it doesn't help. And of course, after the robots go limp, Werner and Ruby show up. Once they have Simmons, Fitz has no choice. They will have to go with the two and help to fix the broken part of the machine.
Back at the Lighthouse, Daisy debriefs Talbot. He tells her that he knows that she wasn't really the one who shot her, but he's also clearly still suffering the effects of seeing someone who looked like her shoot him – and he's still suffering from being shot in the head. I'm really hoping that Daisy still realizes that things are not right with Talbot…
I would also be re-miss in not mentioning the Deke on too many drugs scene! He's hilarious as he clearly declares his deep and abiding love for Daisy….
In the final scene, Daisy brings Talbot a super secure phone so that he can contact his wife. Adrian Pasdar has been terrific in this arc. It looks like he's finally having the conversation with his wife, Carla (Raquel Gardner), when we switch to her side of the conversation and see that Hale's assistant - Candice Lee (Shontae Saldana) – is standing with her, making her read from a script. Does she think she's helping Talbot? Is she and has been Hydra all along? Regardless, we know Hydra brainwashing and activation when we hear it, and Talbot has been activated. I did love this further shout back to the early seasons!
This was another fast-paced episode with drama on every front. Great performances as always! What did you think of the episode? Are Fitz, Simmons, and Yo-Yo really death-proof? Let me know your thoughts and favorite lines in the comments below!