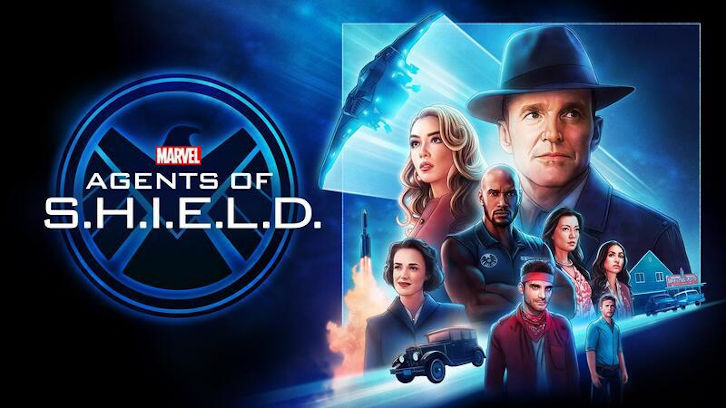 Agents of S.H.I.E.L.D.
"All Roads Lead…" was written by George Kitson and was directed by Jennifer Lynch, whose other credits include
Jessica Jones
,
American Horror Story
, and
The Walking Dead
, but who is likely best known for writing and directing
Boxing Helena
(and being David Lynch's daughter...). This episode features a spectacular fight scene and fine performances from Dove Cameron (Ruby) and Adrian Pasdar (Talbot). It still feels like whatever the team does, we are still sliding toward the Earth ultimately splitting apart. And poor Deke (Jeff Ward) may have gotten the worst nickname ever.
Talbot is in full comply-mode. The Lighthouse is suspiciously empty, but Talbot sees May (Ming-Na Wen) and Robin (Lexy Kolker) on the monitor. Mack (Henry Simmons) finds Talbot and is really sympathetic, offering to talk if he wants to. Talbot tells him that he can't – and he's really not lying! He wanders off.
Ruby tortures Fitz (Iain De Caestecker) by throwing her disc at Simmons (Elizabeth Henstridge) until Fitz convinces Ruby that he needs Simmons' help to fix the machine. Fitz and Simmons warn Ruby about the future – but she already knows. She also has a good point that in their future, it's Daisy who destroys the world – or is it?
Fitz and Simmons have a choice – if they die, they break the loop, but neither can let the other die. Meanwhile, Yo-Yo (Natalia Cordova-Buckley) makes it back to the ship but is in too much pain to call for help.
Coulson (Clark Gregg) tries to talk to May, but she tells him that she's said everything she needs to say – and they have a mission. She doesn't give him a chance to say anything!
They've found Hale's base and Daisy preps the team. Mack looks like he can't believe Deke's (Jeff Ward) contribution, but he's really just distracted by the body-spray he's wearing! Daisy assigns Mack to work on the anti-gravity for the zephyr – and he's not thrilled about going back to space – ever – but Daisy insists they need to be prepared. Coulson and Deke both want to go on the mission to infiltrate Hale's (Catherine Dent) base, but Daisy tells them both no. They just got Coulson back – and Deke just got shot. He should be in bed. She's confused as to why he's even there… oh Daisy….
Coulson tells Daisy that she's getting good at "this" – leading. He's clearly proud of her and she's clearly pleased that he is – just love these two together!
Hale gets briefed on Ruby and that Anton is dead. Candice (Shontae Saldana) also tells her that Creel (Brian Patrick Wade) is much worse – and she finds him curled up in a corner of his room. Quinn and Hall won't stop arguing. And they want out! Creel turns himself into drywall and starts banging his head open so that they can get out…
Mack gets to work and Deke and Coulson chip in to help. Coulson and Mack easily pick up on the fact that Deke is in love with Daisy. He's adorable as he denies it. Mack and Coulson prove useless in the romance department, so Deke decides he'll just have to go the lemon route… I loved that in the future, if you liked someone, you saved your tokens bought a lemon and left it on their bunk! Because of course, lemons would be expensive and valuable to combat scurvy! It's also adorable. It's so mean of them to tell him it's a thing and that Deke should do it! Of course, it's mean in the way people tease each other when they like each other.
Daisy and May get ready to go in, and May turns down Daisy's offer of a gun. She's got some pent up aggression – and she'd rather hit than talk! May and Daisy go down in one of the pods – getting in by having Thomas (Brent Bailey) drop a bomb in front of them. The fight scene is absolutely amazing. This show has hands down the best fight choreography and execution on television today.
Daisy and May come on Hale in the corridor, and everyone is surprised when she tells her people to stand down – and surrenders! Daisy doesn't believe her, but Hale insists that they need to work together. Hale tells them that if Ruby succeeds she will kill Fitz and Simmons.
Ruby is not happy with how long it's taking and wants to kill one or both of them. Strucker (Spencer Treat Clark) says they are S.H.I.E.L.D.'s best and brightest – if anybody can fix it, they can. Of course, he realizes that it's done backwards, so why doesn't he just fix it? Bit of a plot hole really. Ruby beats on Fitz and then tells him that next time she'll use her disc on Simmons.
Yo-Yo comes to just as one of Anton's robots comes in that Strucker re-activated. She uses her speed to get his gun, but we get some great special effects on her arms shorting out because of it. And she ends up unconscious again.
Polly (Lola Glaudini) and Robin come in to find Talbot looking at Robin's drawings. The drawings have reminded Talbot of his son George. He apologizes and tries to explain that he hasn't been himself. Talbot tries to ingratiate himself to Robin, but she has drawn him. She knows he's the "General." And I immediately got a bad feeling about where this was going.
Daisy and May call in to tell the others about Creel discovering Hall and Quinn in the gravitonium. Creel is barely hanging on – he's lost in his own head. The team at the Lighthouse isn't happy that May and Daisy are going after Ruby and Strucker. And it was only at about this point that I realized that it was the women on the front lines and all the men at home! How much do I love this show!?!
Deke tells Daisy to be careful and she assumes he means that she shouldn't quake around the gravitonium because it will destroy the world, but he's just worried about her. She promises not to quake anywhere near the gravitonium, and then Coulson freaks out. If Ruby is powered up, and Daisy won't quake, Ruby will kill her. May cuts Coulson off – it's not his decision. She's following Daisy's lead now. They'll make the decision when the time comes. Daisy tells them to go through Robin's drawings – they need any advantage they can get!
Talbot sees a picture of the world quaked apart and wants to know who it is and when it happens. Robin surprises Polly by saying soon. Talbot attacks Polly – and chokes her to sleep. Robin isn't surprised when Talbot tells her that she's going with him.
Hale is impressed by Daisy and comments that Coulson taught her well. She asks Daisy not to hurt Ruby. Daisy promises to try – she also tells Hale that it's not Ruby's fault that she is the way she is. Daisy even compliments her fighting skills. Daisy really surprises Hale by saying that Ruby would make a good S.H.I.E.L.D. agent. Hale agrees to Daisy's plea to help talk down Ruby if necessary.
The machine is ready just as the team lands and deploys. Ruby Is not happy when Fitz and Simmons say they can't get the gravitonium into the machine, but Strucker seems to have no problem getting it to go. Fitz and Simmons are mystified.
Mack and Coulson examine Robin's drawings. Coulson notices that the camera on Robin's floor is paused, and they find Polly alive – but still unconscious. They quickly determine that Talbot has been turned by Hydra and has taken Robin.
Ruby gets in the chamber and starts screaming. Hale runs in and stops Strucker from shooting Fitz and Simmons. She only absorbed 8% of the gravitonium – but comes out floating! She can hear Hall and Quinn fighting. When Strucker tries to help her, she can't control her new powers and crushes his head! The horrified looks Fitz and Simmon's faces are priceless.
Ruby is genuinely upset to have killed her boyfriend. She pins Fitz and Simmons to the wall, begging them to fix it – but they can't. Hale gets Ruby to focus on her while May gets Fitz and Simmons to safety.
Coulson and Mack find Talbot with Robin. Coulson tries to reason with Talbot – they're friends, Talbot saw what Hydra did to Creel. Mack brings up George. Talbot sees only one course of action. Mack gets Robin away, and Coulson tells Talbot to comply by turning the gun on him. As soon as he does, Mack steps back in and ices Talbot.
Hale tries to get through to Ruby. Daisy steps in and tries to reason with her – Daisy has been through the same thing. Yo-Yo comes on May, Fitz, and Simmons running away, and goes to stop Daisy. Ruby pulls Daisy in and wants to kill her. Hale keeps trying to talk Ruby down, but Yo-Yo arrives. Yo-Yo realizes that Ruby is the Destroyer. She also recognizes her as the one who took her arms. Daisy tries to convince her that Ruby is just a kid, but Yo-Yo takes matters into her own hands and slices Ruby's throat with her own disc.
Ruby dies in Hale's arms. Hale shoots Yo-Yo a look of utter hatred and then Ruby floats up and then the gravitonium explodes out of her. Daisy is knocked unconscious. May and the others rush back in. Hale is gone – and it seems that Daisy had to be out for a while because there's a huge blood pool beneath Ruby. Yo-Yo thinks she just saved the world – but I'm betting that that loose gravitonium is going to be a big problem. My current theory is that Quinn and Hall inside the gravitonium are going to rip the world apart in their constant fighting…
In the final scene, Hale reports to Qovas (Peter Mensah). Qovas isn't pleased that she came without an invitation. Hale tells him that S.H.I.E.L.D. has the gravitonium, and she can tell them where. She has no reason to stop him from killing them. And it seems like Yo-Yo is repeating the same mistakes...
Another action-packed episode. Dove Cameron went out in a blaze of glory – I quite enjoyed her performance in this episode. Adrian Pasdar also gives a terrific performance. With still no word on a renewal and the end of the season looming, it will be interesting to see how things turn out. The showrunners have said they have an ending ready if this is to be the last season. I shake my head every week when I see the ratings. This show is such a gift every week from the acting to the writing to the effects and stunts. What did you think of the episode? Thoughts about what's next? Let me know your thoughts in the comments below!
Just a couple favorite line this week…
Fitz: I'm engineering. She's biotech. We're a team. (Bonus marks for the Donny & Marie Osmond vibe)
Ruby: I ship it. I really do.
Coulson: Good talk, Phil. Good talk.
Daisy:
Want to talk about it?
May:
No. I want to hit.
Daisy: Game on.
Deke:
Is that even possible?
Mack:
Assume the answer to that question is always yes.
Daisy: You brought me back to lead. This is what that looks like.
Mack: Shut up, Lemons.