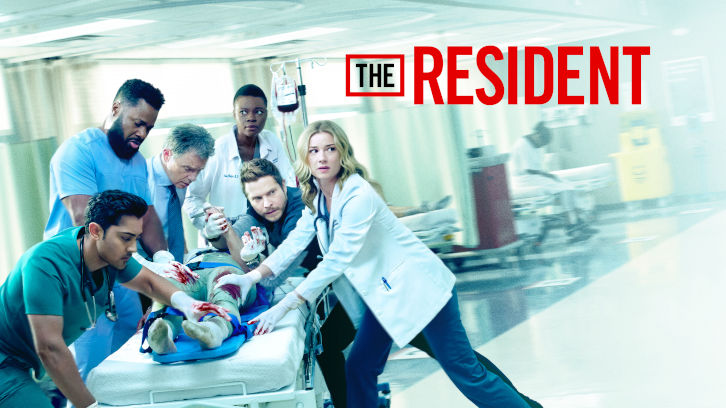 In this week's "The Resident" we got to dive into the problem of concurrent surgeries, all while learning more about our favorite characters. "None the Wiser" wasn't the best episode to date, but it was still pretty solid. In the episode where everything medical goes wrong, the attendings get pushed, by the administration of the hospital, to do multiple surgeries at once. Whatever brings in the big bucks. Some doctors are all for it, while some don't think it's such a good idea. I side with the latter, but it does make for compelling TV.


The episode started off with Mina on the stand, being asked to detail out what happened in the O.R. that lead to a blatant medical error. The flashbacks were masterfully edited, and made sure the audience knew, right from the start, that
shit
really went down.
Three patients, and a horrible outcome, that's all the information we are given in the beginning. Slowly we get to uncover what happened. The first patient has an atrophied testicule that needs to be removed. The second patient is a woman forced to the hospital by her son, with an aortic aneurysm. The third patient is a writer who has certain proclivities with shoving household items in his rectum. All three of them need surgery and Bell needs to prove that he can pull off concurrent surgeries.
It's a recipe for disaster, one that Nic and Conrad desperately try to avoid. Bell is not at his best on the medication. Yes, he lost his tremor, but so much more with it. He's losing time, he's losing focus.
Nic and Conrad disagree on how best to help Christine out. Conrad wants to transfer her out of the hospital, while Nic wants Jude to perform the operation. The trio argues about the course of action, but really, it's about a lot more than the medicine here, though Nic seems oblivious to it. Conrad is mad. Nic is confused and Jude has no time to loose. "None the Wiser" gave us a little bit of background on the Nic and Conrad's relationship, and why they didn't work out.
(I need a ship name… Nic and Conrad is way too long to type every time.)
"You know it's okay to talk about things other than patients and medicine. We can talk about our lives. Not a sign of weakness. You get that, right?" - Nic
More was uncovered about Conrad's life outside the hospital, and how he doesn't want to open up about it, driving the woman he's fighting for towards another man. There is bad blood between Conrad and his father, who kept him from his mother. By the end of the episode, the identity of Conrad's father is revealed, a man who was seen in the hospital's context throughout the episode. He seems like an important figure in the medical field, one with a lot of money to spend, and no interesting way to do so. His interest in cancer did not seem random, at all. And there seems to be a link between Conrad's dad and Hunter. Is that linked to his history with the oncologist that Nic keeps referring at?
Nic and Hunter's rivalry is still beating strong in this week's episode, and only increases in intensity. For the time being, Nic is alone in this fight, though now that Conrad's father seems involved, maybe not for long. When Nic recommends Lily to get a second opinion, it backfires on her, and she gets kicked of the case, and all of Hunter's cases. As a bonus, she also gets an enemy out of the oncologist.
Meanwhile, in surgery, hell breaks loose when Bradley, coming off a 30 hour shift, passes out in the middle of his surgery. This is where Mina's jump from one patient to the next to next begins. A complication with Jude's patient makes that he can't operate on Christine like he told Nic he would do. It's all on Mina and she runs from one OR to the next, doing her best. Everything about these scenes were well done (from a layman's point of view at least) and paced beautifully. There was panic, there was chaos, and there was a lot of blood. There was no way to know who was going to make it and who wasn't.
As it turns out, York is okay, so is Christine. Everyone but Jude's patient survives and for me, that was the episode's real shocker. The concurrent surgeries did not result in the death of a patient, but the man with the atrophied testicule had his healthy one removed instead.
Bell's character is such a complex one, but the way he encouraged Nina in the OR made me root for him. Then, he goes off and throws her under the bus in front of everyone. She doesn't seem to care though, it just rolls off her back. After that, he backs her up in front of the hospital's administrator. The professional relationship between the two truly is wonderful to witness.
This episode reiterated the fact that Mina is an incredibly gifted surgeon, but it also demonstrated that she is more than just her scrubs. My favorite part of the episode was possibly the subtle smile Mina had when Irving told her she looked beautiful. Don't know why, but it touched me.
"Mina, you look absolutely stunning." - Irving

Overall, I thought this episode, was better than the last one and am grateful we are learning more about the characters outside the hospital. Where would this episode rank in your mind?