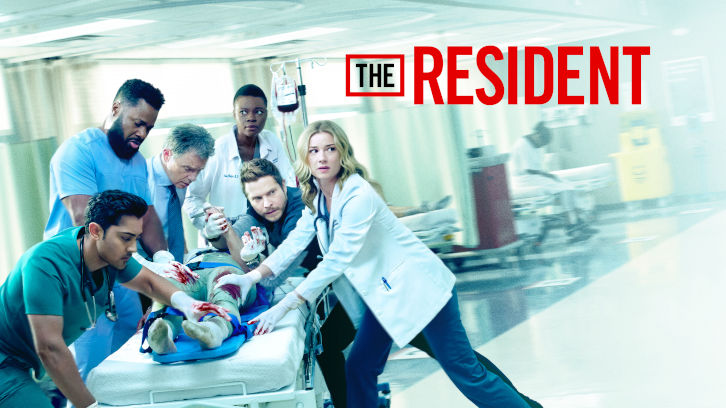 It was a great episode of "The Resident" this week, a lot better than last week's. I've said it, and I'll say it again, this show is better when it focuses on the characters, with the hospital as a playing ground, than the other way around. In "No Matter the Cost," the characters continued to evolve, their storylines developing at a nice pace, as we learned more about them outside the hospital setting.

Mina continues to be an absolute badass, but she also becomes something more. As the episode starts, getting home in a bad neighborhood, she gets mugged. Instead of giving up her purse, she fights off her assailant. She fights him off so well that she then has to drive the sixteen year old kid to the hospital unconscious. A big sister/little brother type of dynamic developed between them, leading to some great interactions with him. Mina has stopped being the stone cold surgeon we were introduced to a couple of episode back. She is becoming more and more human, as the show progresses and she is becoming a really well rounded character.


"I think that's the most words you've said ever, in the past 3 years that I've known you." -Nic
When Athiba's parents don't want to come get him, Nic decides to drive him home herself, but Mina won't let her go there alone. So, she tags along to protect the white girl with the savior complex. This led to some great interactions between the two leading ladies. We haven't seen much of the two together until now, but it was interesting to see them open up to one another. After Nic manages to convince the parents to give their son another chance, we learn that her sister was an addict, one year sober now, and she wished someone would have done the same for her sister at the time. This tidbit of information gave new meaning to Nic's previous conversation with the patient.
The budding female friendship was a refreshing aspect of the episode. Mina is blunt and honest. She gets to the point, asking what others are thinking. She simply inquires about what the deal with Jude and Conrad is, but she gets a not so blunt and honest answer form Nic.
It's complicated.
Mina joking took me off guard, but that didn't make it any less enjoyable. Their laughs were contagious; their smiles made me smile. Anyone else? A little later, Nic finds out just how much Mina cares for her community, when she sees her treating a young girl in her home with medicine taken from Chastain. While in the beginning, Nic tried to convince Mina it was a bad idea, she still came to understand where Mina was coming from. I am convinced Nic is the type of person that would do the same.
Conrad's case of the week is one of a malnourished ballet dancer with a digestive issue. When he convinces the patient to give him 24 hours to find out what is wrong with him, the doctors start fighting over him. (This is not a problem in Canada… quit the opposite actually. No one actually wants to commit to a patient unless they are sure it's in their department.) Conrad was not happy about this, and was removed from the case by his attending.
Which changed absolutely nothing.
Still, it seems like he's alone against everyone else, battling the system: one man against an army. And again, I wanted to ask what made Conrad so special, that he can get away with almost anything.
"Is he biting every one's head today or just mine?"-Jude
Conrad isn't at his best in this week's episode with his professional relationships, romantic relationships, friendships and family relationships. All the doctors at the hospital seem to be against him. Nic and Jude seem to be getting closer, and Papa Hawkins just resurfaced in his life. The exchange between Conrad and his father at breakfast was tense. Conrad doesn't want him in his life, it's the reason he left for the army. There surely is more to it than an absentee father, but in this episode, there just wasn't anything to point to something else. His father wants him to run his own hospital. He seemed to be trying. It does seem like a valid offer. On the romantic relationship side, jealousy comes over him when he witnesses a scene, from afar, between Jude and Nic that isn't what it looks like. Cheese and grits don't go a long way with the nurse practitioner he's trying to win over, but opening up to her will. Conrad just isn't ready for that yet, and it pained me to see him so broken his in the end.
The battle continues between Lane and Nic, and while Nic was kicked off of Lily's case, Devon wasn't. In the pilot, Conrad gave Devon the responsibility of Lily's care, this week, Nic indirectly did the same. The next step in Lily's treatment is bone marrow transplant. There is a big chance the treatment could kill her, and Lily's scared, but she'll do it, if that's what it takes. All cloak and dagger, Nic reveals to Devon her suspicions about Dr. Hunter, who she believes is committing insurance fraud by over medicating her patients. The first year resident won't listen to her, at first.
"Lily would have died. You were right. We have to do something about Lane." -Devon
Despite it being out of the ordinary with Dr. Hunter's patients, Devon asks for a full panel on Lily, holding his ground to make sure it's done. And to his surprise, he finds something wrong with Lily's kidneys function, catching it just in time. If they had gone through with the transplant she would have died. Dr. Hunter blamed someone at the clinic, but I felt like she was covering her ass, and so did Devon. This sets the tone for the episodes to come, with Nic and Devon working together to bring down the oncologist, and that should be pretty interesting.
I thought the episode was great. But maybe that's just me, I love character driven shows.